Lay surrenders to FBI in Houston
ENRON MESS The former chief executive faces an 11-count indictment, including one count of conspiracy, two of wire fraud, four of securities fraud and one of bank fraud
Former Enron chief executive officer Kenneth Lay surrendered to the FBI yesterday to face criminal charges stemming from the 2001 collapse of the US energy company he founded and led to industry prominence.
Lay, who insists he knew nothing of any wrongdoing and was misled by underlings, was taken away with his hands cuffed behind him to be charged.
The federal indictment of Lay, 62, who also was Enron's chairman, caps an investigation that snared dozens of other employees and executives but took nearly three years to reach the man at the top.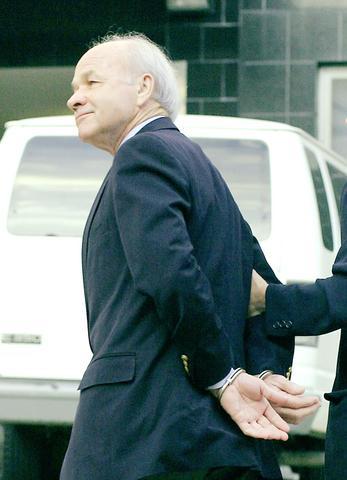 Former Enron chief executive officer Kenneth Lay, his hands cuffed behind his back, heads into Federal Court in Houston yesterday after surrendering to the FBI.
PHOTO: AP
Enron's collapse in late 2001 cost investors billions of dollars, put thousands of Enron employees out of work and wiped out retirement savings for many.
The company, once admired, became a symbol of corporate greed and excess, and its fall was followed by a string of scandals at other companies.
Lay was indicted on Wednesday after a federal investigation that has produced charges against some of Lay's once most highly trusted lieutenants, including his protege, former chief executive officer Jeffrey Skilling.
The 11-count indictment, unsealed yesterday a few hours after Lay surrendered, accused him of involvement in a wide-ranging scheme to deceive the public, company shareholders and government regulators about the company.
It accuses Lay of participating in a conspiracy to manipulate Enron's quarterly financial results. It also accuses him of making public statements about Enron's financial performance that were false and misleading and omitting facts necessary to make financial statements accurate and fair. He faces one count of conspiracy, two of wire fraud, four of securities fraud, one bank fraud and three of making false statements to banks.
"Nice of you all to show up this morning," Lay, accompanied by a pastor, told a throng of reporters before entering the FBI offices in Houston.
About 20 minutes later, he left in handcuffs for the trip to the federal courthouse and a scheduled late morning appearance before a federal judge.
After learning of the indictment on Wednesday, Lay said in a statement, "I have done nothing wrong, and the indictment is not justified."
Lay's attorney, Michael Ramsey, said he would push for Lay to go trial ahead of other executives charged in the investigation.
Ramsey maintains Lay did nothing wrong and cast blame on former chief financial officer Andrew Fastow, who pleaded guilty to two conspiracy counts last January.
The US Securities and Exchange Commission was expected to bring civil fraud charges against Lay yesterday, including making false and misleading statements.
Comments will be moderated. Keep comments relevant to the article. Remarks containing abusive and obscene language, personal attacks of any kind or promotion will be removed and the user banned. Final decision will be at the discretion of the Taipei Times.