Tower Records files for bankruptcy
OLD SKOOL The company's debt had been soaring as music connoisseurs turned to large retailers such as Wal-Mart and stores on the Internet to buy their music
Tower Records, one of the largest specialty retailers of music and video in the country and one of the last family-run dynasties in an industry increasingly dominated by mass merchants like Wal-Mart, filed for Chapter 11 bankruptcy protection on Monday.
The filing by Tower and its parent company, MTS Inc, comes at a time when the traditional record stores, where generations of Americans discovered music, are under siege from big-box and electronics stores as well as from the growing availability of music online.
The filing is intended to reduce the company's debt by US$80 million so the interest costs on its debt will consume less of its revenue.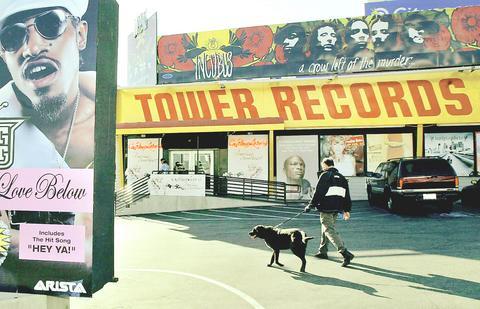 A pedestrian with his dog passes through the parking lot of Tower Records on Monday in Los Angeles.
PHOTO: AP
Tower officials said that its 93 stores from California to New York would remain open and that neither its customers nor its employees would notice any change.
But some observers said Tower's plight was a bad sign for the industry at large.
"The future looks particularly grim for all land-based music retailers," said Burt Flickinger III, managing director of Strategic Resource Group, a consulting firm that has worked with retailers and recording companies. He said such stores "literally have a toe-tag on them and they're boxed up for the proverbial boneyard."
With the demise of once dominant stores like Tower that specialize in selling every category of music and do it with great depth and range, Flickinger predicted, "Most consumers will move to a much narrower band of music -- what they hear of the top 25 songs that are programmed in vicious rotation by the FM radio stations or top 20 almost preselected MTV songs."
Michael Dreese, chief executive of Newbury Comics, an independent chain of 25 record stores in the Boston area, said, "If Home Depot has only 12 power drills to offer a carpenter, that's probably not desirable. But if the society loses 10,000 artistic voices, that's a disaster. Because music is the most accessible way that society communicates with itself."
Tower, which has eight stores in New York state and 44 in California, and outlets in states ranging from Oregon to Tennessee, had been losing money and had tried unsuccessfully to find a buyer.
Under the planned restructuring, the Solomon family, who founded Tower, would give control of the company to its creditors.
"Our issues are financial, not operational," Allen Rodriguez, Tower's chief executive, said on Monday in a statement. He said the reorganization was expected to be completed within 45 to 60 days.
Martin Zohn, a partner in the bankruptcy practice group of Proskauer Rose, a law firm based in New York City, said the challenge facing Tower Records after its restructuring would be "to get customers into the stores and to get them to carry the product out of the stores. The competition is fierce. And they have to compete not only on price but on the pleasantness of the buying experience."
At Tower Records on Broadway at West Fourth Street in Manhattan, shoppers said Monday that they would be lost without the store.
"This is probably the best classical record store in town," said Tom Mac Giolla Dheachair, 40, an art-exhibit installer who was considering CDs by Schubert and Schoenberg. "This store is like a musical oasis in the city."
Comments will be moderated. Keep comments relevant to the article. Remarks containing abusive and obscene language, personal attacks of any kind or promotion will be removed and the user banned. Final decision will be at the discretion of the Taipei Times.