`Made in USA' toys hard to find
TRADE DEFICIT While some customers say they want to be patriotic and buy American, the reality is most of them don't care that their purchases are made in China
Parents who are sticklers for buying American may have a rough time as they whisk through toy stores this holiday season. \nPlay-Doh, Etch-A-Sketch, Matchbox and Hot Wheels cars: one icon of American childhood fantasies after another is made in China. \n"Almost everything here is made somewhere else," lamented Ervin Goodall, cruising down the aisles of a toy department in search of gifts for his grandchildren. \nThe "made in USA" label is found mainly on board games, but even that is a multinational crapshoot. The Lord of the Rings Trivial Pursuit game is American-made but with Chinese dice. \nBuying American may make people feel good, but experts say it's often an afterthought. \n"They say they care, but they just want a good deal," said Sidney Weintraub, an international trade specialist at the Center for Strategic and International Studies, an independent Washington research organization. \nIt's what's under the tree -- and price -- that count most. \n"When I shop and see something I like, I get it," said Goodall, 54, of Washington, eyeing a made-in-China "poseable raging Hulk." \n"I consider myself patriotic," he said, "but I don't worry about where it's made." \nAmericans' appetite for imported goods reached a new high in October, as the US trade deficit with China climbed to a record US$13.57 billion. \nThat same month, overall demand for imported toys and games went up US$36 million, to US$2 billion. At least 75 percent of toys sold in the US are foreign-made, and about two-thirds of the imports come from China, according to the Toy Industry Association. Taiwan, Malaysia, Thailand and Canada are among other leading suppliers. \nMany of the Chinese-made toys are products of American companies, which go to China and elsewhere in search of cheaper labor and other essentials. \nDarrell Jones of Virginia, pushing a shopping cart overflowing with toys at Target, said he wasn't surprised that most items he set out to buy his three-year-old daughter were Chinese made -- a Magna bike and magic screen learning pad from Playskool. \n"If it works, I have no problem with it being made in China," said Jones, 43. After all, he said, "Nothing is all-America anymore. \n"It doesn't make any difference, as long as the stuff is safe and works." \nJustin Fruehauf, 27, another Arlington parent, said he studies consumer reports and is tenacious about buying safe and quality toys. \n"It's important for people to keep buying American," he said, adding that he'd be willing to pay US$5 extra for an American-made item over a comparable Chinese-made one. \nDespite the foreign dominance of toy manufacturing, Americans still work in the business -- 32,400 in 2000 -- and many of the leading companies are American. \nIn the aisles at the Target store, the spread of multinational toy making is evident, with some parts made in America and the rest in other countries. \nPictionary, for example, has a timer made in Taiwan, playing pieces and dice made in the Britain and the rest from America. \nScrabble is labeled American-made, but its racks, tiles and letter bags are from China. That pretty much leaves the board and packaging as a US product. \nTaking a bath with Crayola is another worldly experience. The Bath Tub Finger Paints are from China but the Bath Tub Tints -- fizzy watercolor tablets -- are from the US. \nIndonesian labor produces Swan Lake Barbie and Happy Birthday Barbie. The plastic Volvo that carries around her friends Midge and Alan is from China. \nIrene Johnson, 28, of Washington, will do almost anything to please her eight-year-old daughter this Christmas. \n"I would like to buy something made in America to help our economy, but generally, I don't look," she said. "When you're trying to please a child, you don't want to be the Grinch, to be the bad parent on the block."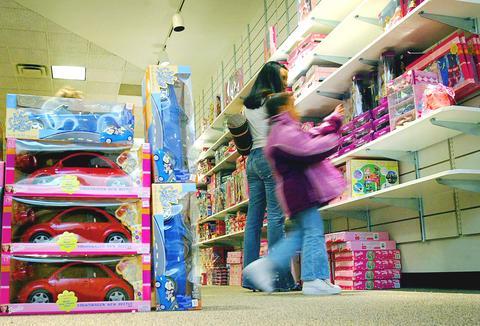 Shoppers at a toy store at the Tyson's Mall shopping center in McLean, Virginia, examine the remaining toys on the shelves last Saturday. Although parents may prefer to buy toys with a ``Made in America'' label, that's becoming a challenge as many toys now have a ``Made in China'' tag.
PHOTO: AP
Comments will be moderated. Keep comments relevant to the article. Remarks containing abusive and obscene language, personal attacks of any kind or promotion will be removed and the user banned. Final decision will be at the discretion of the Taipei Times.