Automakers struggle to profit from FTA
SMALL STEPS As trade barriers in the ASEAN free trade area are broken down piecemeal, Asian carmakers try to make sense out of the chaos
Southeast Asia's partial trade liberalization should have been a dream come true for global car makers: import tariffs came crashing down and the use of local parts paved the way for bigger cost savings.
Yet most are taking only small steps as they search for ways to benefit from the new tariff scheme under AFTA, or the ASEAN free trade area.
The tariffs are being reduced slowly and in a piecemeal way. Non-tariff barriers remain stubbornly high and fragmented product lineups have made it difficult to achieve the hoped-for economies of scale.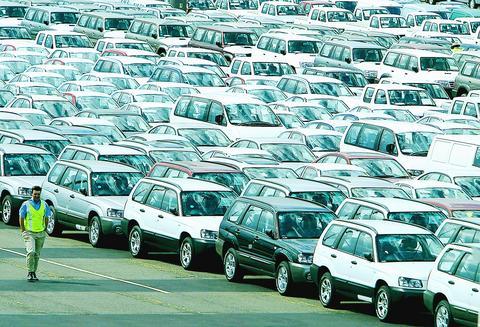 A security officer passes rows of Japanese cars lined up on a a Sydney dock yesterday. A 9 percent jump in non-rural exports helped Australia post a larger than expected narrowing in last month's trade deficit, and outpaced another slug of imports to satisfy strong domestic demand, while Asian automakers struggled to streamline production to capitalize on the reorganization of trade barriers and tariffs throughout the region.
PHOTO: REUTERS
"If the ASEAN policies moved more quickly, the auto makers will be right there, step for step," said Michael Dunne, president of consultancy Automotive Resources Asia. "They're moving at the pace of a locomotive leaving the station."
The auto industry has been waiting for over a decade for the barriers to evaporate since ASEAN first toyed with the idea of a common economic region, much like the EU.
Now, as car sales stagnate in the developed world, integration of the expanding ASEAN auto market has become critical to enable global auto makers to keep making money -- or, in some cases, simply to survive.
Vehicle demand in Japan this year is seen stagnant around 6 million units and US sales hover around 16 million to 17 million. Demand in Southeast Asia, meanwhile, is expected to rise 30 percent to around 1.8 million by 2008 from 1.377 million this year, Automotive Resources Asia estimates.
But progress has been slow. The Common Effective Preferential Tariff (CEPT) scheme under AFTA, initially slated to kick off in 2000, only includes Thailand, Indonesia and the Philippines so far, leaving Malaysia out until 2005 while it readies its national car makers for foreign competition.
Import tariffs for built-up cars are now between zero and 5 percent in the three participating nations -- down from as much as 80 percent -- but remain as high as 300 percent in Malaysia.
And non-tariff barriers are just as formidable.
"For starters, safety and emissions regulations are all over the place, while customs clearance and cross-border distribution still take a lot of time," said Yoshihisa Tabata, director for automotive policy planning at Japan's trade ministry.
Perhaps the biggest headache for the main players -- including Japan's Toyota Motor, Mitsubishi Motors, Isuzu Motors, Honda Motor, and US giant General Motors -- is the fragmented product make-up across the region.
Owing to preferential taxes, pick-up trucks are the vehicle of choice in Thailand, making it the second-biggest pick-up market in the world after the US. Thailand is the region's biggest producer, with output seen this year at 500,000, ahead of Malaysia's 420,000.
Meanwhile, Malaysia and the Philippines prefer passenger cars and Indonesians drive the so-called Asian utility vehicle, which can seat up to eight people.
For auto makers, that means concentrating production of one model in one country and exporting to the others -- a natural course of action with the lowered tariffs -- is not as cost-efficient as it could be with a common market.
"As long as [the preferential tax structure] is in place, I believe you'll still have the same type of market segmentation," said John Bonnell, a partner at Automotive Resources Asia.
That's not to say the AFTA scheme isn't helping.
Under a new worldwide supply chain network to kick off next year, Toyota will make Thailand an export base for pick-up trucks and multipurpose vehicles, supplying to over 80 countries within and beyond ASEAN. It will also raise gasoline engine production in Indonesia, earmarking over 70 percent for exports.
Honda will eventually have just one production site for each model sold in Thailand, Indonesia and the Philippines over the next few years to reap cost benefits through economies of scale.
Earlier this year, Honda began building the Accord and City sedans only in Thailand, exporting to the other two.
"We're able to do this now because of the lowered import tariff," Honda spokesman Masaya Nagai said. "Once Malaysia's [auto sector] joins AFTA, we'll be able to benefit even more."
Honda is a lucky exception, though, because it only sells cars, meaning it does not have to worry about the scattered product preferences and technical issues unique to pick-ups and trucks, such as adjusting vehicles to varying diesel regulations.
"Honda tends to either move in the opposite direction of others or they move more quickly," Dunne said. "They were also one of the last to enter, so they can be more flexible."
Players like GM and Isuzu have established Thailand as a regional and global hub for pick-up truck production, but beyond that, plans to benefit from AFTA are undecided.
Mitsubishi Motors, one of the first to set up shop in the region with more than 10 models, made Thailand a center for pick-up truck production before AFTA's tax scheme took effect.
"With the market so fragmented, it's not easy to just consolidate production in one country," said Akihiko Mizumoto, general manager of Mitsubishi's ASEAN planning department.
"It also requires money to close and open factory lines, so we're still racking our brains," he added.
Comments will be moderated. Keep comments relevant to the article. Remarks containing abusive and obscene language, personal attacks of any kind or promotion will be removed and the user banned. Final decision will be at the discretion of the Taipei Times.