US retailers fight to sell merchandise
OVERSTOCKED Department stores and apparel sellers are expected to have the most products to sell because sales forecasts had overestimated consumer demand
Toys "R" Us Inc, Sears Roebuck & Co and other retailers will offer after-Christmas discounts of as much as 80 percent, trying to salvage what may be the worst holiday shopping season in more than three decades.
Best Buy Co is offering two DVDs for US$25. Casual Corner will take 50 percent off already-discounted women's clothing. Other retailers, such as department stores Macy's and JC Penney Co plan to open their doors early tomorrow for bargain hunters.
The promotions are aimed at enticing shoppers who curtailed spending in the weeks before Christmas because of concerns about the economy and their jobs. Retailers also need to boost sales to clear shelves for spring merchandise, even if the discounts erode profits, analysts said.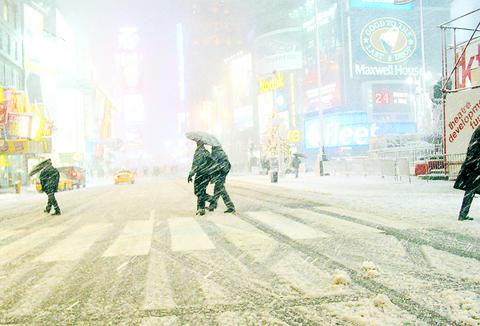 Pedestrians cross the street at Times Square in New York during a snow storm Wednesday. More than two feet of snow fell in parts of upstate New York, setting Christmas snowfall records. Despite the weather conditions, shoppers were out and about looking for bargains yesterday.
PHOTO: AP
"Consumers have been showing signs of weakening and backing off some, and that just continues," said James Luke, who helps manage more than US$10 billion at BB&T Asset Management and owns shares of retailers including Wal-Mart Stores Inc.
Department stores and apparel retailers are expected to have the most items to sell because sales forecasts overestimated demand, analysts said. The week after Christmas can account for 11 percent of holiday sales at most mall stores, according to the International Council of Shopping Centers.
Federated Department Stores Inc, which owns Macy's and Bloomingdale's, said Monday that sales were declining more than its estimated 2.5 percent in the November-December period. Macy's will offer discounts of up to 70 percent today.
"Retailers are already planning for the spring shopping season," in the first half of 2003, said Stephen Spiwak, an economist at management consultant Retail Forward Inc. "The goal will be to get rid of the current inventories and hope the spring brings better sales."
Some companies, expecting a slow holiday season, cut back orders and carried less merchandise, so discounts on a number of toys, clothing items and consumer electronics may be hard to find, analysts said. Holiday items will be reduced, with Sears promoting a 50 percent price cut on Christmas decorations.
Electronics retailers Tweeter Home Entertainment Group Inc and Ultimate Electronics Inc. said this week that quarterly profits will rise less than forecast because of lower sales.
Analysts have lowered fourth-quarter profit forecasts on such retailers as Target, Toys 'R' Us and Circuit City Stores Inc because of lowered sales expectations. Circuit City will offer a US$190 camcorder and US$500 desktop computer, 17-inch monitor and printer package to discount-minded shoppers.
The average profit growth forecast for 137 retailers on Tuesday was 10.7 percent, according to a Thomson First Call survey of analysts.
That's less than the 11.5 percent average profit increase last year, and the 14.6 percent fourth-quarter forecast for Standard & Poor's 500 companies, First Call said. More analysts may revise estimates tomorrow, First Call analyst Ken Perkins said.
"It was a totally bargain-driven holiday season, with consumers looking at price tags before they looked at the product," said Kurt Barnard, president of Barnard's Retail Consulting Group. "Buying was restrained; spending was extremely cautious."
Some Internet sites began advertising after-Christmas sales on their sites today. Amazon.com Inc offered 25 percent off some electronics items.
Comments will be moderated. Keep comments relevant to the article. Remarks containing abusive and obscene language, personal attacks of any kind or promotion will be removed and the user banned. Final decision will be at the discretion of the Taipei Times.