Digital film breaks mold
A NEW FORCE Although the most recent `Star Wars' epsode was not the first film to be shot with digital cameras, it's the first to be shown with digital projection
Like its story line, the new Star Wars movie was designed to be a harbinger of the future -- the future of movie making. \nIt is one of the biggest productions shot entirely with filmless digital cameras. It was edited with cutting-edge computers and enhanced with the latest in electronic graphics. \nWhen he started making Star Wars Episode II: Attack of the Clones, director George Lucas hoped that by now, most of the nation's theaters would have state-of-the-art digital projectors to show the movie in its full glory, brighter and sharper than traditional film. \nBut as with any new technology, not everyone is ready to take the plunge. \nTwo years after the first time a digital movie was sent over the Internet, from Los Angeles to a technology conference in Atlanta, the vast majority of the nation's movie theaters simply aren't ready, willing or financially able to invest in digital projectors that would upgrade them from the equivalent of the VCR to the DVD. \nAs a result, instead of seeing the newest Star Wars movie as Lucas had originally intended, most people will see a version that has been converted back to celluloid film and shown through standard 35-millimeter film projectors based on 19th-century technology. \nTheater operators say they don't have much choice. \n"It's not a matter of theater owners being against it, it's a matter of theater owners wanting to get it right ... and being able to afford it," said John Fithian, president of the National Association of Theater Owners. \nDigital movie projectors and related equipment cost US$150,000 or more per screen, according to Fithian. That means it could cost millions to retrofit a modern-day multiplex. A traditional film projector costs between US$30,000 and US$50,000. \nBecause of this cost -- and the fact that several of the nation's biggest theater chains are just coming out of bankruptcy court protection -- only about 60 of the nation's 35,000 movie screens have digital projection systems. Most are in California, with just three in Texas -- two in Dallas and one in Big Springs -- and none in Georgia. \nA growing number of filmmakers, led by heavyweights like Lucas, are increasing pressure on theater owners to make the leap to digital projection, creating something of a digital divide between the people who make movies and those who show them. \nMore than 30 movies have been released in digital format in recent years, including Shrek and The Perfect Storm. But as with Star Wars, most viewers of those movies saw versions that were converted to film and shown with a traditional projector. \nA copy of a copy of a copy \n"What you're seeing in a theater today ... is basically a copy of a copy of a copy," said Austin, Texas filmmaker Robert Rodriguez, whose upcoming movies Spy Kids 2 and Once Upon a Time in Mexico were produced entirely with digital cameras. "You're not seeing what the filmmaker intended." \n"If people knew what they were missing, you'd see a lot more digital theaters around, because [moviegoers] would only go to digital theaters," he said. \nThere's little doubt that digital has clear advantages over film. \nFirst, there's the cost savings for movie makers. Studios spend nearly $1 billion each year producing, duplicating and shipping film to theaters. By going digital, they can cut that cost to virtually nothing. \nThen there's the distribution and handling. Traditionally, completed films are shipped to theaters in bulky metal cans. There, they have to be loaded onto giant metal spools, or "platters," connected to theater projectors. Along the way, it's easy for them to get damaged, whether from a malfunctioning machine or a theater employee with popcorn butter on his fingers. \nDigital movies, on the other hand, are stored on a computer hard drive just like any other digital file. They can be moved around the world by the Internet, by satellite transmission or by DVD. Starting or stopping a movie takes a click of a computer mouse. \nMost important, digital advocates say, is the quality. Digitally produced movies are sharper and clearer than film can ever be. Digitally projected movies can be shown with light that's more than twice as bright as a traditional film projector bulb, which also improves the resolution. And barring a major computer meltdown, digital movies are generally safe from mishandling and other problems. \nDigital's advantages are crystal clear to Ultra Star Cinemas, a 68-screen Southern California movie chain. Ultra Star has leased six digital projectors through an agreement with Boeing Co., whose satellite network would benefit from digital movie distribution, and Belgium's Barco Projection. \nStanding with the green glow of Yoda on the screen behind him during a recent Star Wars Episode II showing, Ultra Star vice president Damon Rubio said fans have voted with their feet for the digital version. When his theaters are showing the movie in its well-publicized digital format, they're packed, he said. When they're showing the film version, they're not. \nDigital demand \nLikewise, for several days prior to the movie's release, the offices of the National Association of Theater Owners were flooded with e-mails from fans demanding digital movies. Just as important as quality is durability. \n"When I run this 100 shows from now, it will be just as beautiful and crisp as the first time I ran it," Rubio said recently, motioning to the vending-machine sized digital projector in his chain's Carlsbad, California theater. \nLike many early adopters of new technology, Rubio keeps a backup nearby in the form of a standard film projector. But just as home movies went from 8-millimeter projectors to VCRs to DVDs, few doubt that most theater owners will eventually make the leap to digital projection. \nThe question is when, and who will pay for it. \nTheater owners recently began a push for studios to help pay for new projectors, either by reducing distribution prices or teaming up with equipment makers to offer inexpensive lease agreements. \nBut studios have been reluctant to make changes to a system that isn't broken. Why should they shell out extra money for theater improvements, something they wouldn't typically do, when blockbusters such as Spider-Man and Star Wars are still ringing up box-office records? \nThe film industry, well aware of the battles that music labels are fighting against digital piracy, is also considering encryption and other security measures to keep its product secure. \nAs more companies start making more digital projectors, prices will likely come down. \n"Right now it's expensive, but we're at the beginning stages," said Doug Darrow, a business manager in Dallas-based Texas Instruments Inc.'s Digital Light Processing division, which invented the mirrored semiconductors at the heart of new projectors. "This is an electronics product. Costs will come down as you start to see more volume in manufacturing." \nTwo years ago, Darrow was among those attending a technology conference in Atlanta when 20th Century Fox sent a digitized cartoon, Titan AE, over the Internet from its Los Angeles studio. It was the first time a feature movie was digitally transmitted. \nToday, there's little doubt the push toward fully digital movies will continue. But it may be years until they're commonplace. \n"We're talking about the biggest transition since the advent of talking movies," said Fithian of the theater owners' group. "Yes, we put in digital sound systems a few years back. Yes, we changed the scope of the screen, made theaters with stadium seating. But nothing has been as significant or expensive as the transition to digital," he said.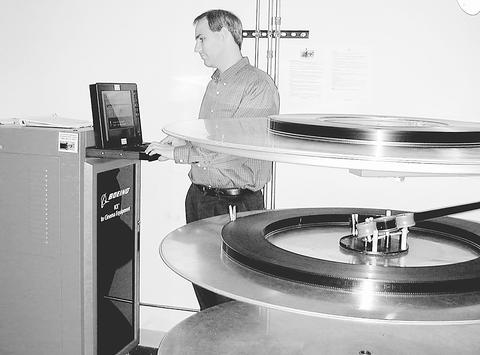 Damon Rubio, vice president of operations for Ultra Star Cinemas in Carlsbad, California, starts the digital version of ``Star Wars Episode II: Attack of the Clones'' with a laptop computer attached to a computer server below where the digital movie is stored. In the foreground are platters holding a film version of the movie that can be used with a traditional projector in case of a malfunction.
PHOTO: NY TIMES
Comments will be moderated. Keep comments relevant to the article. Remarks containing abusive and obscene language, personal attacks of any kind or promotion will be removed and the user banned. Final decision will be at the discretion of the Taipei Times.