Former Andersen partner says shredding was illegal
David Duncan, the government's star witness in its attempt to prove Arthur Andersen LLP broke the law by shredding Enron Corp documents, said he wasn't assured leniency in return for testimony that may help convict the accounting firm of obstructing justice.
"I've been told there's no correlation" between the outcome of the firm's trial and his own sentence, the former Andersen partner told the jury shortly after taking the witness stand today. "I obstructed justice" and instructed others to destroy Enron documents, he testified.
The trial's outcome, the first prosecution of a Big Five accounting firm, may hinge on whether the jury believes Duncan acted with other partners at Andersen to shred Enron-related material, experts say.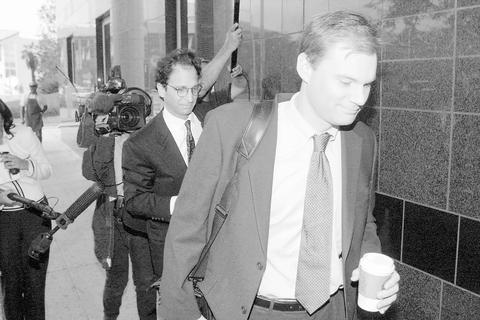 Prosecutors Andrew Weissmann, right, and Matt Friedrich, left, arrive at the Federal Courthouse in Houston, Monday. Arthur Andersen LLP's obstruction of justice trial has entered its second week.
PHOTO: AP
Andersen's lawyer, Rusty Hardin, told reporters that US District Judge Melinda Harmon has scheduled a hearing before tomorrow's trial session to consider possible sanctions against him. The prosecution "has indicated they're seeking sanctions," Hardin said, who has accused prosecutors of intimidating witness-es and has been scolded by the judge for his repeated objections during testimony.
Duncan, former lead auditor on Andersen's Enron account, was fired in January and pleaded guilty to obstructing justice last month. The government is seeking to prove he didn't act alone and that the firm is equally guilty of destroying material of interest to federal investigators probing possible fraud at Enron.
Duncan waited to testify for most of the day as Hardin completed his cross-examination of earlier witnesses. On the stand, Duncan said he was told that prosecutors wouldn't recommend a specific sentence in exchange for his cooperation.
Andersen, Enron's auditor for 16 years, is accused of shredding tons of documents to hamper investigators' efforts to determine whether fraud caused the energy trader to file the biggest bankruptcy in history in December. Andersen, struggling to survive, would lose its ability to audit public companies if convicted.
Earlier today, prosecutors in court papers denied Hardin's claim they "harassed or intimidated" potential witnesses. They accused Hardin of making "unfounded" accusations in violation of court rules on speaking to the press.
In court, Hardin has made repeated references to the prosecutors being from Brooklyn, New York and Boston.
"We've got this thin-skinned group," Hardin told reporters.
He didn't give further details on the request for sanctions.
In about an hour of testimony yesterday, Duncan described a close relationship between Andersen and Enron, in which executives often switched jobs from one company to the other. Andersen executives worked out of Enron offices around the country.
Duncan said he was "close to" former Andersen Chief Accounting Officer Richard Causey and former President Jeffrey McMahon.
Duncan said Enron was "among the largest" Andersen clients, generating millions of dollars a year for the company. Andersen had more than 100 full-time employees assigned to Enron, Duncan said.
Duncan's testimony will continue today.
Comments will be moderated. Keep comments relevant to the article. Remarks containing abusive and obscene language, personal attacks of any kind or promotion will be removed and the user banned. Final decision will be at the discretion of the Taipei Times.