World Cup may benefit mobile firms
TELECOMS KTF has signed a roaming service pact with 37 GSM carriers in 30 countries, including China Mobile, while NTT DoCoMo and KDDI are also looking to gain
The soccer teams of World Cup co-hosts South Korea and Japan may never meet on the playing field, but the one-month tournament will be a golden opportunity to showcase their prowess in advanced mobile technology. \nThe race to create a mobile World Cup has hotted up between mobile operators in South Korea and Japan, with both countries offering an array of services to allow visitors keep in touch with home. \nVisitors coming to South Korea for soccer's premier event can be contacted by the GSM (global system for mobile communications) mobile phone numbers they use at home by inserting removable thumbnail-sized plastic SIM card into a roaming phone, which can be rented at the airport for just US$1 per day. \n"We have signed a roaming service agreement with 53 mobile carriers in 32 countries using the GSM mobile service system," said Chang Sung-soo, an official of the international roaming team at Korea's top mobile carrier, SK Telecom Co. \nKTF Co, Korea's second-largest mobile carrier, has signed a roaming service pact with 37 GSM carriers in 30 countries, including China's biggest cellular firm China Mobile. \n"We expect about 100,000 Chinese people to come to Korea to watch the games. At least one tenth of them will be using roaming services," said Sung Jae-bong, a marketing manager at KTF. \nThe weakest link is a lack of full roaming services between Japan and South Korea -- ironic for countries so close that their coastal regions receive each other's television broadcasts. While about 70 percent of the world's mobile phone users, including those in Europe, use the GSM system, the co-hosts of the May 31 to June 30 World cup finals use CDMA (code division multiple access). \nThe high level of travel between Japan and South Korea, to be boosted further by the World Cup, was expected to provide an ideal testing ground for international 3G roaming, the cutting edge of CDMA technology. \nTwo carriers in Japan -- NTT DoCoMo Inc and KDDI Corp -- had high hopes for offering services for the World Cup, possibly by tying up with a South Korean counterpart. But nearly two years of negotiation between DoCoMo and SK ended in failure last December. \n"Ironically, roaming services between Korea and Japan are not possible unless Japanese tourists bring specially designed handsets, which are not popular," said SK's Chang. \nA CDMA automatic roaming service pact between SK Telecom and both NTT DoCoMo and KDDI allows limited links between the host countries. They require pricey dual-band handsets unless Japan's carriers undertake an even costlier upgrade of their networks. \n"For seamless roaming, Japanese carriers need to upgrade their networks, which is costly and takes more than a year," said Chang. \nSK Telecom subscribers who enjoy automatic roaming service in all of the world's CDMA service regions, including the US and China, need special dual-band roaming handsets in Japan due to the difference in the frequency bands between Korea and Japan. \nJapan's DoCoMo subscribers can rent mobile phones that allow automatic roaming services at airports before leaving for South Korea and then use them in South Korea as if they were in Japan. \nKorea is looking to show off some smart new technology when some of the world's best soccer teams come to town. \nKTF is involved in negotiations to get a FIFA licence to provide breaking World Cup news and video images over mobile phones, said Ha Tae-sook, head of KTF's World Cup communications team. \n"Soccer fans who don't have the ticket will be able to watch vivid video clips of winning goals on their mobile phones with colour screens," he said.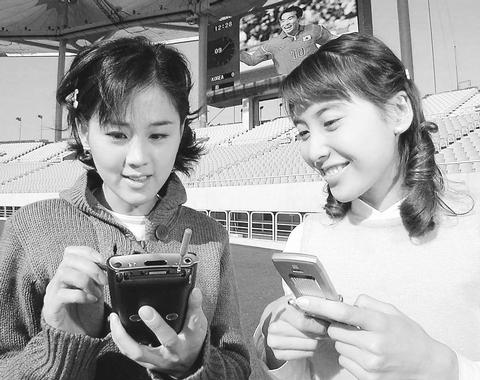 South Korean women use a PDA and mobile phone earlier this year at Inchon World Cup stadium, west of Seoul. The Asian nation is looking to show off new technology when some of the world's best soccer teams come to town.
PHOTO: REUTERS
Comments will be moderated. Keep comments relevant to the article. Remarks containing abusive and obscene language, personal attacks of any kind or promotion will be removed and the user banned. Final decision will be at the discretion of the Taipei Times.