Used-car salesmen go online to survive
SEARCHER'S PARADISE E-commerce companies are working diligently to find small pockets where they can improve the efficiency of the used-car industry
In the business arena, there is perhaps no more mismatched pair than the used-car industry and e-commerce. The used-car business is like an offensive tackle, a not-so-pretty giant that goes about its duties mostly unnoticed. E-commerce is like a promising running back, a first-round draft pick that has preened and danced its way to ignominy. \nThat the pair is now starting to operate successfully together could mean better times ahead for both. \nThe used-car market, which outsells the new-car market annually by a score of 42 million to 16 million, is experiencing a two-year price slump, industry analysts say. That slump is deepening, and not just because consumers are finding great deals on new cars. \nRental car companies, hurt by declining airline traffic, are dumping their cars onto the used-car market at a higher rate than they did in recent years, further undermining prices. The holiday months, meanwhile, are always the slowest for sales of used cars and trucks. \nA few years ago, business-to-business e-commerce companies would have clicked a mouse three times, uttered a few words about "revolutionary end-to-end solutions," and promised to cure those ills. Nowadays when Internet and auto companies intersect, "revolution" is mentioned only in the context of RPM, as e-commerce companies are working diligently to find small pockets where they can improve the efficiency of the used-car industry. \nTheir efforts are paying off, say used-car wholesalers like General Motors Acceptance and others, which add that the Internet has helped open a new sales channel this year, and in doing so, it has put a small amount of positive spin, as it were, on an otherwise dreary 2001. \nAnalysts say that wholesalers of used automobiles, which sell their inventories to dealers of new and used cars, will sell just 4 percent of their cars over the Internet this year, a number that is expected to grow to 22 percent by 2006. Those seemingly paltry numbers add up quickly: Auto remarketers, as the wholesalers are known, are expected to sell US$38 billion worth of cars in 2006, and cut their costs by US$500 million in the process, up from US$21 million in savings this year, according to Forrester Research, the Internet consulting company. \nConsumers get a break \nConsumers may already be benefiting from the fact that wholesalers cut roughly US$300 from the cost of each sale they make via the Internet, savings that are mainly attributable to lower transportation costs and depreciation expenses. \nTypically, auto credit companies and manufacturers take back nearly 10 million cars each year, including nearly 4 million whose leases and contractual agreements have run out with consumers and rental car companies. In the past, these companies have had to sell the cars in huge auctions run by companies like Manheim Auctions or ADESA Auto Auctions -- a process that takes an average of 37 days, including transportation from the wholesaler to the auctioneer, the inspection and the lag time between auctions. \nBeyond the wholesaler's cost of carrying the car on its books for that long, myriad other costs are involved, including those tied to the paperwork-heavy process of coordinating with the auction company and delivering the car. Used-car retailers incur costs moving the cars through the auction, too. They can lose a day of work to the process and find no cars suitable for their lots. \nThe Web is providing relief in two forms. First, traditional auction companies are opening their auctions to outside bidders via password-protected Internet sites, like Manheim Online, which, like Manheim Auctions, is part of Cox Enterprises. Through these sites, used-car retailers can log on, preview the cars as they would in the physical auction (through pictures and other data) and bid against those who are participating in the auction in person. \nFor the wholesalers, the benefits are simple, in that they have more potential buyers to bid the value up. Used-car retailers, meanwhile, can not only avoid transportation costs and lost time, but they can be more proactive about finding cars to suit prospective customers who have not found exactly what they wanted on the dealer's lot. \nThough the Internet-enhanced auctions cut costs for both the wholesalers and the buyers, these auctions still involve physically moving the cars to a central location. As a result, analysts said, the bigger savings occur when the entire process takes place online. Here, Internet companies like Autodaq, based in Menlo Park, California, set up password-protected auction sites for used-car wholesalers, who can then set the terms of the auction and open the bidding to as many dealers as they like. \nWhile virtually all of the participants in this process extol it for the efficiencies it creates, they also acknowledge that it has severe limits. Chief among them, said Baba Shetty, a Forrester analyst, is the inability of auction participants to literally kick the tires of cars that are in mediocre condition, or worse. \n"If I see a Ford Taurus online that's come in off a lease, and it's got 50,000 miles on it, I know there are hundreds of thousands of those produced every year," Shetty said. "If I'm a dealer, do I want to buy it or not? It depends. I have to take a good look at it." \nLow mileage still sells best \nFar easier are decisions involving newer cars with low miles, Shetty said, like those that car rental companies return to automakers, typically after they reach the 20,000-mile mark. \nWorld Omni Financial, a division of the privately held JM Family Enterprises in Deerfield Beach, Florida, is one company that has used both Manheim Online and Autodaq to sell its used cars to dealers online. The company, whose parent distributes billions of dollars' worth of Toyota and Lexus cars through a network of dealerships in the Southeast, began marketing its used cars over the Web in late 1999, said Brent Burns, World Omni's president. \n"The beauty of the online world is that there are something like 17,000 buyers that have access to the broader cyber sales we hold," Burns said. He added that Autodaq had set up an auction Web site specific to cars that World Omni has gotten back from expired leases or repossessions. That site can be used, he said, to limit the number of auction participants, as automakers sometimes do to reward certain dealers. \nBurns declined to say how many used cars the company had sold online, but he said that roughly 13 percent of its sales came from the Web. Furthermore, 80 percent of the cars that sell over the Web do so within three days, and the overall time it takes to resell a car online is 12 percent lower than offline. "These are depreciating assets, so time is money," he said. \nBecause auto companies have almost universally embraced the concept, analysts said, the 70,000 or so used-car dealers, who have been wary about bidding US$15,000 for a car they have not sat in, will determine whether this trend will take hold. \nTo help overcome this reluctance, GMAC relies on a field sales force to demonstrate to retailers the benefits of its online auction site. William C. Ploog, the general director of remarketing for GMAC, said that of the roughly 500,000 cars the company would take back this year after their leases expired, it would sell about 150,000 through Web auctions.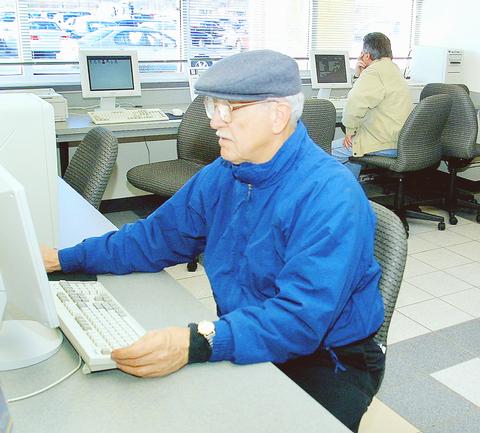 Dealers examine listings of used cars on the Internet using computers at Manheim's National Auto Dealers Exchange auction house in Bordentown, New Jersey.
PHOTO: NY TIMES
Comments will be moderated. Keep comments relevant to the article. Remarks containing abusive and obscene language, personal attacks of any kind or promotion will be removed and the user banned. Final decision will be at the discretion of the Taipei Times.