US economy appears to be on the mend
PROGNOSIS Consumers are expected to be much more cautious than usual this holiday season as they avoid high-ticket items while favoring bargains
The US economy's Sept. 11 wounds are healing but analysts say the country is still in a recession that will linger until at least early next year. \nMore than two months after the attacks on the World Trade Center and the Pentagon, consumers have resumed many of their normal habits, hitting malls and car showrooms and eating at their favorite restaurants. \nBut economists say that even as Americans start to feel a little safer and happier amid progress in the war in Afghanistan, they will still handle their money a bit more carefully. That restraint is expected to last throughout the holiday season and into the first part of next year. \n"This Christmas is going to be tough, even with all the sales that are going on," said Mark Zandi, chief economist at Economy.com in West Chester, Pennsylvania. \nIt was the initial trauma of the attacks that kept consumers holed up at home in front of their television sets, but their reticence about spending now stems from a different source: fear that they could lose their jobs. \n"The trend on consumer spending is probably still a downward one," Bruce Steinberg, chief economist at Merrill Lynch in New York, said. "The key to what the consumer does is still the job market and companies are continuing to lay people off." \nLayoff announcements flooded in during the first few weeks after Sept. 11. They have slowed to a trickle lately but Steinberg said with corporate profits likely to plumb post-World War Two lows in the fourth quarter, the job cuts are far from over. \nEqually damaging to hopes for a buoyant holiday season is the fact that few companies are hiring. Many economists expect the US unemployment rate -- which jumped a half-point to 5.4 percent in October -- to reach 6 percent in coming months. \nStill, analysts are heartened that the economy is proving more resilient than expected. \n"Things aren't good but they clearly aren't terrible," said Joel Naroff of Naroff Economic Advisors in Holland, Pennsylvania. \nNaroff said a turning point in his view of the economy came when he drove by the local McDonald's and saw that the restaurant had put back up its "Now Hiring" sign. \n"Those signs had disappeared for a while," he said. \nWall Street is finding reasons to be encouraged as well, most notably last week's report from the Commerce Department showing a 7.1 percent snapback in October retail sales after they sank 2.2 percent in September. \nThe October jump was the biggest on record but economists cautioned it was fueled by auto sales, which were in turn juiced up by huge incentive offers from car companies. \nBecause the incentives lured in customers who might have planned to wait to buy a car sometime next year, the surge bodes for weaker sales in coming months. \nSteinberg of Merrill Lynch said investors should be careful not to pin hopes of an imminent recovery on the retail sales data or some better-than-expected jobless claims reports that have come out lately. \n"We are not ready to recover tomorrow," Steinberg said. \n"It's not going to be the worst recession we ever had but it's not over yet." \nIronically, the optimism that the US economy may be poised to pull out of a recession has come before the downturn has even met the loose definition of a recession -- two straight quarters of falling gross domestic product. \nA committee that determines the official dates of recessions in the US was holding a conference call yesterday to decide whether the world's largest economy has slid into one, Martin Feldstein, the president of the National Bureau of Economic Research, said. \nBut the NBER, the nation's official arbiter of recessions, may not determine a date and even if it does, the official announcement will not come until next week at the earliest. \nGDP fell 0.4 percent in the third quarter, the first drop in eight years. Most economists feel certain it will log another contraction in the current fourth quarter. But that data won't become available until late January. \n"We'll probably get a good-sized negative number for fourth quarter GDP, down 2 percent or so," Zandi of Economy.com, said. \n"We'll probably get another negative number in the first quarter." \nBut Zandi and other economists were breathing sighs of relief that the doomsday scenarios circulating just a few weeks ago have failed to materialize. \n"The worst-case scenarios look like they are starting to fall away," James Glassman, economist at JP Morgan in New York, said. \n"The world is not looking great but it's not as dire as it looked at the end of the week of Sept. 11."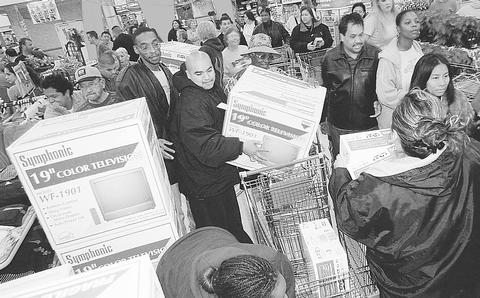 Shoppers rush to grab US$85 television sets inside Wal-Mart in Upland, California just after the store opened Friday. Hoping to get consumers back in the buying mood, merchants in the US began offering the most dramatic holiday discounts in recent years.
PHOTO: AP
Comments will be moderated. Keep comments relevant to the article. Remarks containing abusive and obscene language, personal attacks of any kind or promotion will be removed and the user banned. Final decision will be at the discretion of the Taipei Times.