Japan split over beer controversy
CONSUMER BACKLASH It may soon cost more for Japanese to drown their sorrows with `happoshu,' a popular brew politicians see as a revenue generator
The cans of cheap beer crammed on the shelves of Shingo Matsubara's liquor shop look harmless enough.
But in recent weeks they have sparked rows in Japan's corridors of power, sent its US$40 billion-a-year brewery industry into crisis mode and even opened a rift between the wildly popular prime minister and his son.
To the consternation of brewers, Japan's revenue-thirsty bureaucrats want to raise taxes on a well-loved tipple, low-malt beer known as happoshu in Japanese.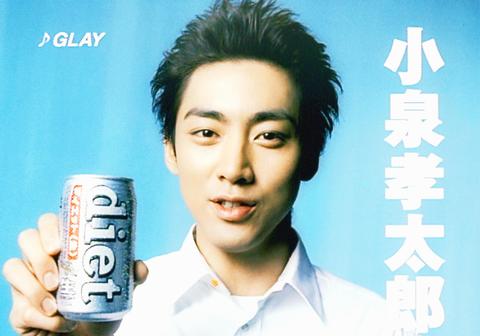 Kotaro Koizumi, son of Japanese Prime Minister Junichiro Koizumi, is seen in this undated still photograph taken from a television commerical for major beer maker Suntory Ltd's low-calorie ``diet'' happoshu, or low-malt beer, in his debut role as a TV talent.
PHOTO: REUTERS
That would give the government a welcome income boost as it tries to shore up the country's wobbly finances, but brewers say it would also cripple demand for their star product, which is currently taxed at around half the rate of normal beer.
Last but not least, the proposed tax hike is upsetting the nation's beer drinkers who have been enthusiastically guzzling the stuff in recent years, reflecting the "cheaper is better" philosophy accompanying Japan's slide into recession.
Voting for pain
"The politicians see an easy way to get money, and they just want to grab it," said the 57-year-old Matsubara, frowning behind the counter of his family-run shop in a well-to-do part of downtown Tokyo.
"If they raise the tax, our sales are sure to go down and the customers will hate it. With the economy in this state, happoshu is one of the few sources of happiness around."
Beer connoisseurs say happoshu has a slightly inferior taste compared with the real thing, but that refinements in its ingredients in recent years have narrowed the gap.
Crucially, it gets you just as drunk as real beer -- and often more so, as many happoshu varieties have a higher alcohol content than normal brews.
"People have got used to the taste, but the main reason they drink it is the price," said Matsubara, pointing to labels showing a difference of nearly ?100 (US$0.80) between 500ml cans of happoshu and ordinary beer.
Most of that gap is tax, which explains why brewers are terrified that their most promising market could be wiped out at a stroke of a pen.
In many ways, the happoshu row is a microcosm of the challenge facing Prime Minister Junichiro Koizumi as he tries to reform Japan's finances without dowsing what little spark remains in consumer sentiment.
Japanese voted for pain when they elected Koizumi last summer, and more expensive booze could be one of the first slaps in the face he gives them in return.
Since its introduction in 1994, sales of happoshu have exploded to account for nearly 30 percent of Japan's total beer consumption, providing a rare bright spot for brewers and the slumping economy.
But success has come at a cost -- the attention of the tax man at a time when the pressure is on for Koizumi to rein in the massive debts the country has run up in recent years.
The tax mandarins say that happoshu has become so tasty that there is precious little difference between it and normal beer and thus it should be taxed at the same rate.
"They now taste the same, there's very little difference," said Hiromitsu Ishi, chief of the government's tax panel, in a recent interview.
"It's a loophole, and we need to fill the gap."
The sums of money involved are not small froth. The Japanese are the world's fifth-biggest beer drinkers, helping the government rake in around ?1.8 trillion (US$14.7 billion) in alcohol-related revenue each year.
The tax men reckon that raising the duty on happoshu could net them upwards of ?250 billion in extra money next fiscal year, going some way toward plugging an expected revenue shortfall.
But the nation's beer makers and drinkers are not taking this lying down.
The five big brewers -- Asahi Breweries Ltd, Kirin Brewery Co Ltd, Sapporo Breweries Ltd plus unlisted Suntory Ltd and Orion Breweries Ltd -- have set up a pressure group to oppose the increase and make their case.
Looking to rally the public, the group even has its own Web site (www.happoshu.com), which invites disgruntled drinkers to e-mail their views directly to the prime minister or the ruling Liberal Democratic Party (LDP).
The beer makers won the first round of the battle last year when their friends in the LDP succeeded in getting the plan ditched.
But although they still have some backers in the ruling camp, the tide seems to be turning against them and time is running short with the tax panel aiming to draw up its plans for the next fiscal year by mid-December.
Koizumi Vs Koizumi
The brewers also have a not-so-secret weapon in the form of Koizumi's eldest son, Kotaro. The youthful scion of the prime minister has been plugging Suntory's low-calorie "diet" happoshu in television commercials in his debut role as a TV personality.
His new-found status as the happoshu poster boy has ironically put him on the opposite side of the debate to his dad, a fact that Japan's media have gleefully picked up on.
"It's very tasty and makes you slimmer!" beams the aspiring actor in one commercial, trying to persuade a reluctant older man to drink the beer.
"That's too good to be true," replies the man.
"Well, we're setting new standards," proclaims Koizumi, in an echo of his father's promise to change the normal way of doing things.
Stock market analysts say Asahi Breweries would be hurt least by a tax increase on happoshu because of the rising popularity of its regular "Super Dry" beer which recently helped it overtake Kirin as the nation's top seller.
But there would be no real winners. Analysts say the beer market is already reaching saturation point and all the breweries are worried that once happoshu drinkers are lost, they will be hard to win back.
Even more neutral observers are unconvinced of the economic logic behind the proposed tax hike.
While not to be sniffed at, the extra revenue would be only a drop in the beer barrel of Japan's mammoth debt, the largest in the industrial world.
"Raising the tax on happoshu doesn't make sense; it's penalizing an innovative product that fills a niche in terms of consumer demand," said one former Trade Ministry official.
In one of Tokyo's thousands of hole-in-the-wall bars, the verdict on happoshu was unanimous. "Personally, I think it tastes pretty bad. If they raise taxes, it won't sell at all," said Haru, who runs a dark, cramped-but-funky bar in western Tokyo.
Comments will be moderated. Keep comments relevant to the article. Remarks containing abusive and obscene language, personal attacks of any kind or promotion will be removed and the user banned. Final decision will be at the discretion of the Taipei Times.