VW workers end week-long strike
The 16,000 Brazilian workers at German automaker Volkswagen AG's second-largest factory ended their week-long strike early on Monday as they considered a company proposal to suspend 3,000 staff cuts in return for reductions in wages and working hours.
Workers at the Anchieta factory in Sao Bernardo do Campo, outside Sao Paulo, were due to vote on Wednesday on the proposal hammered out between the president of the ABC Metalworkers Union, Luiz Marinho, and VW management in Germany.
"The proposal is complex and has many items," Marinho told workers during a meeting at dawn. "If we made a decision today, many people might have doubts when they voted."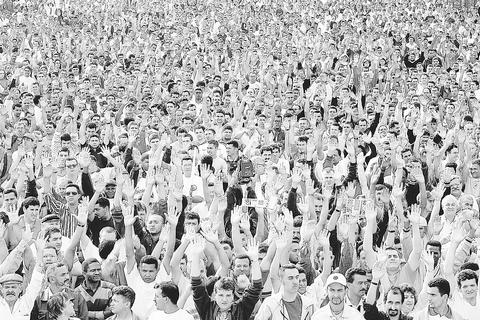 Volkswagen automotive plant workers vote to return to work on Monday during a meeting in Sao Bernardo, 25km south of Sao Paulo, Brazil.
PHOTO: AFP
VW has lost production of up to 900 cars per day during the peaceful strike, one of the largest industrial walkouts in Brazil in recent years.
Marinho, who went to Germany after talks broke down with local management, said he believed the proposal would be accepted by workers as a means of guaranteeing employment levels for the next five years.
Of the 3,000 employees dismissed a week ago, 1,500 would return to work immediately and 1,500 would receive paid leave until Jan. 31.
During that time, the company aims to put 700 people on a voluntary severance program.
The workers, in turn, would have to agree to a 15 percent cut in wages and working hours (a four-day working week) -- items in the local management's original proposal that they rejected two weeks ago -- as well as to a new productivity and evaluation program.
Part of the lost wages would be offset with the company's profit-sharing plan.
Marinho, known in the auto industry for his good negotiating skills, convinced VW management to abandon a plan to dismiss 6 percent of workers a year and replace them with new hires who would be 30 percent cheaper.
"This rotation of 6 percent annually was the big problem for the union," said Iram Jacome Rodrigues, a professor at the University of Sao Paulo who specializes in organized labor. "They worked out that the current work force would be gone in a matter of years."
In the ABC -- the cluster of industrial cities of Santo Andre, Sao Bernardo and Sao Caetano and the car capital for Brazil -- auto workers' wages are now around 30 percent higher than in other states.
According to the union, VW has promised to invest more than 500 million reais (US$200 million) in the production of a new Polo model for export to Europe. The Tupi, a compact model in the development stage that could replace the best-selling Gol, could also be assembled in the Anchieta factory.
Comments will be moderated. Keep comments relevant to the article. Remarks containing abusive and obscene language, personal attacks of any kind or promotion will be removed and the user banned. Final decision will be at the discretion of the Taipei Times.