Former CEO testifies in Sotheby's trial
PRICE FIXING In US Federal court in Manhattan on Monday, former Sotheby's CEO Diana Brooks said that she was directed by A. Alfred Taubman to collude with Christie's
The central witness in the price-fixing trial of A. Alfred Taubman of Sotheby's -- his former chief executive, Diana Brooks -- took the stand for the first time Monday and testified that Taubman drafted her for a conspiracy with arch rival Christie's that he sought to conceal until the very end. \nIt was the most dramatic confrontation to date in the seven-day-old trial in federal court in Manhattan -- the two former partners at the top of one of the world's auction giants pointing fingers at each other in one of the art world's biggest scandals. \nWearing a simple navy blue suit and speaking in a calm and confident voice, Brooks, 51, who spent more than 20 years at the auction house before widespread disclosures from a federal investigation forced her ouster and a guilty plea, said that Taubman directed her to meet her counterpart at Christie's to set up a joint schedule of higher prices and coordinate other business practices, and that he congratulated her when the scheme was carried out. \nWhen it collapsed, she testified, and she insisted on meeting Taubman only in the presence of a Sotheby's lawyer, Taubman told her, "Just don't act like a girl." And on the same occasion in January last year, she said, when a newspaper printed her picture, Taubman held it up and said, "You'll look good in stripes." \nSitting at the defense table flanked by his lawyers, Taubman, 76, the former chairman of Sotheby's and still its largest shareholder, gazed stolidly at Brooks, who did not look back except once, to point him out vaguely, at a prosecutor's direction, to the federal court jury of eight men and four women. \nBut Taubman, in a charcoal gray suit, white shirt and blue tie, reacted visibly once, when Brooks testified that she had told him in advance that she would be meeting with her counterpart at Christie's, Christopher Davidge. Taubman turned to one of his lawyers, Scott Muller, and mouthed as if in disbelief, "Ha!" \nTaubman, who has pleaded not guilty, has maintained through his lawyers that it was Brooks and Davidge who colluded without his knowledge. In addition to Taubman, the government has charged the former chairman of Christie's, Sir Anthony Tennant, with antitrust conspiracy, but while denying wrongdoing he has declined to face trial and cannot be extradited from England. \nBrooks pleaded guilty to price fixing last year and agreed to testify for the government in hopes of winning a reduction in a possible three-year sentence with a large fine. Her counterpart and acknowledged co-conspirator, Davidge, 56, obtained immunity from prosecution along with Christie's, for coming forward with information early. He was on the stand for three days, ending Monday, testifying that at Tennant's direction he repeatedly met Brooks to carry out an agreement to jointly raise nonnegotiable fees for auction sellers and eliminate costly business practices like making no-interest loans to clients. \nTo buttress his testimony, the Justice Department followed Davidge with Brooks, once the most powerful woman in the art world. She recited matter of factly how she had graduated from Yale, worked for Citibank as an account officer and joined Sotheby's part time in 1979. By 1984 -- the year after Taubman, a Michigan shopping center developer and art collector, bought control of Sotheby's -- she had risen to senior vice president for finance. \nBy 1994 with Taubman's support, she was named president and chief executive officer of Sotheby's Holdings, the US$2 billion-a-year parent company. \nBuilding on one of the prosecution's most striking disclosures -- that Taubman and Tennant held a dozen private meetings from 1993 to 1996 -- Brooks testified that shortly after the third meeting on April 30, 1993, Taubman told her about it. The two chairmen, she said, "agreed we were both killing each other over the bottom line and it was time to do something about it." \nShe said Taubman showed her a list of issues like pricing and interest-free loans that were discussed and wanted her and Davidge of Christie's to "work out the details." She said he told her it was Christie's turn to go first with higher prices and Sotheby's would follow. And she said, Taubman cautioned her not to talk about it with anyone. \nAsked what she responded, she said, "Fine, I won't tell anyone." \nShe said she first met Davidge in a private dining room at the Stafford Hotel in London in November 1993 after first advising Taubman that the meeting he had long sought was about to happen. She said they agreed to stop boasting publicly about which company had a larger market share -- they were roughly equal -- and to devise a new mutual system of guaranteeing minimum returns to their auction sellers. \nAs for a new pricing scheme, he didn't have one, Brooks said, but he promised, "I'm going to be working on that with you." \nOn Feb. 8, 1995, she said, Davidge flew into Kennedy International Airport. "I met him in my car," she said, and drove to the nearest parking lot. "We moved to the back seat of the car; he had papers he wanted to show me." It was the new higher sellers' fees Christie was about to impose, she testified. \n"He asked me if I had any problems with it," she went on. "I said it looked good to me." \nOn March 9, 1995, Christie's announced those new rates. Brooks said she promptly called Taubman, who already knew about it. "He said to me, `Congratulations,'" she testified. \nSotheby's adopted the rates, with a few changes, on April 13. \nEven after the seller's fees were set between Brooks and Davidge and the two had switched lists of super-rich clients who had been promised special terms and would therefore be exempt, Brooks recalled getting a telephone call in 1996 from Davidge accusing her of breaking the agreement by offering the Shelburne Museum in Vermont overly generous terms for a sale. \nTo convince him that she had not reneged, Brooks then copied pages of Sotheby's contract herself and delivered them to the hotel where Davidge was staying. \nOn another occasion, Brooks testified, when she and Davidge exchanged lists of clients, Davidge also gave Brooks a plain, sealed envelope that he told her was extremely confidential because it contained the name of a client whose collection Christie's was trying to get for sale that had been omitted from the list. \nHe asked her not to open it. When she told Taubman she had gotten the Christie's list she also told him about the envelope. "He said, `Why don't you open it?'" Brooks said. She said she replied, "Because I gave my word." \nBut soon both she and Taubman learned what the envelope contained when Christie's reported that it was selling the jewelry belonging to the Princess Salimah Aga Khan, who was in the process of getting a divorce. (The sale, which took place in November 1994, brought US$27.6 million.) When Brooks finally did open the envelope it contained a piece of paper with the initials SAK.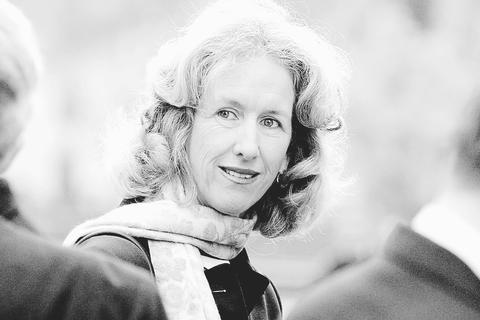 Former Sotheby's CEO Diana Brooks admitted to her involvement in a trial over price-fixing allegations in New York on Monday.
PHOTO: NY TIMES
Comments will be moderated. Keep comments relevant to the article. Remarks containing abusive and obscene language, personal attacks of any kind or promotion will be removed and the user banned. Final decision will be at the discretion of the Taipei Times.