Microsoft is in new territory with Xbox
HIGH STAKES The company is taking a big gamble with its new game console and is willing to lose billions on hopes the machine will bring in new revenue
Deep in the wine cellar of the Hotel de Paris in Monte Carlo one evening last month, two dozen of Europe's top video-game publishers, along with some American rivals, gathered to toast the Xbox, the newest machine that will run their games. Surrounded by Napoleonic vintages, they dined at the invitation of the game's creator, the Microsoft Corp, which stands little chance of succeeding in the US$20 billion market without their games to propel sales. \nOne American, Sherry McKenna, who had migrated from the film business to Oddworld Inhabitants, a small development studio in California, typified what they had at stake. Oddworld had scrapped plans to make its next game for Sony's PlayStation2 in favor of the Xbox, tying its future to Microsoft's success in video games. She has doubts, though, about Microsoft's marketing approach. \nThe Xbox, which goes on sale in North America on Nov. 15, backed by a US$500 million marketing budget, is Microsoft's first console and its most ambitious effort yet to conquer the living room in the same way it did the office. Packing the power of a high-end personal computer, the Xbox will challenge both PlayStation2 and Nintendo's coming GameCube with a top-notch graphics chip and a high-speed Internet port. Microsoft is willing to lose as much as US$100 on each US$300 box to lay a foundation for other consumer devices and to head off the advances of Sony, which has a head start of 20 million systems worldwide, analysts say. \nIt is anything but a sure thing. Even as Microsoft appears close to settling the government antitrust case that has troubled it for years, its core businesses are shrinking. The days of booming PC sales have ended, and Internet-based software is reducing the importance of Microsoft's operating system. Now a US$25.3 billion business, Microsoft faces a sluggish future without strength in new markets. In tackling the booming video-game market with an Internet-ready console, Microsoft is willing to lose billions of dollars in a bet that the Xbox will bring in new revenue and help other efforts like interactive television and online services. \nMicrosoft executives acknow-ledge the monumental challenges of having to learn an industry that rewards storytelling and flash over engineering skill -- an industry that is more Hollywood than Silicon Valley. If they fail, the Xbox could become, as one game publisher predicted, "a fiasco." \nShow-business flair \nMicrosoft's difficulty was on full view in May at the Electronic Entertainment Expo, or E3, the industry's annual coming-out party in Los Angeles. While Sony and Nintendo thrilled the crowd with show-business flair, many attendees said, Microsoft disappointed with unfinished games and a stage show that gave little indication that it knew the difference between selling spreadsheets and selling fun. \n"They blew it at E3, no doubt about it," said McKenna, whose game Munch's Oddysee is one of 15 to 20 Xbox titles to be released first. "You've got to make a huge statement, entertain them and blow them away. And they didn't do it." \nAt the dinner in France, she recalled, "that's all I talked about -- `Do you guys get that you screwed up?'" \nInside Microsoft, some people clearly had learned from the mistakes of E3. The next night, Microsoft held a gala to announce that it would begin selling the Xbox in Europe on March 14. Reporters across Europe were invited to Cannes to Pierre Cardin's cliffside mansion, which was bathed in light colored the machine's signature green. Lasers projected the Xbox logo on nearby homes as Microsoft showed off stunning new games. Glowing reviews poured in. \nEven so, Microsoft has yet to demonstrate that flair in the US. Even its supporters question whether it can win over consumers quickly enough to build the fan following that Sony and Nintendo enjoy. \n"This is an industry that has as much to do with emotion and Hollywood as it does things having to work perfectly out of the box," said Peter Moore, president of Sega of America. "One could argue that Microsoft doesn't really understand any of those issues yet." \nAnd there is another problem: While errors are fixed easily in the traditional software business, Microsoft may have only one shot at the fickle game consumer. "Unless they have a successful launch," said Kazuo Hirai, president of Sony Computer Entertainment America, "there really is no Xbox 2.0 to be had." Experts figure that the Xbox has through next year's holiday season to make its mark. \nBut Bill Gates, the Microsoft chairman, said in an interview: "We're so committed to this thing. When we do something we stick to it." \nStruggling for a foothold \nFor Microsoft, the allure has been clear for years. Entertainment is going digital. Film, music and electronic games are converging into the same devices. In the living room, that device is the TV set-top box. Whoever controls it, Microsoft believes, controls the future of home entertainment. \nGates calls Windows XP, the MSN Internet service and the Xbox the "three pillars" of his strategy in the home. With built-in voice capabilities and a high-speed Internet connection, the Xbox is expected to eventually allow game players with headset microphones to talk with players in other countries and swap digital files like music and photographs. "We're going to put new software that runs on Xbox that, both in the gaming dimension and other dimensions, will amaze people with the power that's in this box," he said. \nAnd J. Allard, general manager of the Xbox platform, said: "So far, we've focused on 9 to 5. Now it's time to focus on leisure, and focus more on 5 to 9." \nVideo games offer a tantalizing target. About 42 percent of all American households own at least one game console. Revenue from game software will total US$17 billion worldwide this year, US$7 billion of it in the US, according to the SoundView Technology Group, an investment bank based in Old Greenwich, Connecticut And the video-game industry has the only purely digital entertainment, Allard said. \nFor years, Microsoft has searched for ways to make money on games without taking on the heavy costs and razor-thin profit margins of building consoles. Its PC games division has made some best-selling titles but has never won more than 8 percent of the market. Ed Fries, who ran the division, said he considered writing games for consoles but refused to follow strict rules imposed by system makers. "You give up a certain amount of control when you publish on a console, because a console maker can tell you what you can and can't do," Fries said. \nAs Sony disclosed details about the PlayStation2 in 1998 and early 1999, Gates summoned the leaders of Sony, Nintendo and Sega separately to Microsoft's headquarters and asked them to use a scaled-down version of Windows as a platform. Sony and Nintendo declined. Sega, running a desperate third, agreed -- and ran such a version on its Dreamcast machine, alongside its own operating system. Given a choice of platforms, developers chose Sega's. The experiment failed. \nGates and Isao Okawa, the late president of the Sega Corp, considered having Microsoft merge its gaming division with Sega or buy Sega outright, Moore said. Those talks failed. \nIn the meantime, PC sales were slowing, and the Sony threat was mounting. The year-old PlayStation2 was the first machine of its kind to resemble a high-powered PC. In addition to games, it played DVDs and CDs. A broadband connection, new games and an online service with Sony's partner, AOL Time Warner, all expected over the next year, will let PlayStation2 owners compete in online tournaments, download new characters and send instant messages. \nIf no one would let Microsoft into the game machine; it would build its own. \nIn early 1999, about 50 Microsoft executives gathered at the Semiahmoo resort in northern Washington. They proposed a wide range of topics, then went off in groups to discuss them. Robbie Bach, who ran the consumer division, had heard rumors that some engineers were exploring an effort to break into the game-console market, so he proposed that. The idea intrigued Gates. \n"Bill had proposed his own topic," Bach said. Instead, he "spent about two hours with about 10 of us, talking about the game-console market, what it would mean for Microsoft to get into it, what kind of technology we could bring to bear." \nCraig Mundie, then a senior vice president, emerged from Semiahmoo with a directive to explore making a game machine. \nBut if it had not been for a guerrilla campaign by a small group of programmers, the company might still be fretting about how to enter this market. These programmers worked on DirectX, its game-development software, and many had once worked in the games industry. \nThe plan was hatched by Seamus Blackley, who had created games for Steven Spielberg's Dreamworks Interactive. He wrote a long memo urging Microsoft to build its own game system using PC parts, calling it the DirectX Box. \nBlackley showed his plans to three colleagues, who made suggestions and plotted. "No one -- Craig or anyone else -- at that retreat had any idea what the game industry was," Blackley said. "It's kind of a joke that they were thinking, `We'll do a game console.' It's kind of like me saying, `I'll do an atomic weapon in my garage.'" \nSecret plan \nThe DirectX crew knew that the company's top executives would recoil at taking on Sony head to head in manufacturing, so they started furiously pitching a smaller plan: A computer maker like Dell or Fujitsu would manufacture the consoles, which would also run PC games; they would try to sell tens of thousands of units, while Sony and Nintendo sell tens of millions. \n"We had a secret plan, which was to find a way to introduce Microsoft executives to the concept of manufacturing a piece of hardware themselves," said Blackley, the project's technical officer. "There's a whole level of naive brinkmanship that we had, which is charming now but was terrifying in retrospect." \nThe DirectX team began showing up unannounced at executive meetings. They won the support of Fries, then more executives. In July 1999 the project reached Gates, who approved an early technical plan and assigned Bach and Rick Thompson, who ran the hardware business, to build a business model. \nThe team began extensive talks with game developers, asking what they wanted. The console was given an 8-gigabyte hard drive -- a huge data cache that no other console has -- so developers could quickly stream realistic graphic worlds onto the screen. \nGates devoted more and more time to the project, at one point sending engineers back to the drawing board to find more power. "The performance isn't high enough; shoot higher," Fries recalled him saying. \n"We were looking at something that was maybe 50 percent higher than PlayStation2," Fries said. "He was concerned that that wouldn't be a big-enough difference for people to really see and appreciate. That's when we created what we have now." \nBy the time the team sought final approval, the business model had changed completely. The machine would run no PC games. Computer makers had little interest in building the machines, which often cost more to make than their selling price, without a significant share of the revenue from games, so Microsoft decided to design the machine and outsource manufacturing to Flextronics. And instead of making tens of thousands of consoles, Microsoft would make tens of millions. It would aim for Sony. \nThe final approval meeting became known as the Valentine's Day Massacre. Held on Feb. 14 last year, it began at 2pm and was scheduled to end at 4pm, but it dragged on past 8pm. Gates and Steven Ballmer, the chief executive, fired question after question. \nA key concern was cost. Mary Meeker, a Morgan Stanley analyst, estimates that Microsoft will lose money on the Xbox until 2004 -- up to US$700 million this year alone -- when it could sell enough software. \nFinally, Gates and Ballmer approved the project. A month later, Gates announced the Xbox at the Game Developers Conference in San Jose, California. Blackley, who wanted to show the industry that the Xbox was not just another of Gates' offbeat ideas, joined him in wearing sneakers in "illegal red," a shade banned in games development because it appears green on TV. His message to developers was clear: This is Microsoft, but we understand you. \nGetting the games \nFrom the start, the Xbox team tried to distinguish itself from its corporate parent. The division, which now has 1,000 employees, set up shop across town from the main campus in Redmond, Washington. Vintage arcade games occupy a corner of one floor. Green lights cast an eerie glow in hallways. Each conference room is named for a classic video game system -- the Atari, the 3DO. Paintings on the walls have titles like "It's the Software, Stupid." \nIndeed, many industry executives and analysts say, the Xbox will succeed or fail on its ability to get the best games on its platform. Microsoft has signed on all but one of the top 20 publishers. The lone holdout, 3DO, made its own console in the mid-1990s but is now a struggling game maker. Predicting that the Xbox would be "a fiasco," its chief executive, Trip Hawkins, said Microsoft would regret taking on Sony. \n"There will no doubt be one or two games that sell a lot of numbers," Hawkins said. "Then there will be a whole bunch of games that lose money, and there will be a lot of weeping and wailing." \nBut many publishing houses, developers and retailers expect to ride the wave of publicity after Microsoft's entrance. The PlayStation2 is sure to heavily outsell the Xbox and GameCube this holiday season, but competition will intensify next year. The SoundView Technology Group predicted in August that game software sales would grow at least 15 percent a year, to more than US$31 billion worldwide in 2005. \nEven Microsoft rivals expect to benefit. Nintendo's executive vice president for sales and marketing, Peter Main, estimated that Microsoft would hold about 7 percent of the console market by year-end but make about half the marketing "noise." Sony, he said, is a more potent competitor than Microsoft, which is "still not out of the woods on understanding what it's going to take to succeed in this business." \nAbout two-thirds of Microsoft's US$500 million marketing budget will be used to fill pages, TV screens and stores with Xbox promotions, said John O'Rourke, director of game sales and marketing. Key chains and other products with the logo arrived in stores a year ago, saying "coming fall 2001." Stores and Web sites began taking advance orders, selling the console and games in bundles for US$400 to US$1,100. \nMany retailers were wary of taking advance orders because Sony promised more PlayStation2 consoles last year than it could deliver. "We disappointed a lot of our customers and hurt our own reputation to a small degree," said Michael Glazer, chief executive of KB Toys. "Microsoft has gone out of their way to make sure that doesn't occur." \nMicrosoft hired McCann-Erickson, the advertising agency, to create a broad campaign. Television commercials will show mostly game highlights, resembling movie trailers, and will appear on channels like ESPN, MTV and Comedy Central. Microsoft also struck promotional deals with Taco Bell, which will give away 6,800 Xboxes; SoBe, a PepsiCo beverage line; and Vans, a sporting goods company. \nBetting that hands-on game play will sell Xboxes better than ads, Microsoft created a road show called Xbox Odyssey. Two tractor trailers rumbled into San Francisco on Thursday, the first stop on a 44-week-a-year tour. Crews inflated giant domes over the trucks, filling them with DJ music and 52 Xboxes running a dozen new games. \nAfter playing for an hour, Mark Chandler, 36, and Andre Vrignaud, 29, entered into an argument that will soon play out in game enthusiasts' living rooms across the country: Can the Xbox dethrone Sony and Nintendo? The two agreed that Xbox games had improved greatly since E3, but disagreed about how much. Calling the Halo adventure game "killer," Chandler said he had ordered an Xbox to sit beside his PlayStation2 at home. But Microsoft's lineup of games had yet to compel Vrignaud. "There's nothing you couldn't find on PS2 or GameCube," he said. \nMicrosoft knows it needs the support of dedicated game players, who are rarely fooled by marketing tactics. "Our approach is about turning this group into ambassadors," O'Rourke said. \nDamage control \nThose players were not fooled at E3, when games looked choppy because they were running on early, slower Xboxes. After E3, Microsoft needed someone who spoke their language to do damage control. The company sent Blackley, who has accumulated 847,000 frequent-flier miles evangelizing for the Xbox. \nOn a typical visit last month, Blackley traveled from Los Angeles to the Brisbane, California, headquarters of IGN.com, a popular site for game players. In the office, an electric car racetrack is at the center and the dress code seems to favor jeans, sneakers and creative facial hair. He brought with him an early version of Wreckless, an Xbox game due in February. But first he settled into a 45-minute conversation with IGN's editors. \nReferring to Microsoft as "they," instead of "we," Blackley discussed the different sizes of Xbox controllers for Japan and North America, made some guesses about Sony's plans for online games and apologized for E3. "We're going to screw up," Blackley told them. "But we still have better games." \nVincent Lopez, editor in chief of IGN's Xbox site, said he had never before heard a game company admit its mistakes. Microsoft's problem, he said, was that it showed the wrong games at E3. But he said recent demonstrations of fighting games like Dead or Alive 3 and car-chase games like Wreckless, which had IGN editors cooing, suggested that Microsoft might prove to be a contender. \n"There's disgusting amounts of detail," he said. "I didn't think the Xbox could do that." \nBy the end of the holiday season, Microsoft expects to have shipped 1 million to 1.5 million Xboxes. It is counting on sales clerks to tell game players the Xbox is worth waiting for. \nOn a recent afternoon in San Francisco, Microsoft assembled 15 clerks from local electronics stores at a dance club to rally the troops. Young women in neon green wigs greeted them with Xbox dog tags and stickers. Scot Travers, a Microsoft sales trainer wearing Xbox sneakers, prowled the stage, throwing out phrases like "Xbox was designed by gamers for gamers." \nMany sales clerks, baby-faced teenagers in T-shirts and jeans who sell video games because they love them, had come in on their day off. They stared glassy-eyed as Travers made his pitch. After 40 minutes, they got their reward: a chance to play a half-dozen games set up in the club. Soon they were cheering in front of machines, engaged in gun battles and car races. \nAfterward, Shannon Williams, a salesman at Babbage's, repeatedly called the Xbox "cool," praising its graphics as "a whole lot better" than the competition's. \nBut another salesman said he had decided not to buy an Xbox. The salesman, who did not want to be identified for fear of losing his job, said the demonstration kiosk in his store had showed "hiccups." He had sold only one-quarter of his Xbox pre-orders after five days, and he wondered if Microsoft would keep making the Xbox if it kept losing money. "If it survives, if it does well, if it looks like they're not going to abandon it, and if there are a lot of cool games, then I'll buy it," he said. \nMicrosoft cannot wait that long.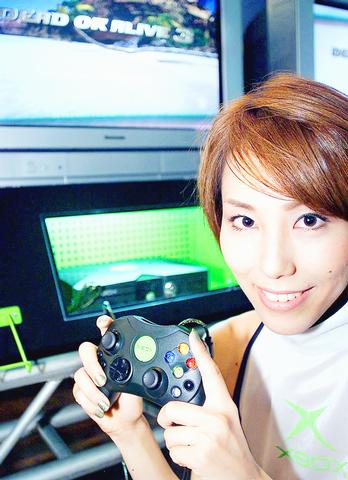 A campaign girl displays the Xbox video game console, which will be launched by American software giant Microsoft on Nov. 15 in the US, during the annual Tokyo Game Show in Makuhari, suburban Tokyo last month. The Xbox is Microsoft's first console and its most ambitious effort yet to conquer the living room in the same way it did the office.
PHOTO: AFP
Comments will be moderated. Keep comments relevant to the article. Remarks containing abusive and obscene language, personal attacks of any kind or promotion will be removed and the user banned. Final decision will be at the discretion of the Taipei Times.