Johnson's Brexit strategy goes to court
PROROGATION: The Supreme Court is to decide whether the prime minister's suspension of Parliament was to stymie lawmakers' scrutiny of Brexit and thus unlawful
UK Prime Minister Boris Johnson's Brexit strategy yesterday went to the Supreme Court, as the nation's top judges begin three days of hearings on his decision to suspend Parliament.
It is a landmark hearing that not only threatens to undermine Johnson's position as prime minister, but could also curtail the British executive's longstanding power over when the legislature sits.
Johnson could be forced to recall Parliament, giving opponents of a no-deal Brexit more room to try to thwart his "do or die" promise to leave the EU with or without a divorce agreement on Oct. 31.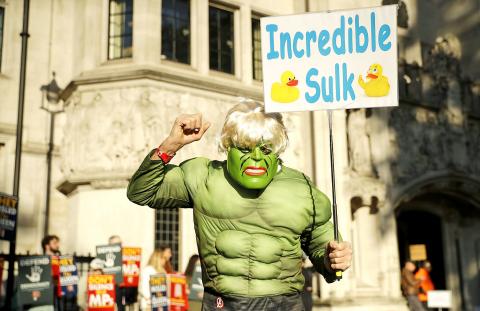 Protesters hold banners outside the Supreme Court in London yesterday.
Photo: AP
"People think that we've somehow stopped Parliament from scrutinizing Brexit, what absolute nonsense," Johnson told the BBC in an interview broadcast on Monday evening. "Parliament will be able to scrutinize the deal that I hope we will be able to do both before and after the European Council on Oct. 17."
Johnson's defiance came after a day of talks that suggested the two sides are no closer to reaching a Brexit agreement.
European Commission President Jean-Claude Juncker complained that the UK still has not put forward any concrete proposals and Luxembourg Prime Minister Xavier Bettel criticized Johnson after he refused to appear alongside him at a press conference.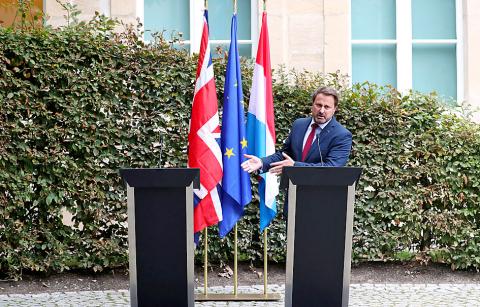 Luxembourg Prime Minister Xavier Bettel gestures during a news conference after his meeting with British Prime Minister Boris Johnson in Luxembourg on Monday.
Photo: Reuters
A noisy demonstration, in which protesters could be heard shouting "dirty liar" as music blared, prompted Johnson's team to ask their hosts in Luxembourg to move the event indoors — but the request was denied and Johnson decided to leave the chaotic scene.
Bettel pressed on alone and, gesturing to the empty podium next to him, said it is time for Johnson to "stop speaking and act" to find a Brexit agreement.
The UK prime minister and his Conservative Party are responsible for "the mess we're in at the moment," Bettel said.
"Our people need to know what is going to happen to them in six weeks' time. They need clarity, they need stability and they need certainty," Bettel told reporters. "You can't hold their future hostage for party political gains."
It was an ignominious end to a day that started with Johnson expressing hope for a deal.
Undeterred by Monday's setbacks, Johnson said he is still "cautiously optimistic" agreement can be reached.
"The big picture is that the commission would like to do a deal," Johnson told the BBC in an interview after the talks.
The EU president is "highly intelligent" and wants a deal, he said. "But clearly it's going to take some work."
Johnson said he is offering alternative arrangements for the Irish border, the main sticking point in talks with the bloc, but refused to give specifics.
He said he would not breach the law, but did not into detail on how he would get around the vote in Parliament that requires him to ask the EU for an extension on Oct. 19 if he could not reach a new agreement by then.
"I will uphold the constitution, I will obey the law, but we will come out on Oct. 31," Johnson said.
The constitution will be at the center of the Supreme Court proceedings this week after Scottish judges ruled against Johnson's suspension of Parliament.
It was "an egregious case of a clear failure to comply with generally accepted standards of behavior of public authorities," Judge Philip Brodie said in the ruling.
Lawyers for the government will argue that the Scottish court was wrong when it ruled that Johnson's suspension — or prorogation — of Parliament, announced on Aug. 28, was intended to stymie lawmakers' scrutiny of Brexit and was therefore unlawful.
The 11 Supreme Court judges are also to hear an appeal from a group who failed to convince judges in the English Courts that Johnson's decision was an abuse of power.
The hearings are scheduled to run until Thursday and the court might not rule until next week.
Comments will be moderated. Keep comments relevant to the article. Remarks containing abusive and obscene language, personal attacks of any kind or promotion will be removed and the user banned. Final decision will be at the discretion of the Taipei Times.