World News Quick Take
VIETNAM
Kim impersonator deported
An Australian comedian who impersonates North Korean leader Kim Jong-un and goes by the name Howard X yesterday said that authorities were deporting him. Howard X showed up in Hanoi on Friday along with his partner Russell White, who impersonates US President Donald Trump, drawing crowds and media. Howard X said White was allowed to stay on the condition that he not make any more public appearances. "North Koreans have no sense of humor," he told reporters before heading to the airport. "Satire is a powerful weapon against any dictatorship."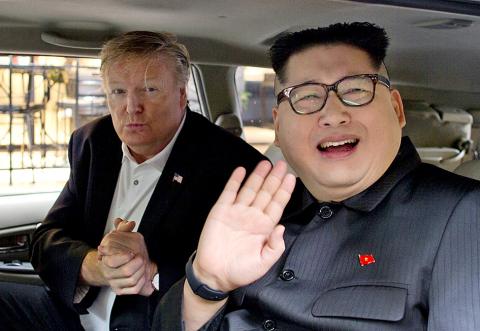 Photo: AP
CAMBODIA
Elephant killed in sanctuary
An elephant has been found dead with its tusks and tail sliced off in a wildlife sanctuary in northeastern Mondulkiri Province. The body of the male Asian elephant was found on Sunday, Ministry of Environment spokesman Neth Pheaktra said yesterday, the second time in a year that an elephant has been killed in the sanctuary. "The elephant's tusks were missing and its tail was also cut off," he said, adding that the animal was killed about 10 days ago. Authorities are still hunting for the poachers, he said.
QATAR
Taliban arrive for talks
Senior Taliban leaders, including one of the group's founders, have arrived in Doha for another round of talks with Washington's special envoy Zalmay Khalilzad tasked with finding a negotiated solution to the Afghan war. Talks were expected to start yesterday. Mullah Abdul Ghani Baradar, a cofounder of the movement, was among the Taliban who arrived in Doha, where the insurgents have a political office. Khalilzad is expected to pressure the Taliban to hold direct talks with Kabul.
BANGLADESH
Would-be hijacker killed
A passenger on a Biman Bangladesh Airlines Dubai-bound flight who threatened to blow up the plane and tried to force his way into the cockpit was carrying a toy gun and no explosives, police said yesterday. Police are investigating how the man had been able to board the plane in Dhaka on Sunday in the first place. The Boeing 737-800 made an emergency landing in the southern port of Chittagong where commandos stormed the plane and shot the would-be hijacker, officials said. All 148 passengers and crew safely disembarked, police said. The hijacker later died of his injuries.
KAZAKHSTAN
New prime minister named
President Nursultan Nazarbayev yesterday appointed Askar Mamin as prime minister, after dismissing the previous government of Bakytzhan Sagintayev over a lack of economic development. "The head of state signed a decree appointing Mamin prime minister of Kazakhstan," Nazarbayev's office said on its Twitter account. Mamin, 53, previously served as first deputy prime minister.
CHINA
Hospitals target scalpers
More than 30 hospitals in Beijing are using facial recognition technology to identify people who sell doctors' appointments at an illegal markup. The hospitals have already identified more than 2,100 individuals who regularly line up to make appointments, then sell their appointment number to other people for a profit, media reports on Sunday said.
PAKISTAN
Sharif appeal rejected
The Islamabad High Court yesterday rejected former prime minister Nawaz Sharif's appeal over a seven-year prison sentence for corruption and refused to grant him release on medical grounds. An aide to Sharif, Shahid Abbasi, said that his defense team would appeal yesterday's ruling to the Supreme Court. Sharif is in custody in hospital, where he is being treated for heart-related issues.
SENEGAL
Presidential win reported
President Macky Sall won in the first round Sunday's presidential election, Prime Minister Mahammed Boun Abdallah Dionne said at midnight, although his two main challengers look set to contest the outcome. Dionne predicted that Sall would receive "at least 57 percent" of the vote. Official results from are not expected until today, with a nationwide announcement by Friday midnight at the latest. If no one wins more than 50 percent a second-round runoff will be held on March 24.
INDONESIA
Women arrested over video
Three housewives in East Java have been arrested over an online video that claimed President Joko Widodo would ban prayer and make gay marriage legal if re-elected, police said yesterday. The video, shared thousands of times online, showed two women in headscarves telling an old man that Widodo would end the Muslim call to prayer. The women were arrested on Sunday. If convicted, they could face up to six years in prison for spreading hate speech and violating a sweeping electronic information law.
MOLDOVA
Hung parliament elected
Parliamentary elections on Sunday have produced a hung parliament, results showed yesterday, setting the stage for coalition talks or potentially new elections. Opposition leaders have threatened street protests against the result after raising suspicions of vote-buying. The ruling Democratic Party, which wants closer integration with the EU and casts itself as a bulwark against Russia, emerged as the largest party, with an expected tally of 34 of 101 seats, with 99 percent of the results processed. The opposition Socialist Party, which favors closer ties to Moscow, trailed with 31 seats, while an opposition bloc called ACUM, campaigning to fight corruption, was third with 23 seats.
COLOMBIA
Guaido holds talks in Bogota
National Assembly President Juan Guaido yesterday met with members of the multinational Lima Group in Bogota to hammer out a strategy to remove President Nicolas Maduro from office. He flew to Bogota on Sunday, one day after two people were killed and hundreds wounded as his supporters clashed with security forces in a failed attempt to cross in truckloads of humanitarian aid from Colombia and Brazil. The EU on Sunday condemned Venezuela's use of violence and armed civilians to block the aid entry, while UN Secretary-General Antonio Guterres called on all sides to lower tensions.
SCOTLAND
Snake found in luggage
Moira Boxall returned home to Glasgow from a holiday in Queensland, Australia, to discover a stowaway snake hidden in one of her shoes. Unpacking her luggage after the 15,000km journey, she found the small and very much alive creature curled up in her slip-ons. It had even shed its skin during its voyage. It was later identified as a non-venomous spotted python, a breed commonly kept as a pet. Paul Airlie, Boxall's son-in-law, who lives in Australia, told the Australian Broadcasting Corp that when she opened her bag and saw the snake, she thought that it was a toy put there as a prank. She then called Airlie, who contacted the Royal Society for the Prevention of Cruelty to Animals. The snake is now in quarantine.
UNITED STATES
Bodies retrieved from plane
Two bodies have been recovered from the wreckage of an Amazon Prime Air cargo airplane that nosedived into a bay outside Houston, Texas, on Saturday, and a search was ongoing for a third victim, authorities said. All three people aboard the Boeing 767 cargo plane operated by Atlas Air Worldwide died in the crash as it approached Houston's George Bush Intercontinental Airport after a flight from Miami.
UNITED STATES
Shooting suspect arrested
Authorities have arrested a man suspected of shooting the security guard of a news crew that was robbed while covering a teachers' strike in Oakland, California, the local CBS affiliate said. A reporter and a photographer were on Sunday gathering interviews about the strike at the Oakland Library when a car pulled up and the driver pulled a gun, demanding their camera, KPIX said. The crew surrendered the equipment and began walking away, it said. The suspect then shot the guard, Matt Meredith, in the leg, and Meredith exchanged gunfire, the report said. An Alameda County Sheriff spokesman said that a 21-year-old man with several gunshot wounds walked into a nearby hospital after the incident. Oakland police arrested the man on suspicion of shooting Meredith.
Comments will be moderated. Keep comments relevant to the article. Remarks containing abusive and obscene language, personal attacks of any kind or promotion will be removed and the user banned. Final decision will be at the discretion of the Taipei Times.