Democrats pick Pelosi for House speaker candidate
US Representative Nancy Pelosi, the highest-ranking woman in the history of US politics, on Wednesday was re-elected to lead congressional Democrats, a major step on her march toward once again becoming speaker of the US House of Representatives.
However, despite running unopposed to lead the House Democratic caucus, a show of strength and strategic skill, she faced a substantial pocket of opposition from rank-and-file members.
Pelosi, 78, is seeking to reclaim the gavel that she first wielded a dozen years ago, when she became the first female speaker of the House.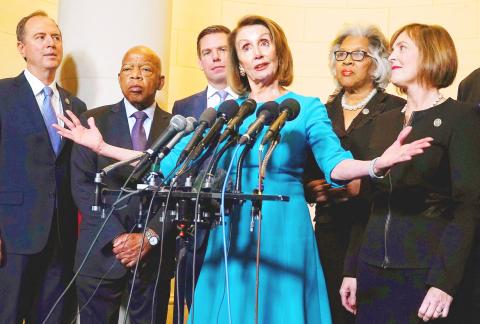 US Representative Nancy Pelosi, center, speaks to the media as, from left to right, US representative Adam Schiff, John Lewis, Eric Swalwell, Joyce Beatty and Kathy Castor, listen in the lobby of the Longworth House Office Building in Washington on Wednesday.
Photo: AFP
In a closed-door vote, Pelosi earned support from 203 members, while 32 critics voted against her and three members reportedly left their ballots blank.
Those voting included re-elected members, members-elect and delegates without floor voting privileges such as those from Guam, Puerto Rico and the District of Colombia's representative.
Facing the most serious challenge of her tenure as leader, Pelosi will have work to do to unify the party ahead of a House floor vote for speaker on Jan. 3, the opening day of the new Congress.
"I'm proud to be the nominee of the House Democratic caucus once again for speaker of the House," Pelosi told reporters as votes were being counted.
"Are there dissenters? Yes," she said. "But I expect to have a powerful vote as we go forward.
A robust resistance movement has demanded a new generation of leadership following a strong showing in this month's midterm elections, when Democrats snatched the House majority from US President Donald Trump's Republicans.
Pelosi needs a simple majority on the House floor — 218 votes in the 435-member chamber — to prevail in January.
If Democrats win the handful of remaining undecided House races they will control 235 seats, meaning Pelosi can afford just 17 defectors. Sixteen Democrats signed a letter this month vowing to oppose Pelosi as speaker.
No Republicans are expected to vote for Pelosi, who has been demonized for years by Trump and his party, in large part because she shepherded then-US president Barack Obama's health law through the House to its contentious, historic passage in 2010.
Pelosi has negotiated with some of the rebels, placating them with plum committee assignments and pledging to address issues such as gun safety.
Democrats, proud that the incoming Congress will be the most diverse ever, made history on Wednesday in other leadership elections.
Representative Hakeem Jeffries, seen as a rising star in the party, was elected House Democratic caucus chairman.
Congress now has two African Americans in the leadership hierarchy — No. 3 Representative James Clyburn, a Democrat, is the other — for the first time ever.
Comments will be moderated. Keep comments relevant to the article. Remarks containing abusive and obscene language, personal attacks of any kind or promotion will be removed and the user banned. Final decision will be at the discretion of the Taipei Times.