Kenyan police say Italian woman taken, five hurt
KIDNAPPED: A witness said the gunmen aimed to get money, but they took off with the Italian volunteer and shot into the air, wounding a women and four boys
Kenya yesterday said gunmen kidnapped an Italian volunteer in the coastal region of Kilifi during an attack in which five people were wounded, the first time a foreigner has been abducted in the East African country in several years.
"The gang ... abducted an Italian lady aged 23 years who is a volunteer of Africa Milele Onlus, an NGO [nongovernmental organization] operating in the area," the National Police Service said on Twitter.
The wounded, who were all under the age of 25, were taken to hospital and officers were pursuing the attackers, police said.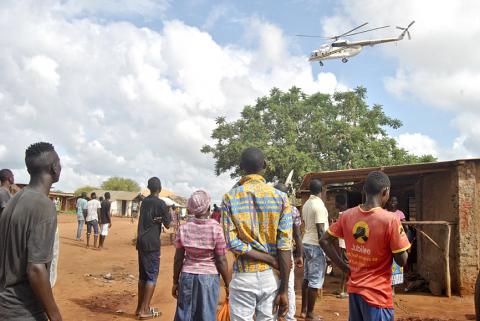 Villagers look up as a police helicopter flies above the scene of an attack by gunmen who kidnapped an Italian volunteer in Chakama, Kenya, yesterday.
Photo: AP
The men, armed with AK-47 rifles, attacked the town of Chakama on Tuesday evening, police said.
The town is west of Malindi, a major tourism destination on the coast.
There was no immediate comment from the Italian government.
Police did not say if the gunmen were suspect militants from al-Shabaab, an Islamist group based in neighboring Somalia that has launched deadly attacks in Kenya for years, including the 2013 attack on a shopping mall in the capital, Nairobi, in which nearly 70 people were killed.
"Neither the reasons for the attack nor the identity of the attackers have been established," police said.
An unidentified witness told Kenyan TV channel KTN News: "The European lady got out of her room, instead of lying on the ground, to enquire what was going on. One of the attackers then slapped her."
"Their aim was to get money, but they took off with her to the river and, before leaving the village, they started shooting in the air and they shot one woman and four boys," the witness said.
The al-Shabaab aims to topple Somalia's foreign-backed government and impose its own strict interpretation of Islam. It has intensified attacks in Kenya since it sent troops into Somalia in 2011.
Suspected al-Shabaab militants have launched several attacks in the past few months in which Kenyan soldiers have been killed, but those attacks have all taken place in Lamu County, which is north of Kilifi and borders Somalia. The group has beheaded people in more than one of those attacks.
The town of Chakama in Kilifi County where the attack occurred is nearly 300km southwest of the Kenya-Somalia border.
Comments will be moderated. Keep comments relevant to the article. Remarks containing abusive and obscene language, personal attacks of any kind or promotion will be removed and the user banned. Final decision will be at the discretion of the Taipei Times.