Devotees, police keep close watch over monk
When meditation master Thich Nhat Hanh took a wheelchair tour of the forested pagoda in Vietnam where he has come to die, the 92-year-old was greeted by crowds of devotees — and secret police assigned to watch him.
The monk-turned-peace-advocate credited with bringing mindfulness to the West spent nearly four decades in exile.
In that time he set up retreats around the world and wrote more than 100 books, including ones on mindfulness and meditation — a cornerstone of a US$4.2 trillion global wellness industry espoused by Oprah Winfrey, Arianna Huffington and tech billionaire Marc Benioff.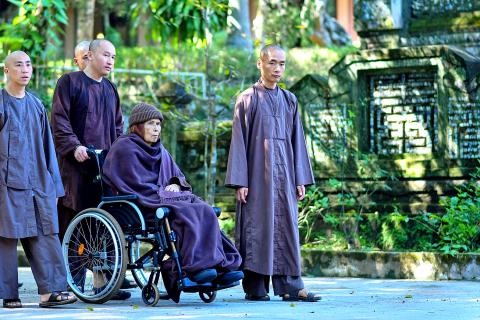 Thich Nhat Hanh is escorted in his wheelchair by his attendants on Thursday last week at the Tu Hieu pagoda in Hue, Vietnam.
Photo: AFP
Initially, the slight monk with a serene smile was banished for calling for an end to the Vietnam War, but the Zen master, whose reach within Buddhism is seen as second only to the Dalai Lama, was kept away as he advocated religious freedom around the world, including in the communist country where all faiths are strictly controlled.
He has been permitted to see out his final days at his Tu Hieu pagoda in Hue, Vietnam's Buddhist heartland, but even in the twilight of his life, Thich Nhat Hanh — unable to fully speak or walk since a 2014 stroke — is being closely monitored by plainclothes police who are keeping vigil outside his gated compound.
"It's not a completely free country; everything is subject to observation and the government always wants to have everything under their control," one of his longtime attendants said, requesting anonymity.
Authorities are wary of organized religion and last year passed a law requiring faiths to register and report all activities.
The government is particularly uneasy about leaders like Thich Nhat Hanh, who counts hundreds of thousands of followers at home and abroad — including Oprah, who keeps one of his books by her bedside.
Business titans like Benioff have embraced his mindfulness philosophy to boost innovation and improve bottom lines.
Since his return to Vietnam last month, hundreds have flocked to his pagoda to join the monk on his outings around the temple's lush gardens. Most are devoted to his spiritual messages, not his politics.
"He taught us to love people, to love ourselves, to love nature," said Tran Thi My Thanh, who made the pilgrimage with friends from Ho Chi Minh City.
"We were so moved that we burst into tears, I couldn't control myself," she said after walking with Thich Nhat Hanh, who was wrapped in brown robes and pushed in his wheelchair by attendants.
Since Thich Nhat Hanh was allowed back into the country in 2005, the first of a handful of controlled visits, he has called for greater religious tolerance.
His messages have not always been welcomed: In 2009, his followers were driven from their temple in Lam Dong Province by hired mobs.
The government "fears any organized group that has a mass following, just like how the Chinese government treated Falun Gong," said Tuong Vu, director of the University of Oregon's Asian Studies program.
Religious leaders in Vietnam have proven their capacity to mobilize the masses.
Catholic priests have led environmental protests, Hoa Hao Buddhists have waged anti-communism demonstrations and Protestant Montagnards have clashed with authorities over land rights in the central highlands.
However, Thich Nhat Hanh's disciples say they come in peace.
"We know that Vietnam has difficulty and we know the world also tries to help Vietnam open up, to have more freedom, more democracy... We try to help also, but we do it in a Buddhist way," said Thich Chan Phap An, one of his closest disciples.
"It's not wise to have confrontation, but it's very good to have communication," he said.
It is a message that Thich Nhat Hanh harnessed in 1966 on a trip to the US, where he met Martin Luther King Jr, who joined his calls to end the war and later nominated him for a Nobel Peace Prize.
Thich Nhat Hanh was barred from returning home, his anti-war stance deemed traitorous by both north and south Vietnam, and spent the next 39 years in exile in France.
His disciples say he is overjoyed to be back in his homeland, and after a lifetime of pushing for peace, he can finally relax.
"No more fighting; he is just enjoying his time," Sister Dinh Nghiem said.
Comments will be moderated. Keep comments relevant to the article. Remarks containing abusive and obscene language, personal attacks of any kind or promotion will be removed and the user banned. Final decision will be at the discretion of the Taipei Times.