Strike shuts Kashmir after killing of rebels, civilians
Armed soldiers and police yesterday fanned out across much of Indian-controlled Kashmir as separatists challenging Indian rule called for a general strike to mourn the deaths of civilians and armed rebels during confrontation with government forces.
The death toll of civilians in an explosion after a gunbattle between Indian government forces and militants the previous day climbed to seven as an injured young man died at a hospital early yesterday.
Government forces patrolled streets in Kashmir's main city of Srinagar and enforced a security lockdown in the downtown neighborhoods in anticipation of anti-India protests.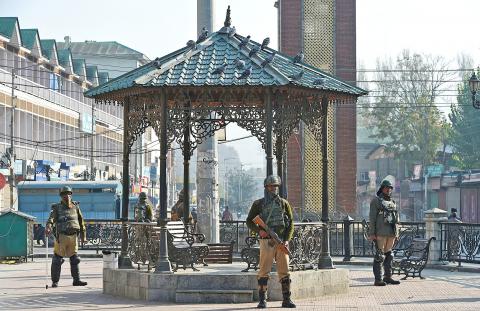 Paramilitary soldiers stand guard during a general strike called by Kashmiri separatists in Srinagar, India, yesterday.
Photo: AFP
Businesses, schools and shops remained shut, and public transport stayed off the roads.
Eight combatants, including five militants and three Indian soldiers, were killed in a pair of gunbattles on Sunday, officials said, triggering massive anti-India protests and clashes during one of the fighting in which nearly three dozen people were injured.
The seven civilians were killed in an explosion at the site in southern Kulgam after the fighting ended, police and residents said.
Protesting villagers in Kulgam made several attempts to reach the site where the rebels were trapped, barraging troops with stones and abuse.
They were trying to distract the soldiers who apart from guns and grenades also used explosives to blast the house where the rebels were cornered, residents and police said.
Authorities offered condolences to the families of slain and reiterated that gunbattle sites should not be visited by civilians until they are cleaned from any leftover explosives.
Some residents blamed Indian troops for excessive use of explosives in populated areas and deliberately leaving explosives at the site.
"It's routine with them [Indian soldiers] to blast homes with explosives for killing holed up militants. High over their victory of killing Kashmiris, they leave the area without clearing it from unexploded explosives," said Farooq Ahmed, a resident in southern Kulgam area where Sunday's incident occurred. "It's so sinisterly planned, and it has happened so many times."
Anger spiraled in the region after the deaths, sparking protests and clashes at many places.
Separatist leaders called for the strike to protest what they described "Indian occupation forces crossing all limits of repression to break Kashmir's freedom struggle."
India and Pakistan each administer part of Kashmir, but both claim it in its entirety.
Most Kashmiris support rebel demands that the territory be united either under Pakistani rule or as an independent country, while also participating in civilian street protests against Indian control.
In the past few years, mainly young Kashmiris have displayed open solidarity with the rebels and sought to protect them by engaging troops in street clashes during military operations.
Comments will be moderated. Keep comments relevant to the article. Remarks containing abusive and obscene language, personal attacks of any kind or promotion will be removed and the user banned. Final decision will be at the discretion of the Taipei Times.