Hindu men blockade sacred Indian temple
Hindu men yesterday blocked intersections, threatened drivers and ordered a 12-hour strike as they stepped up their campaign to bar women from one of India's holiest temples.
The Sabarimala Dharma Sastha Temple, dedicated to Lord Ayyappa, in the southern state of Kerala was meant to allow women from Wednesday following an order last month by the Indian Supreme Court, but hundreds of traditionalists, throwing stones at baton-wielding police officers, defied the order — surrounding and shouting at any woman attempting to make it to the hilltop site.
Angry young men also surrounded and smashed the car windows of female TV reporters and threatened others. Another female correspondent was kicked.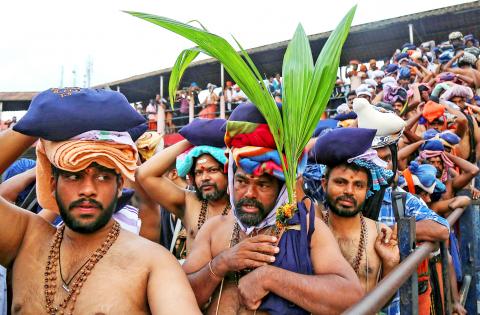 A Hindu devotee holds a coconut plant as he waits in line outside the Sabarimala Dharma Sastha Temple in Pathanamthitta, India, yesterday.
Photo: Reuters
Overnight local Hindu groups declared a 12-hour shutdown of local businesses, telling drivers that their vehicles would be attacked if they took anyone toward the temple.
"Some men came to the parking lot early [on] Thursday and warned taxi drivers against defying the shutdown call," taxi driver Praveen said in the town of Pathanamthitta.
"They warned drivers at several nearby parking lots and hotels. Anyone who defies it will be risking damage to his vehicle," he added in an account corroborated by other drivers.
"No one will get to the temple today because all the drivers are scared for the safety of their cars," one hotel receptionist said.
State authorities have insisted that they would ensure access to the temple, imposing restrictions on public gatherings that came into force from midnight.
Kerala Police, who have drafted in hundreds of extra officers, many with helmets and body armor over their khaki uniforms, provided escorts to some buses.
Police also patrolled through the night and reinforced their presence at Nilackal, the base camp below the temple, but groups of between 50 and 100 young men gathered at intersections, preventing any vehicles from continuing toward the temple.
"Traditions that have existed since before courts cannot be tampered with," said Krishna Kumar, a tall muscular man in his 20s at one crossroads in the town of Kozhencherry.
Last month, the Supreme Court overturned a ban on females of menstruating age — judged between 10 and 50 years — entering and praying at the hilltop temple, reached by an tough uphill trek.
Women are permitted to enter most Hindu temples, but female devotees are still barred from some.
The entry of women at Sabarimala was long taboo, but a ban was formalized by the Kerala High Court in 1991, a ruling overturned by the Supreme Court last month.
The restriction reflected an old, but still prevalent belief among many that menstruating women are impure and the fact that the deity Ayyappa was reputed to have been celibate.
Biju Pillai, a local man in his 30s, was one of those opposed to the court ruling, saying that he had returned from working in Dubai, United Arab Emirates, to "protect the sanctity of the temple."
"No one should be able to change the way this temple has functioned for centuries," he said. "If any change is made they will have to kill us and go over our bodies."
Comments will be moderated. Keep comments relevant to the article. Remarks containing abusive and obscene language, personal attacks of any kind or promotion will be removed and the user banned. Final decision will be at the discretion of the Taipei Times.