Minicars attract huge following among elderly in Japan
When Honda Motor Co launched the latest version of its N-Box a year ago, it promoted features on the pint-sized minicar such as error-detecting pedals, automatic emergency braking and movable seats, part of a push to market the vehicle to young families.
However, a drastically different demographic has made the N-Box the nation's best-selling passenger vehicle: About half the owners of the most recent model are 50 or older.
Automakers had hoped high-tech options would attract younger buyers to minicars, or kei-cars, even as the number of Japanese drivers under 30 has declined nearly 40 percent since 2001.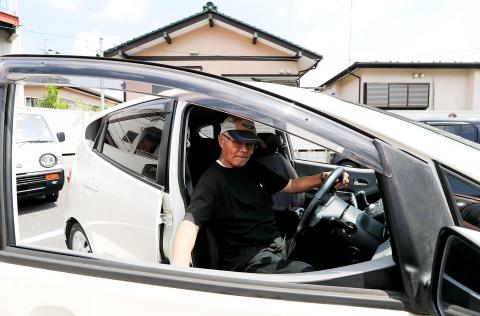 Horie Miho drives his minicar after visiting a minicar dealership in Yamato, Japan, on Aug. 11.
Photo: Reuters
Instead, with a price tag starting at about US$7,500 and low ownership taxes, minicars have gained a more loyal following among the rapidly growing population of elderly Japanese, many of whom are on fixed incomes.
"After their children are grown and leave home, more people are looking to downsize from larger family cars to more compact ones," said Kiminori Murano, managing director at Tortoise, a dealership specializing in minicars in Yamato, Kanagawa Prefecture.
At Tortoise, seniors have overtaken young families as the biggest customer group in the past decade, making up more than 70 percent of its clientele.
Kei-cars represent nearly a third of all Japanese passenger car sales, and about one of every 20 cars sold this year has been an N-Box.
All of Japan's major automakers sell the no-frills, fuel-sipping vehicles, almost exclusively for the domestic market. With their 660cc engines — a size more common in motorcycles than cars — minicars are considered too small for most overseas markets.
Many in the industry predict that eventually, automated cars, taxis and buses would keep the elderly mobile for longer.
Until that future arrives, demand for cheap, safe and easy-to-drive vehicles like the N-Box is growing sharply among older Japanese in a nation that is home to one the world's most rapidly aging populations.
The success of these cars could also provide a blueprint for marketing such vehicles to older drivers overseas.
When Yoshiyuki Imada's car insurance expires early next year, the 68-year-old retired truck operator from Kagoshima Prefecture is planning to trade in the Toyota Mark II sedan he has been driving for nearly 20 years for a minicar.
"Smaller cars are easier to drive as you get older," he said.
Honda said the safety features in the N-Box were not designed just with the elderly in mind, but the company said they could help older drivers stay on the road.
"We wouldn't want elderly people to become holed up in their homes because they can't get around. We want to do what we can to enable them to stay mobile for as long as possible," Hideaki Takaishi, senior safety engineer at Honda, said in an interview.
For years, TV commercials for kei-cars have been a montage of energetic twentysomethings, often popular boy band members, camping or frolicking at the beach.
More recently, advertisements have featured sentimental snapshots of families with young children.
However, minicar marketing is slowly starting to reflect the segment's biggest buyers. This year, Daihatsu Motor, a subsidiary of Toyota Motor Corp, released a TV spot featuring an elderly cabbage farmer who berates his son for suggesting that he switch to a minitruck with automated emergency braking, misreading it as a slight to his driving skills.
"It's true that our biggest markets are drivers in rural areas, women and elderly people," Daihatsu spokesman Kazuki Inoue said. "Our minitrucks are widely used on farms, and farming communities are graying rapidly at the moment, so we wanted to market advanced safety systems on this model."
Takaishi said that using sensors to track a vehicle's surroundings and assess whether drivers have depressed the wrong pedal is among the features that can offset common challenges for older drivers, including reduced alertness and reaction time.
The automaker is also trying to develop artificial intelligence-driven systems for "coaching."
Cars could theoretically advise drivers via flashing dashboard icons, sounds and steering wheel vibrations if they are about to drift out of their lane or make a potentially risky maneuver.
"Elderly drivers in particular, they really want to maintain their independence while they're driving, as it's a skill they've honed over many years," Takaishi said.
Yorie Miho, a retiree in Kanagawa Prefecture, said kei-car safety had come a long way since he bought his Daihatsu Sonica more than a decade ago.
During a recent demonstration outside the Tortoise showroom, the 80-year-old was shaken when the Daihatsu Tanto he was in automatically slammed on its brakes centimeters away from a makeshift wall.
However, he said afterward the feature would make him feel safer on the road.
"I'm not sure if I'll live so long that I will need to buy another car ... but this would be nice to have," Miho said.
Comments will be moderated. Keep comments relevant to the article. Remarks containing abusive and obscene language, personal attacks of any kind or promotion will be removed and the user banned. Final decision will be at the discretion of the Taipei Times.