US aid sought to find migrant remains
FBI RECORDS: US officials pledged cooperation, but cited restrictions in the DNA Act, which governs use of a national database, including legal and logistical issues
Representatives of dozens of US and Latin American advocacy groups on Friday pressed their case for access to an FBI-run DNA database to help them locate and identify the remains of thousands of migrants thought to have disappeared over the past several decades while crossing the Mexican border into the US.
US officials pledged to continue talks on sharing forensic information and efforts to identify the missing, but said they are prevented from making the information public by a federal law that restricts access to and sharing of information from the database.
The comments came during a hearing of the Inter-American Commission on Human Rights at the University of Colorado in Boulder.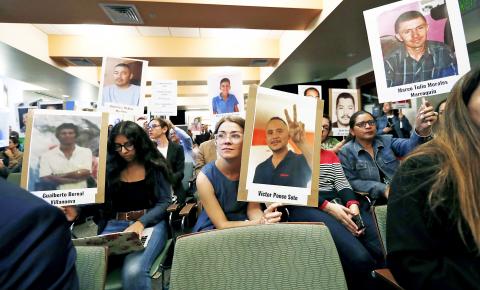 Bea Abbott, center, and other attendees hold up placards bearing photographs of people who went missing while trying to cross the border from Mexico into the US at a hearing of the Inter-American Commission on Human Rights in Boulder, Colorado, on Friday.
Photo: AP
The commission, part of the Organization of American States, conducted a week-long series of hearings on various hemispheric issues at the university.
Advocacy groups say they have compiled more than 4,000 DNA profiles of people reported missing and presumed dead along the border with samples from relatives.
The groups want to compare those samples with the FBI-run US national database.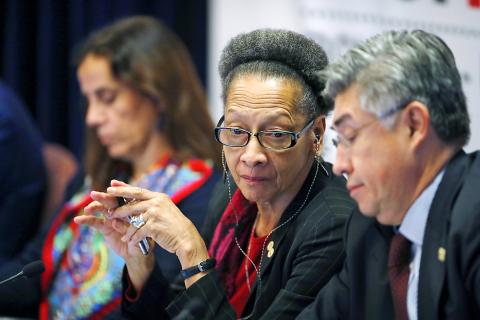 Inter-American Commission on Human Rights president Margarette May Macaulay, center, confers with another official at the University of Colorado on Friday.
Photo: AP
As some in the audience held enlarged photographs of missing people, commission president Margarette May Macaulay offered to facilitate talks to find a solution the groups say they have been seeking for years.
"I have great faith that you do intend and have the will to work toward solving this egregious situation and give peace to these people," Macaulay told US officials at the hearing.
Carlos Trujillo, the US permanent representative to the Organization of American States, and Paula Wolff, an attorney representing the FBI, pledged cooperation on the issue, but cited restrictions on what the FBI can do under the 1994 US DNA Act, which governs use of the national database.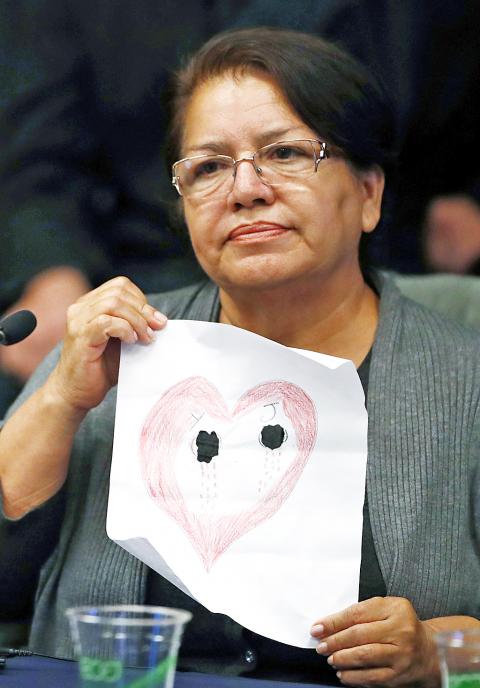 Irma Carrillo of Phoenix, Arizona, holds up a hand-drawn picture of her heart with two holes in it for her two children who have been missing since 1999, as she speaks at a hearing at the University of Colorado in Boulder on Friday.
Photo: AP
Wolf cited legal and logistical technicalities preventing sharing of the database with the advocates, academics and investigators collectively organized as the US Forensic Border Coalition.
Among them were: The law authorized the database for use by law enforcement, not private actors such as the coalition; it requires that DNA samples be taken in the presence of and documented by police officials — a deterrent to relatives of the missing distrustful of Mexican police or who, because of their immigration status, fear coming forward to US authorities; DNA matches or other results can only be released to criminal justice organizations and not, for example, to Argentine investigators who have worked in Mexico and along the US border for years.
The Argentine group has more than 4,000 DNA samples it says it is eager to cross-reference with the US data.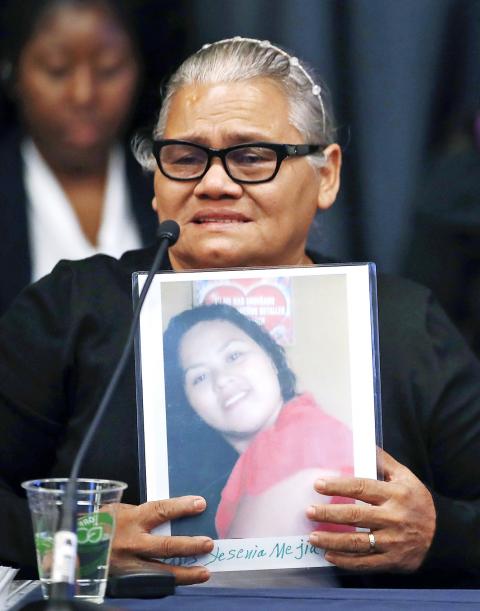 Jesus Reyes Leal of Honduras holds a photograph of her daughter, Yesenia Reyes, as she speaks at a hearing of the Inter-American Commission on Human Rights in Boulder, Colorado, on Friday.
Photo: AP
Distrust of Mexican authorities runs deep and many Mexicans have turned to the experts, known as the Argentine Forensic Anthropology Team, to help alleviate their suffering in Mexico's bloody drug war and in locating and identifying those who disappeared migrating north.
All three US officials declined to immediately answer questions by the rights panel, but promised to submit written responses. Those queries included how to prevent destruction of remains by local US authorities.
Two mothers of missing children testified during the brief hearing.
One of them, Irma Carrillo, is a native of the Mexican state of Sinaloa and mother of two children, ages 25 and 27, reported missing nearly 20 years ago as they were crossing the border into Arizona.
She wept after speaking privately with Trujillo.
"A solution can change the direction of my life," Carrillo said. "We only want to know what happened to them."
Comments will be moderated. Keep comments relevant to the article. Remarks containing abusive and obscene language, personal attacks of any kind or promotion will be removed and the user banned. Final decision will be at the discretion of the Taipei Times.