Chile archbishop sidesteps questioning by prosecutor
The archbishop of Santiago, who heads the local Catholic Church, has exercised his right to silence after on Wednesday morning being summoned for questioning by a state prosecutor over allegations that he helped cover up child abuse.
Cardinal Ricardo Ezzati faces multiple charges, including some relating to the case of former archdiocese chancellor Oscar Munoz, who is facing trial on charges that he abused and raped at least five children.
Citing Ezzati as a suspect in July has proved particularly painful for church authorities and made his public appearances fraught with protests.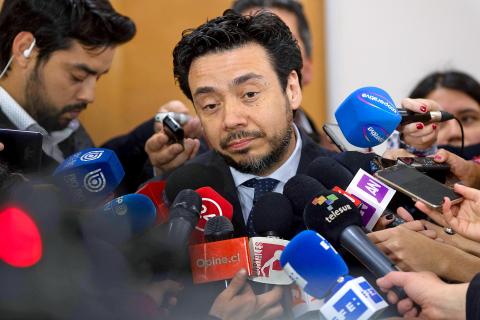 Chilean public prosecutor Emiliano Arias speaks to the media after questioning Santiago Archbishop Ricardo Ezzati on allegations of covering up sexual abuse of minors in Rancagua, Chile, on Wednesday.
Photo: AFP
In July, he denied wrongdoing, saying in a statement: "I reiterate my commitment and the commitment of Santiago's church to the victims. I have the conviction that I never covered up or obstructed justice and as a citizen will fulfill my duty to contribute all the information that may help clarify the facts."
Ezzati attended a prearranged meeting with Prosecutor Emiliano Arias in the city of Rancagua, 80km south of Santiago, on Wednesday morning. The cardinal stayed just more than an hour and left smiling, but making no comment to reporters outside.
His lawyer, Hugo Rivera, told journalists that he would seek dismissal of the charges in a court hearing, a date for which has not yet been set.
"We are not dodging this," he said. "For now the cardinal will not make any declaration until we discuss the petition to dismiss [the charges] with the prosecutors' office."
"We will discuss everything in public, in court, because we have nothing to hide," Rivera added.
After his meeting with Ezzati, Arias told reporters that the cardinal's decision not to submit to questioning brought "no adverse legal consequences."
"It is a defense option and a legal right," he said. "We will continue to take other statements and to investigate, and if necessary we will absolutely summon him again."
He confirmed that the cardinal had been told of the charges he was facing, but said that those would not yet be revealed in public.
Comments will be moderated. Keep comments relevant to the article. Remarks containing abusive and obscene language, personal attacks of any kind or promotion will be removed and the user banned. Final decision will be at the discretion of the Taipei Times.