Peru court ends medical pardon for ex-president
The Peruvian Supreme Court on Wednesday overturned a medical pardon for former Peruvian president Alberto Fujimori and ordered that the former strongman be returned to jail to serve out a long sentence for human rights abuses.
Images broadcast on local TV showed 80-year-old Fujimori getting out of an ambulance with the help of a cane and entering a local health clinic, where he has received treatment in the past. He was accompanied by his youngest son Kenji. Various police agents waited outside the clinic.
Former Peruvian president Pedro Pablo Kuczynski on Christmas Eve last year pardoned Alberto Fujimori on humanitarian grounds, in what was widely seen as an attempt to stave off impeachment by courting favor with Alebrto Fujimori's allies in the Peruvian Congress.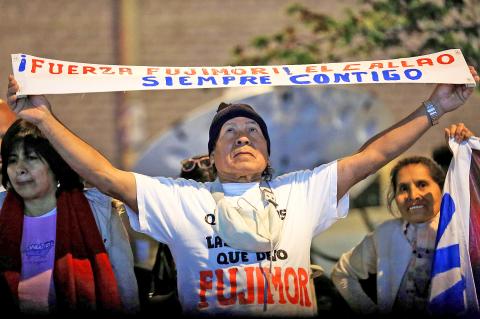 People backing former Peruvian president Alberto Fujimori on Sunday show their support outside the Centenario Clinic in Lima, where he was admitted, after a Peruvian court annulled a humanitarian pardon granted to him in December last year by then-Peruvian president Pedro Pablo Kuczynski.
Photo: AFP
Kuczynski resigned three months later.
Almost from the outset, the ruling was slammed by human rights groups as a "pact of impunity," while the Inter-American Court on Human Rights also demanded that Peru review its legality.
The Supreme Court in its 224-page decision said that the pardon was unlawful because Alberto Fujimori's crimes are considered crimes against humanity, and therefore cannot be pardoned under Peruvian and international law.
Peruvian lawmaker Kenji Fujimori, the youngest son of former Peruvian president Alberto Fujimori, on Wednesday addresses the media outside the Centenario Clinic in Lima, where he took his father after a court annulled his pardon.
Photo: AFP
The presiding magistrate in the case ordered that Alberto Fujimori be captured immediately, so he could serve out the remaining 14 years of a 25-year sentence for his role in the killing of several civilians, including an eight-year-old boy, during raids by an anti-communist army unit created by his government.
Alberto Fujimori's lawyer said that he would abide by the ruling while appealing the decision.
"Today is one of the saddest days in my life," a weeping Keiko Fujimori, the former president's daughter and current leader of the conservative Popular Force party, told a group of journalists outside her father's residence.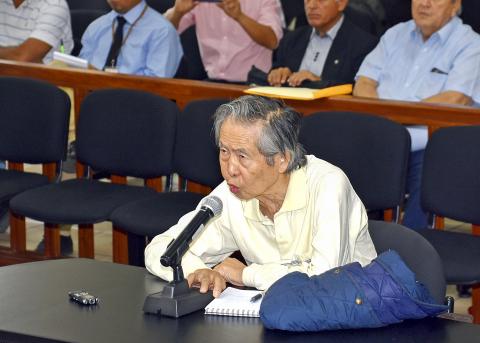 Former Peruvian president Alberto Fujimori speaks in court in Lima in photograph released by the Peruvian Judiciary on April 20.
Photo: AFP PHOTO / ABDON CARDENAS / PERUVIAN JUDICIARY
Alberto Fujimori, who governed from 1990 to 2000, remains a polarizing figure in Peru. Some Peruvians laud him for defeating the Maoist Shining Path guerrilla movement, while others loathe him for human rights violations carried out under his government.
A former mathematics professor, Alberto Fujimori was a political outsider when he emerged from obscurity to win Peru's 1990 presidential election over writer Mario Vargas Llosa.
Peru was being ravaged by runaway inflation and guerrilla violence when he took office. He quickly rebuilt the economy with mass privatizations of state industries. Defeating the Shining Path rebels took longer, but his fight won him broad-based support.
His presidency collapsed just as dramatically as his rise to power.
After briefly shutting down Congress and putting himself into a third term, Alberto Fujimori fled the country in disgrace in 2000 after leaked videotapes showed then-Peruvian National Intelligence Service head Vladimiro Montesinos bribing lawmakers.
Alberto Fujimori went to Japan, his parents' homeland, and famously sent in his resignation by fax.
Five years later, he stunned supporters and enemies alike when he flew to neighboring Chile, where he was arrested and extradited to Peru. Alberto Fujimori's goal was to run for Peru's presidency again in 2006, but instead he went to trial.
Kuczynski said he was pardoning Alberto Fujimori because he suffered a heart condition made worse by prison conditions.
Comments will be moderated. Keep comments relevant to the article. Remarks containing abusive and obscene language, personal attacks of any kind or promotion will be removed and the user banned. Final decision will be at the discretion of the Taipei Times.