Foreign aid picks up for quake victims
International efforts to help survivors of Indonesia's devastating earthquake and tsunami gathered pace yesterday, as concern grew for hundreds of thousands with little food and water, six days after disaster struck.
Desperate residents on the west coast of Sulawesi Island were scavenging for food in farms and orchards as the government struggled to overcome shortages of water, food, shelter and fuel in a disaster zone with no power and degraded communication.
Chaos has loomed at times with angry people in the region's main city of Palu looting shops and thronging its small airport, scrambling for any flight out.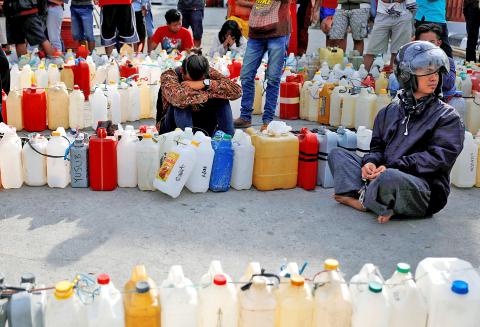 People sit as they wait to buy gasoline yesterday in Palu, Indonesia.
Photo: Reuters
The official death toll from the 7.5 magnitude quake on Friday last week has risen to 1,407, many killed by tsunami waves and landslides it triggered.
However, international efforts to help are gearing up, after the government overcame a traditional reluctance to take foreign aid.
"The government of Indonesia is experienced and well-equipped in managing natural disasters, but sometimes, as with all other countries, outside help is also needed," UN Under-Secretary-General for Humanitarian Affairs and Emergency Relief Coordinator Mark Lowcock said in a statement, announcing an allocation of US$15 million.
The International Federation of Red Cross and Red Crescent Societies said it was appealing for 22 million Swiss francs (US$22.21 million) to help Indonesia.
The US had provided initial funding, deployed government disaster experts and was working to determine what other help could be given, the US Department of State said earlier this week.
Some aid from Britain and Australia was also to arrive yesterday.
In all, about 20 countries have offered help, Indonesia said.
In Palu, some shops and banks reopened yesterday and a major mobile telephone network was back in operation. A sense of calm seemed to be returning with orderly lines at gas stations after the arrival of fuel shipments.
Bank Indonesia Governor Perry Warjiyo played down the overall economic impact of this year's deadly quakes.
"We are united and we stand strong and we are confident to withstand this difficult time," he told a briefing of the Jakarta Foreign Correspondents Club on Wednesday evening.
The bank was helping restore payment systems and some ATMs were working again in Palu, he said.
Indonesian President Joko Widodo, on his second visit to the disaster zone on Wednesday, said that the aid effort had yet to reach maximum capacity, citing in particular inadequate logistics support and fuel supplies.
Comments will be moderated. Keep comments relevant to the article. Remarks containing abusive and obscene language, personal attacks of any kind or promotion will be removed and the user banned. Final decision will be at the discretion of the Taipei Times.