Japan court allows nuclear reactor to reopen
POLITICAL BOOST: Policymakers are seeking to restore the nation's nuclear industry amid efforts to reduce reliance on costly fossil-fuel imports and cut carbon emissions
A Japanese court paved the way for the nation's ninth nuclear reactor to restart, boosting Japanese Prime Minister Shinzo Abe's push to bring dozens of plants back online following the 2011 Fukushima disaster.
The Hiroshima High Court on Tuesday removed a temporary injunction against Shikoku Electric Power's Ikata No. 3 reactor, the company said in a statement.
While the injunction ordered in December would end this month — meaning that the utility could have restarted the plant from Oct. 1 — the ruling is a symbolic victory for the government, which has often seen the courts stymie efforts to accelerate nuclear restarts.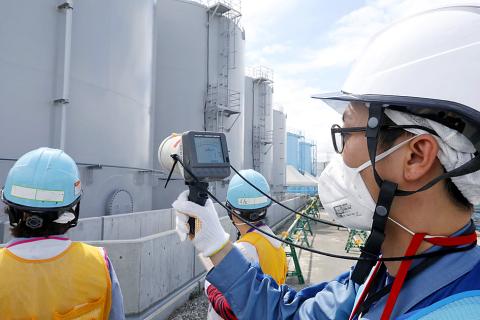 A staff member of Tokyo Electric Power Co measures radiation levels around the storage tanks of radiation-contaminated water at the company's Fukushima Dai-ichi nuclear power plant in Fukushima Prefecture, Japan, during a tour for journalists on July 27.
Photo: AFP
Policymakers are seeking to restore the nation's nuclear industry amid efforts to reduce reliance on costly fossil-fuel imports and cut carbon emissions.
The battle in Japan over nuclear power has moved mostly to the courts, which have been used by groups opposed to the technology to keep plants shut. Seven of the nation's 39 operable nuclear units are online, while one is under planned maintenance.
"The court decision to remove the injunction proves the facility's safety," Shikoku Electric president Hayato Saeki said in the statement. "We will begin preparing the facility to resume operations."
The decision is positive for Shikoku Electric, as well as other utilities with higher dependence on nuclear, such as Kansai Electric Power and Kyushu Electric Power, said Syusaku Nishikawa, a Tokyo-based analyst at Daiwa Securities.
There are about three dozen lawsuits pending against Japan's nuclear facilities and the decision in favor of the utility might have some influence on future rulings, according to Datsugenpatsu Bengodan, a group of lawyers who oppose nuclear power.
A nationwide survey by the Mainichi Shimbun in February showed that the restart of nuclear reactors was opposed by almost one-half of the respondents, while about one-third of them approved.
Last year, in a separate case, a Japanese high court overturned an injunction in place since March 2016 that barred Kansai Electric from operating two reactors at its Takahama facility in western Japan.
Comments will be moderated. Keep comments relevant to the article. Remarks containing abusive and obscene language, personal attacks of any kind or promotion will be removed and the user banned. Final decision will be at the discretion of the Taipei Times.