Vietnam taps first female president
ACTING HEAD: Under Vietnam's constitution, the vice president becomes acting president if the president dies in office until the National Assembly chooses a replacement
Vietnam has its first female president with the appointment of Vietnamese Vice President Dang Thi Ngoc Thinh after president Tran Dai Quang died on Friday from a serious illness.
Thinh is to be the acting president until the Vietnamese National Assembly elects a new leader, according to a statement on the government Web site, which quoted National Assembly Chairwoman Nguyen Thi Kim Ngan.
Thinh has been vice president since April 2016.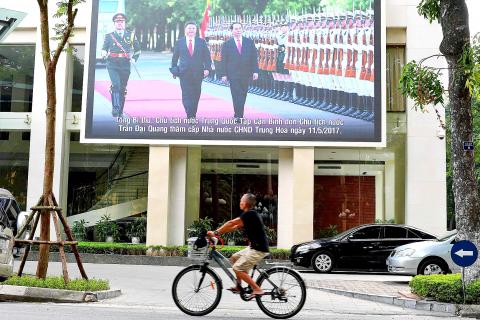 A bicyclist in Hanoi on Monday pedals past a large video screen showing a photograph of late Vietnamese president Tran Dai Quang with Chinese President Xi Jinping.
Photo: AFP
Vietnam is to hold a two-day national mourning period from Sept. 26 to 27 in honor of Quang, the government announced on its Web site on Sunday.
Quang, who was 61, was one of the country's top four leaders, along with the Communist Party general secretary, the prime minister and the National Assembly chair.
A former minister of public security who supported forging closer ties with the US and boosting the nation's private sector, Quang last year hosted US President Donald Trump during his first state visit to the communist country.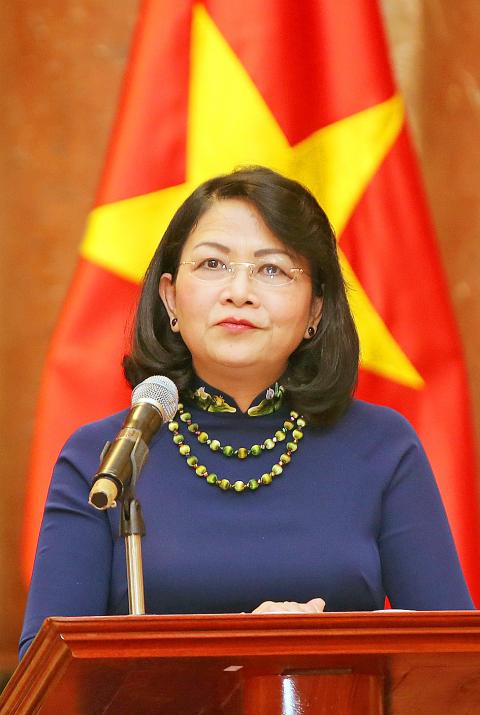 Vietnamese Vice President Dang Thi Ngoc Thinh speaks in a conference at the Presidential Palace in Hanoi, Vietnam, on Sept. 3, 2016.
Photo: EPA-EFE
Under Vietnam's constitution, the vice president becomes acting president if the president dies in office until the National Assembly chooses a permanent replacement. The parliament's second one-month session of the year opens on Oct. 22. The government's economic policies, which include aggressively seeking trade agreements, are expected to continue.
Quang had said that the US and Vietnam were "former enemies, turned friends" during a joint news conference with former US president Barack Obama in Hanoi in 2016.
"President Quang was a great friend of the United States," Trump said in a statement released by the US Embassy in Hanoi. "I am grateful for his personal commitment to deepening the United States-Vietnam Comprehensive Partnership."
Comments will be moderated. Keep comments relevant to the article. Remarks containing abusive and obscene language, personal attacks of any kind or promotion will be removed and the user banned. Final decision will be at the discretion of the Taipei Times.