S Carolinans flee ahead of floods
NOT YET OVER: Officials said that floodwaters of 1.5m to 3m are expected to inundate Georgetown, affecting about 3,500 homes by late this week
As many as 8,000 people in and around the city of Georgetown, South Carolina, have been urged to evacuate ahead of severe flooding expected this week from two rain-gorged rivers in what may be the final destructive chapter of Hurricane Florence.
Floodwaters of 1.5m to 3m are expected to inundate Georgetown and surrounding communities by late this week, as the Pee Dee and Waccamaw rivers overurn their banks along the low-lying tidal flats where they converge at Winyah Bay, which flows into the Atlantic.
Emergency management officials began sending pre-recorded telephone messages to residents in harm's way over the weekend, and will probably start going door-to-door in the next few days, Georgetown County spokeswoman Jackie Broach-Akers said.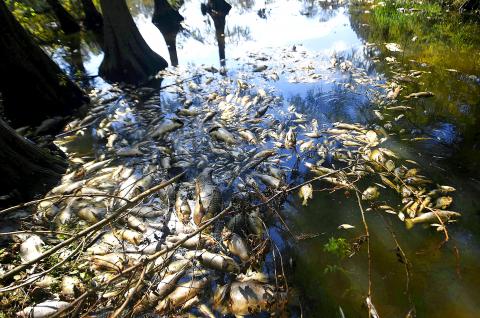 Dead fish lie around the edges of Greenfield Lake in Wilmington, North Carolina, on Sunday.
Photo: AP
The potential flood zone encompasses about 3,500 homes in Georgetown, which lies at the confluence of the two rivers at the top of the bay, and the coastal resort community of Pawleys Island, she said.
She said the estimated 6,000 to 8,000 people who live in that area are being "strongly urged" to leave on their own, although no mandatory evacuation has been ordered.
The county planned to open emergency shelters at 7am yesterday and hotels outside the flood zone in nearby Myrtle Beach are offering discounts for evacuees. Public schools are to be closed until further notice, Broach-Akers said.
State transportation crews were working to erect temporary dams on either side of Highway 17, the main coastal route through the area, and National Guard engineers were installing a floating bridge at Georgetown in case the highway is washed out at the river.
"The water is still rising there," said Bob Oravec, a meteorologist with the National Weather Service's Weather Prediction Center.
"It's a matter of time before it subsides," he said early yesterday.
About 160km up the coast, a commercial section of downtown Wilmington, North Carolina, by the Cape Fear River was under 30cm of water, with flooding expected to rise by a further 60cm with high tide on Sunday evening, city spokesman Dylan Lee said.
Flooding in Wilmington was expected to peak yesterday along the city's Water Street riverfront, where many businesses had stacked sandbags in advance, Lee said.
However, the city said its offices would reopen yesterday after having been closed for a week.
Nine days after Florence came ashore, the National Weather Service said flooding would likely persist in coastal parts of the Carolinas for days as the high-water crest of numerous rivers keeps moving downstream toward the ocean.
The storm dumped 75cm to 100cm of rain on the Wilmington area alone after making landfall nearby on Sept. 14.
Floodwaters have begun to recede farther inland.
That left hundreds of dead fish stranded on a highway near Wallace, about 56km from the nearest beach, according to the Penderlea Fire Department, which posted video of firefighters hosing the fish off Interstate 40.
Comments will be moderated. Keep comments relevant to the article. Remarks containing abusive and obscene language, personal attacks of any kind or promotion will be removed and the user banned. Final decision will be at the discretion of the Taipei Times.