Botswana reviews elephant hunting
DAMAGING CROPS? Critics of the hunting ban say elephant populations have grown rapidly and reduce farming incomes by encroaching on cultivated land
Botswana is to hold a month of public hearings to decide whether it should lift a ban on elephant hunting as farmers in the nation that has the world's largest population of the African variety of the world's biggest land mammals complain that the animals are damaging their crops.
Botswanian President Mokgweetsi Masisi was to meet yesterday with wildlife researchers in the northwestern town of Maun to mark the start of the consultations, a government statement said.
The report from the hearings is to be submitted to the Cabinet next month.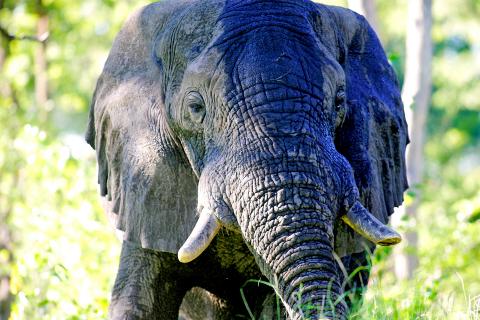 A male African elephant mock-charges in the Okavango Delta of Botswana on March 25, 2005.
Photo: Reuters
Lawmakers in June asked the government to review the ban, which was introduced by Masisi's predecessor in 2014.
Critics of the ban say elephant populations have grown rapidly and others have come from neighboring countries to seek refuge from poachers, prompting an increase in human deaths and declining incomes in farming communities as the pachyderms encroach on cultivated land.
There are at least 130,000 elephants in the sparsely populated southern African nation, or about 1 per 18 citizens. The world's second-biggest population is in neighboring Zimbabwe where limited hunting is permitted and generates income through trophy fees.
Maun is a main tourist hub, with as many as 1.9 million travelers forecast to visit the nearby Okavango Delta wildlife sanctuary this year.
Last week, the advocacy group Elephants Without Borders said it had uncovered a massacre of 87 elephants near the delta.
The government disputes the group's claims, with Masisi saying that the report was exaggerated to thwart the review of the hunting ban.
Tourism is Botswana second-biggest source of foreign exchange after diamonds.
Comments will be moderated. Keep comments relevant to the article. Remarks containing abusive and obscene language, personal attacks of any kind or promotion will be removed and the user banned. Final decision will be at the discretion of the Taipei Times.