States order mass evacuations as hurricane nears
'STAGGERING' RAIN: The National Hurricane Center said rainfall could extend hundreds of kilometers and cause flash flooding in the mid-Atlantic region
More than 1.5 million people were ordered to evacuate their homes along the US Atlantic coast as Hurricane Florence, a Category 4 storm and the most powerful to menace the region in nearly three decades, barreled toward the region yesterday.
Florence, packing winds of 220 kph, was expected to grow even stronger before making landfall tomorrow, mostly likely in southeastern North Carolina near the South Carolina border, the US National Hurricane Center (NHC) in Miami said yesterday.
North Carolina Governor Roy Cooper on Monday told a news conference that his state was in "the bull's eye."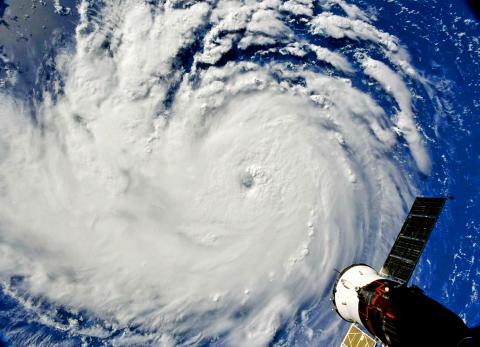 A handout from NASA shows the view of Hurricane Florence from the International Space Station on Monday as the storm churns in the Atlantic Ocean toward the east coast of the US.
Photo: Reuters / NASA
Virginia Governor Ralph Northam issued an evacuation order for about 245,000 residents in flood-prone coastal Virginia beginning at 8am, while South Carolina Governor Henry McMaster has ordered more than 1 million residents along his state's coastline to leave starting at noon yesterday.
"This is a serious storm and it's going to effect the entire state," Northam told a news conference on Monday. "Everyone in Virginia needs to prepare."
A storm surge watch has been issued for portions of the coasts of North and South Carolina as Florence approaches, the NHC said yesterday.
The hurricane, a category 4 on the five-step Saffir-Simpson scale of hurricane strength, was likely to become an "extremely dangerous major hurricane" through tomorrow night, it said
At least 250,000 people were due to be evacuated yesterday from the northern Outer Banks in North Carolina after more than 50,000 people on Monday were ordered to leave Hatteras and Ocracoke, the southernmost of the state's barrier islands.
North Carolina, South Carolina, Virginia and Maryland governors have declared states of emergency.
NHC Director Ken Graham warned of "staggering" amounts of rainfall that might extend hundreds of kilometers inland and cause flash flooding across the mid-Atlantic region.
Forecasts expect 25cm to 38cm of rain in the hardest-hit areas, possibly more if the storm stalls over land, as expected, Graham said.
Mindful of devastation wrought by a string of deadly hurricanes in the US last year, residents in the Carolinas began the rituals of disaster preparation — boarding up windows and stocking up on groceries, water and gasoline.
Florence is the most severe storm to threaten the US mainland this year and the first of its magnitude to target the Carolinas since 1989.
In Holden Beach, North Carolina, residents were busy securing their homes and possessions.
"It's scary to all of us. We know we can't play around with this," said Jennifer Oosterwyk, who owns the Sugar Britches boutique on Holden Beach.
Comments will be moderated. Keep comments relevant to the article. Remarks containing abusive and obscene language, personal attacks of any kind or promotion will be removed and the user banned. Final decision will be at the discretion of the Taipei Times.