Moscow mayor re-elected, other parties advance
UNITED RUSSIA? Pension protests drew fewer people than expected, but outside Moscow, Putin's party lost to communists in some areas and faces run-offs in others
Moscow Mayor Sergei Sobyanin, an ally of Russian President Vladimir Putin, has been overwhelmingly re-elected, officials said yesterday, following a poll overshadowed by pension protests and mass arrests.
However, the ruling party received a major blow in several regions as Russians voted to elect governors and local lawmakers in a nationwide day of polls on Sunday.
The United Russia party recorded its worst performance in regional elections in more than a decade as voters registered their anger over a controversial reform set to raise the state pension age and worsening economic conditions under Western sanctions.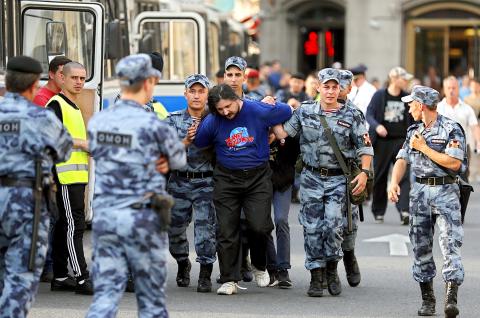 Police detain a man during an opposition rally against planned increases to the pension age in Moscow on Sunday.
Photo: EPA-EFE
Election day was marred by the arrests during nationwide protests against the hugely unpopular pension reform, with more than 1,000 people detained, an independent monitor said.
Putin sought to put on a brave face, saying that the election results underscored Russians' trust in the authorities.
"On the whole the election campaign was conducted decently, with a pretty high voter turnout," Putin told officials in the far eastern city of Vladivostok.
Sobyanin, mayor of the Russian capital since 2010, won a predictable victory with 70.02 percent of the vote. Turnout stood at 30.8 percent.
In 2013, Sobyanin barely escaped a second-round run-off after a strong challenge from Putin's top critic, then-Progress Party leader Alexei Navalny, who unexpectedly picked up more than a quarter of the ballots.
This time around, serious opposition candidates were kept off the ballot paper in favor of the incumbent.
Ahead of the vote, a Moscow court jailed Navalny for 30 days, after he announced plans to stage a rally against pension reform on election day.
United Russia suffered several major upsets.
In the far eastern city of Khabarovsk and in the Primorye, Khakasia and Vladimir regions, gubernatorial elections are to go to a second round after United Russia candidates failed to win 50 percent of the vote.
Communists beat candidates of the ruling party in elections to the regional parliaments of Khakasia, Irkutsk and Ulyanovsk regions.
Alexei Makarkin, an analyst at the Center for Political Technologies, said that Russians are tired of "the long, punishing crisis whose end is nowhere in sight" and have stopped voting for the ruling party by default.
"This is a path toward political competition," Makarkin told reporters.
Putin appeared to dismiss the ruling party's poor results in several regions, calling second round run-offs an "absolutely normal phenomenon."
Heeding a call from Navalny, thousands took to the streets of dozens of cities against the deeply controversial pension reform.
Police arrested 1,018 people, mainly in Russia's second-largest city, Saint Petersburg, and the Ural city of Yekaterinburg, independent monitor OVD-info said.
Police violently broke up unsanctioned rallies, including in Saint Petersburg, where more than 450 people were detained.
In Moscow, police opened two criminal probes over violence against officials, the monitor said.
Observers said that fewer people turned up to protest against the reform than in May, after Putin softened the plans.
Government plans to raise the state pension age to 60 for women and 65 for men, from the current 55 and 60, have also seen Putin's approval ratings take a major hit.
Sobyanin's supporters say he has transformed Moscow with billion-dollar renovation projects, including a showpiece central park and new pedestrian areas, along with a string of new metro stations.
However, critics have said that these are a sop to a new urban middle class which has in the past protested against Putin's rule as the Kremlin tightens the screws against dissenters.
Comments will be moderated. Keep comments relevant to the article. Remarks containing abusive and obscene language, personal attacks of any kind or promotion will be removed and the user banned. Final decision will be at the discretion of the Taipei Times.