Abe launches bid for leader of Liberal Democratic Party
Japanese Prime Minister Shinzo Abe yesterday defended his economic record and pledged a controversial reform of the nation's post-war constitution, as he launched his campaign for another term as head of the Liberal Democratic Party.
Abe is seen comfortably winning the vote on Thursday next week against his sole challenger — former minister of defense Shigeru Ishiba, which would put him on track to become Japan's longest-serving prime minister.
A victory would effectively keep Abe in power for another three-year term at the helm of the world's third-largest economy.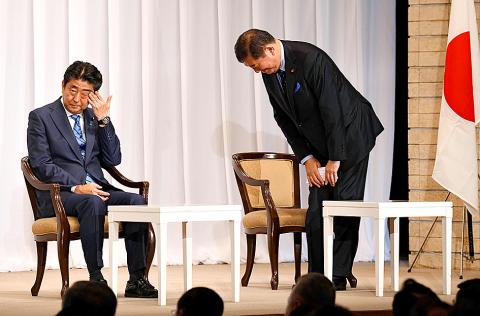 Former Japanese minister of defense Shigeru Ishiba, right, bows in front of Prime Minister Shinzo Abe prior to his speech during a debate for the Liberal Democratic Party presidential election at the party's headquarters in Tokyo yesterday.
Photo: AFP
"It's time to tackle constitutional reform," Abe said, adding that he aims to submit a reform bill to parliament later this year.
Article 9 of the Japanese constitution, forged in the aftermath of World War II, forces the pacifist nation to "forever renounce war" and stipulates that armed forces will "never be maintained."
This creates a headache for Japan's Self-Defence Forces (SDF), a well-equipped military stuck in a constitutional gray zone.
With regional tensions still high, allies have urged Japan to bolster the SDF's role, but former foes in Beijing, Seoul and Pyongyang would likely react furiously.
Abe also vaunted the record of his "Abenomics" policy, which combines ultraloose monetary policy with fiscal stimulus in a bid to pep up the former Asian economic powerhouse.
"The ratio of job offers to seekers is at a record high... We were able to regain a decent economy," Abe said.
With two massive international sporting events coming up — the Rugby World Cup next year and the Tokyo 2020 Olympics — Abe said his policy of boosting tourism is also "working as an detonator" to boost local economies.
Rival Ishiba has identified demographic concerns and the regional security threat from North Korea as the two biggest challenges facing Japan.
"What I want to do is revitalize the economy and the core of this task is to revitalize the countryside," Ishiba said yesterday.
Comments will be moderated. Keep comments relevant to the article. Remarks containing abusive and obscene language, personal attacks of any kind or promotion will be removed and the user banned. Final decision will be at the discretion of the Taipei Times.