Rebels blow key bridges to Idlib
LAST STAND? Having seen tanks and armored vehicles arrive on the regime side, the rebels are anticipating an assault by the government, a human rights group said
Rebels from Syria's Idlib have blown up two key bridges in a bid to hamper an expected government assault on the country's last remaining rebel-held province, a monitor said on Friday.
The bridges over the Orontes River linked areas of neighboring Hama Province, under government control, to rebel-held territory in Idlib, the Britain-based Syrian Observatory for Human Rights said.
They were blown up by Islamist factions from the National Liberation Front (NLF), the main non-militant alliance in Idlib, Syrian Observatory for Human Rights founder Rami Abdel Rahman said.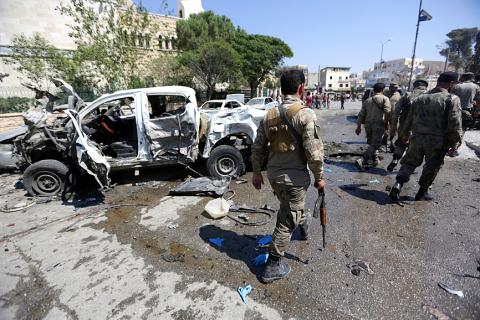 The Free Syrian Army inspects vehicles damaged by a car bomb in Azaz, Syria, yesterday.
Photo: Reuters
"They were the two main bridges in the area, but there are others," he said.
The bridges were in the Al-Ghab Plain, which straddles Hama and Idlib provinces and could be one of the first targets of any government offensive.
Government forces have been massing around Idlib Province for weeks, particularly in Al-Ghab, which was once a key farming area.
"The rebels have seen the intense activity on the regime side, with the arrival of tanks and armored vehicles," Abdel Rahman said. "Rebel groups are reinforcing their positions in anticipation of a military operation."
Meanwhile, NLF fighters were on Thursday seen reinforcing their positions in southern Idlib with sand bags, an AFP correspondent reported, saying that the fighters had also dug trenches and underground tunnels near the frontlines.
"We are consolidating our positions to prepare for any eventual regime military operation," said Abu Marwan, an NLF commander.
"We've spotted several regime positions and we are monitoring them. We will retaliate directly with all sorts of weapons in case of any movement" from the regime side, he added.
In the past few days, both the government and its ally, Russia, have stepped up their rhetoric against the rebel presence in Idlib, which is dominated by the Hayat Tahrir al-Sham militant alliance formed by al-Qaeda's former Syrian branch, al-Nusra Front.
"The Syrian command has taken a decision to defeat al-Nusra Front in Idlib no matter the sacrifices that it would entail," Syrian Foreign Minister Walid Muallem said on Thursday.
The West must not get in the way of an "anti-terror operation," Russian Foreign Minister Sergei Lavrov said on Wednesday, adding: "This abscess needs to be liquidated."
Turkey — which shares a border with Idlib, has troops in the area and backs the NLF — has expressed opposition to any large-scale offensive that could spark a new exodus of refugees.
An assault on Idlib by Damascus and Moscow could be the last major battle of the civil war that has torn Syria apart since 2011. More than 350,000 people have been killed in the conflict and millions have been forced to flee their homes.
Comments will be moderated. Keep comments relevant to the article. Remarks containing abusive and obscene language, personal attacks of any kind or promotion will be removed and the user banned. Final decision will be at the discretion of the Taipei Times.