Hotel blaze leaves at least 18 dead, five injured in China
A fire early yesterday at a hotel in China has left at least 18 people dead and 19 injured, state media said.
The blaze broke out during the night at the hotel in Harbin, the capital of the northeastern Heilongjiang Province, the official Xinhua news agency reported.
"By the latest count, 18 people have been found dead and 19 have been taken to hospital," the agency reported, citing local authorities.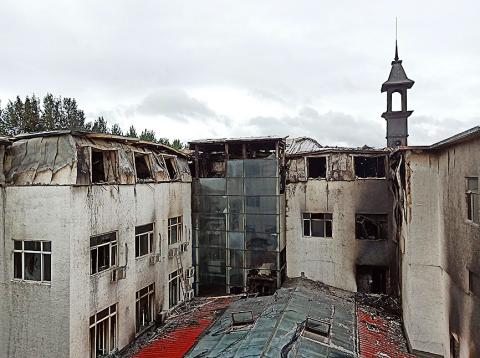 A view of a hotel in Harbin, China, yesterday after a fire left at least 18 people dead.
Photo: AFP
Images of the gutted hotel and spa appeared on state broadcaster CCTV, showing blackened walls, twisted metal structures and parts of a ceiling hanging precariously.
Those hospitalized had inhaled toxic smoke or suffered burns, CCTV reported, adding that an investigation into the cause of the fire is under way.
Deadly fires are common in China, where fire security regulations are routinely neglected.
In April, 18 people were killed and five more injured in a fire at a karaoke establishment in the country's south.
In November last year, a fire left 19 people dead and eight injured at a boarding house in Beijing and in May 2015, 38 people were found dead in a fire at a retirement home in central Henan Province.
Comments will be moderated. Keep comments relevant to the article. Remarks containing abusive and obscene language, personal attacks of any kind or promotion will be removed and the user banned. Final decision will be at the discretion of the Taipei Times.