US general supports plan to reduce DMZ outposts
REASONABLE RISK US General Vincent Brooks said he has some concerns about the move, but thinks that it represents a good opportunity to alleviate tensions
The top commander of US troops in South Korea yesterday said that he supports moves to withdraw some outposts along the fortified border with North Korea, despite the risks.
The South Korean Ministry of Defense has said it plans to reduce guard posts and equipment along the demilitarized zone (DMZ) on its border with North Korea as part of efforts to reduce tension and build trust with its northern neighbor.
"I have some concerns about what that means militarily for the ability to defend along the Military Demarcation Line," US General Vincent Brooks told reporters.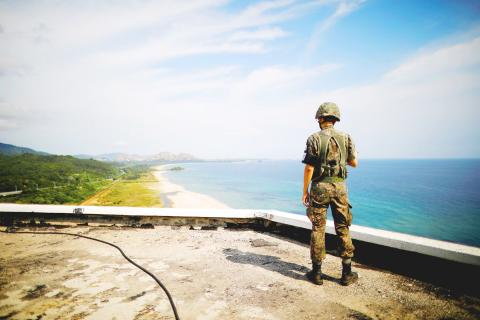 A South Korean soldier stands guard at the Unification Observatory just south of the demilitarized zone separating the two Koreas in Goseong, South Korea, on Monday.
Photo: Reuters
However, the risk is "a reasonable degree" and the move represents a good opportunity to reduce tensions, he said.
About 28,500 US troops are stationed in South Korea, a legacy of the Korean War, which ended in 1953 in an armistice that left the North Korea technically still at war with South Korea and the US-led UN command.
Besides serving as the commander of those troops, Brooks also commands UN forces and in the case of war, would take command of South Korean troops as well.
Brooks said that his troops are finding "other ways" to maintain readiness in the absence of major military drills, which were canceled or delayed by US President Donald Trump as part of a deal with North Korean leader Kim Jong-un.
"I received no order to become unready," he said. "Nobody told me to stand down."
When Trump announced the plan after his summit with Kim in Singapore in June, a spokeswoman for US military forces in South Korea at the time said they had not received any direction to cease joint military drills.
When asked yesterday if he had advance warning of Trump's June announcement, Brooks said as a commander in the field he had no expectation that he would be briefed on the US president's plans.
"Orders come in many different ways," he said. "So for a military commander it's not a matter of debate, it's a matter of implementation."
Brooks did not elaborate on how his command had adjusted to the changes in military exercises.
He credited the military presence in South Korea with "successfully" setting the stage for this year's diplomatic talks with the North and said he supports maintaining pressure on the North to prevent it from "backing up" on diplomatic steps.
Comments will be moderated. Keep comments relevant to the article. Remarks containing abusive and obscene language, personal attacks of any kind or promotion will be removed and the user banned. Final decision will be at the discretion of the Taipei Times.