'Sickened' by abuse report, Catholics remain faithful
Many churchgoers said they were sickened and saddened by a grand jury report detailing widespread sexual abuse by hundreds of priests in Pennsylvania, but they would not let the Roman Catholic Church's cover-up dissuade them from their faith.
Nearly 200 parishioners filled almost all the pews for Saturday's Mass at St Patrick's Church in York, Pennsylvania, where six priests who at one time worked in that parish are accused in the report of sexually abusing children.
"I can't talk about it without crying," said Kathy Morris, a retired steelworker and a member of St Patrick's for more than 15 years. "I'm going to Mass to try to find some peace."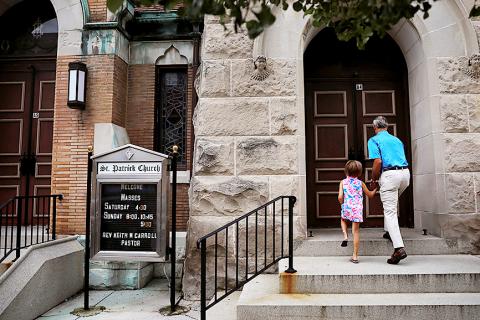 Parishioners arrive for Mass at St Patrick's Catholic Church in York, Pennsylvania, on Sunday.
Photo: Reuters
"I'm disappointed that it happened but as far as the faith goes, I'll never give my faith up," said Anthony Giuffrida, 66, an usher and lifelong member at St Patrick's. "I was raised Roman Catholic and that's what I'll be till the day I die."
Few people attended the 9am service at St Margaret Mary in Harrisburg where the report accuses Reverend Richard Barry of abusing boys in the 1980s. The parking lot was nearly empty, and a busload of seniors from a retirement community were among the few who entered the church.
Most attending the Mass declined to comment or made statements without giving their names.
"Our faith goes on," one woman said.
The grand jury report was the most comprehensive report on clergy abuse in US history, accusing hundreds of priests in six of Pennsylvania's eight dioceses of assaulting children for decades while the diocese covered it up, often sending priests to treatment centers and reassigning them to different parishes.
The results of the grand jury's two-year investigation were the latest revelation in a scandal that has shaken the Catholic Church since the Boston Globe in 2002 reported on decades of clergy abuse and the attempt by the diocese to cover it up.
Allegations of clergy abuse in Europe, Australia and Chile have also emerged and prompted the resignation of several leaders within the Catholic Church, which has about 1.2 billion members worldwide.
"What is contained in that report is sickening and saddening," Reverend Keith Carroll of St Patrick's Church said in his sermon on Saturday.
He said he was "struggling personally" with "anger, utter embarrassment and sadness."
Carroll implored his parish to not spurn the church because of the grand jury's findings: "Only God himself can bring us out of this darkness."
Many churchgoers echoed Carroll's hope that Catholics would not abandon their faith out of disgust with the church leadership's past behavior. More than 3 million people, about a quarter of Pennsylvania's population, are Catholic according to the Pennsylvania Catholic Conference.
More than 100 people attended Sunday Mass at St Columba Church in Bloomsburg, formerly the parish of Reverend James Beeman whom the report accused of raping a seven-year-old girl while she was in the hospital.
"I'm praying for our church community to hold onto our faith because that's still the best thing we have," said parishioner Mary Howe, 63, who has been a member at St Columba since 1956.
Victims and their advocates said they were grateful that the report outed so many abusive priests.
The report cited 301 priests, some of whom have died. Only two of the priests are still subject to prosecution.
"This is only the tip," said Mary McHale, 46, who testified before the grand jury and said she was abused by Reverend James Gaffney at her Catholic high school in Reading. "It just multiplied inside me over the years. The shame and the guilt and the low self-esteem, that never leaves you."
McHale supports her former classmate and Pennsylvania state Representative Mark Rozzi, who said he was raped by his parish priest and is pushing to change a law to give victims of child sex abuse more time to file claims against their abusers.
State legislators expect to take up the bill next month, said Steve Miskin, a spokesman for Pennsylvania House Majority Leader Representative Dave Reed.
Comments will be moderated. Keep comments relevant to the article. Remarks containing abusive and obscene language, personal attacks of any kind or promotion will be removed and the user banned. Final decision will be at the discretion of the Taipei Times.