Superdry cofounder gives £1m to Brexit referendum
The cofounder of fashion brand Superdry is donating £1 million (US$1.28 million) to the campaign for a referendum on the final Brexit deal, the Observer newspaper reported on Saturday, as pressure intensifies on British Prime Minister Theresa May.
"I'm putting some of my money behind the People's Vote campaign because we have a genuine chance to turn this around," said Julian Dunkerton, a "remainer" who opposes Britain's planned departure from the EU. "I've got a good instinct for when a mood is going to change and we're in one of those moments now."
Britons voted in a 2016 referendum to leave the EU, but the proportion of voters who favor a referendum on the final terms of any Brexit deal last month overtook those who do not for the first time, according to opinion polls.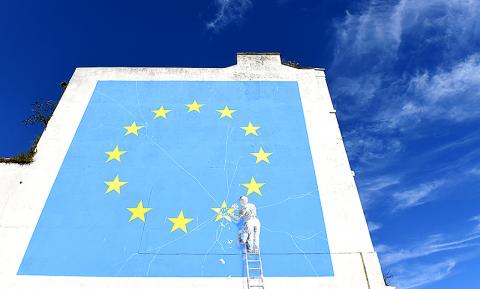 A mural by British street artist Banksy depicting a worker removing one of the 12 stars from the EU flag is pictured in Dover, England, on July 31.
Photo: EPA
London and Brussels hope to agree a Brexit deal at a summit in October, but May faces splits within her party and the tough task of securing parliamentary approval for the final agreement.
Campaigners on both sides of the argument have been stepping up their efforts as some Brexiteers argue against any agreement that keeps Britain tied to EU mechanisms such as the customs union or single market.
On Saturday, the former leader of the UK Independence Party Nigel Farage said he would join a "battle bus" tour around the country by a pro-Brexit group that is opposed to May's plans, saying that it makes too many concessions to Brussels.
Both Britain and the EU have said they want to avoid a damaging "no deal" outcome, which would be particularly harmful to businesses.
"It is the responsibility of the EU to ensure its consumers and businesses are not harmed," British Secretary of State for Exiting the EU Dominic Raab was quoted as saying by the Sunday Telegraph.
"Securing a deal is still by far the most likely outcome, but we want to make sure that we clearly set out the steps that people, businesses and public services need to take in the unlikely event that we don't reach an agreement," he said.
The paper said the government is planning to recognize some EU regulations if London and Brussels fail to strike a deal, taking a "flexible" approach to make sure medicines, car parts and chemicals are still available.
A spokesman at May's Downing Street office did not offer an immediate comment on the report.
Comments will be moderated. Keep comments relevant to the article. Remarks containing abusive and obscene language, personal attacks of any kind or promotion will be removed and the user banned. Final decision will be at the discretion of the Taipei Times.