For exiled novelist, Turkey 'like 1930s Germany'
Turkish novelist Asli Erdogan, living in exile in Germany as she risks a life sentence on terror charges at home, said the writing is on the wall: Her country is sliding into fascism.
The award-winning author, still traumatized by the four months she spent in an Istanbul prison, said that Turkey's institutions are "in a state of total collapse."
In Turkish President Recep Tayyip Erdogan — no relation — she sees a man tightening control over everyday Turkish life, emboldened by an outright victory in June elections, sweeping new powers and a crackdown on opponents.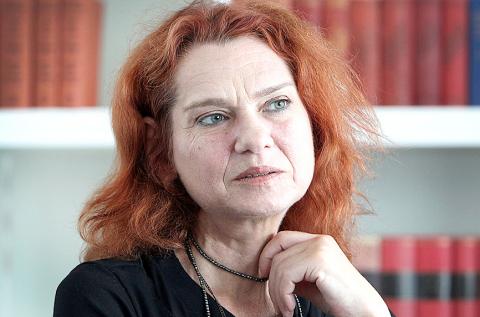 Exiled Turkish writer Asli Erdogan speaks during an interview in Frankfurt, Germany, on July 23.
Photo: AFP
"The extent of things in Turkey is like Nazi Germany," the flame-haired 51-year-old said in an interview in Frankfurt, her temporary home as she awaits the outcome of her court case in absentia.
"I think it is a fascist regime. It is not yet 1940s Germany, but 1930s," Asli said.
"A crucial factor is the lack of a judicial system," she added, describing a country of overcrowded prisons and pro-Erdogan judges in their 20s rushed in to replace ousted peers.
Asli herself was among the more than 70,000 people caught up in a wave of arrests under a state of emergency imposed after a failed 2016 coup against Erdogan.
She was held for 136 days over her links to a pro-Kurdish newspaper before being unexpectedly freed on bail.
The detention of the author of such novels as The City in Crimson Cloak and The Stone Building and Other Places, famed for their unflinching explorations of loss and trauma, drew international condemnation.
Turkish Nobel literature laureate Orhan Pamuk has called her "an exceptionally perceptive and sensitive writer."
Turkey's post-coup purge targeted not just alleged backers of preacher Fethullah Gulen, blamed by Ankara for the attempted putsch, but also opposition media and people accused of ties to Kurdish militants.
"Erdogan is almost omnipotent," Asli said.
"He decides on the price of medicine, on the future of classical ballet, his family members are in charge of the economy... Opera, which he hates, is also directly tied to him," she added, chuckling. "That's the nice thing about fascism, it's also pathetically funny sometimes."
Turkish lawmakers have also approved new legislation giving authorities greater powers in detaining suspects and imposing public order, which officials have said is necessary to combat multiple terror risks.
"It's an emergency state made permanent," Asli said.
As for herself, she has given up hope of being acquitted and returning to Turkey anytime soon.
"They are not bluffing," she said she realized after several journalists were sentenced to life terms.
She faces charges of spreading "terror propaganda" for her work as a literary adviser to the newspaper Ozgur Gundem.
The paper itself was shut down, accused by Turkish authorities of being a mouthpiece for the outlawed Kurdistan Workers' Party, considered a terror group by Ankara and its Western allies.
The next hearings in Asli's case are scheduled for October and March.
She said the wait for the verdict was "almost unbearable."
"One of the biggest tortures you can do to a human being is to keep his fate unknown," she said.
Released from prison in late December 2016, it took Asli until September last year to get her passport back from Turkish authorities.
She immediately left for Germany, following other Turkish artists and intellectuals into exile.
She now lives in Frankfurt, the recipient of a flat and a monthly stipend as part of the international Cities of Refuge project.
However, Asli, who has written eight books translated into 20 languages, has not been able to pick up a pen yet.
Struggling with insomnia, depression and health problems, it has been easier to "play the professional writer" in past months, traveling abroad for literary events and talks, she said.
However, slowly her nightmares about prison are becoming less frequent, Asli said.
She was getting "more in the mood" to write, she said, but her immediate focus remained on raising the plight of those still locked up in Turkey.
"I have been pushed into a political role, which I try to carry with grace," Asli said.
However, when she is ready, she would put her own experiences of prison to paper, in what she predicted will be "a very heavy confrontation."
"In literature, you have to be more than 200 percent honest," Asli said. "You write with blood."
Comments will be moderated. Keep comments relevant to the article. Remarks containing abusive and obscene language, personal attacks of any kind or promotion will be removed and the user banned. Final decision will be at the discretion of the Taipei Times.