Weinstein seeks to dismiss charges based on e-mails
Movie producer Harvey Weinstein's lawyers on Friday asked a New York judge to dismiss rape and sexual assault charges against him, releasing e-mails between one of his accusers and Weinstein they said were not shown to the grand jury that indicted him.
Weinstein has denied having non-consensual sex with anyone following accusations by more than 70 women, mostly young actresses and other women employed in the movie business, of sexual misconduct, including rape, dating back decades.
In a motion filed in New York state court in Manhattan, Weinstein's lawyers said the e-mails showed "a long-term, consensual, intimate relationship" between Weinstein and an unnamed woman who has accused him of raping her in 2013.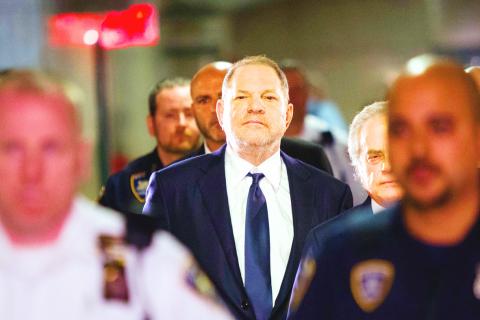 Harvey Weinstein enters Manhattan criminal court in New York City on June 5.
Photo: AFP
Weinstein's lawyers said they meant "not to ignore that rape can occur in relationships," but that prosecutors should have shown the grand jurors the e-mails in order for them to make an "informed decision."
The woman and Weinstein communicated over a four-year period after the date she said he raped her, Weinstein's lawyers said.
A lawyer or representative for the woman was not immediately known to request comment on the motion.
The case against Weinstein in Manhattan involves three women.
Weinstein, 66, has pleaded not guilty to all of the charges and is free on US$1 million bail.
Weinstein's lawyer Benjamin Brafman said in a statement that the motions "reveal the existence of exculpatory evidence."
The accusations against Weinstein led to the #MeToo movement, in which hundreds of women publicly accuse powerful men in business, politics and entertainment of sexual harassment and abuse.
Charges against Weinstein in New York involving two other women were flawed and must be dismissed as well, his lawyers said.
One involves a former actress who said Weinstein forced her to perform oral sex on him in 2004. The other is a former production assistant who said he performed oral sex on her against her will in 2006.
The charges relating to the former actress failed to provide enough detail because they did not say exactly when the assault happened, instead giving a three-month range, Weinstein's lawyers said.
Comments will be moderated. Keep comments relevant to the article. Remarks containing abusive and obscene language, personal attacks of any kind or promotion will be removed and the user banned. Final decision will be at the discretion of the Taipei Times.