Hikers descend off Indonesian volcano
STRANDED: Rock and mud were dislodged in the quake, leaving hikers with no easy way down. About 560 people were trapped on Mount Rinjani overnight, officials said
Groups of hikers yesterday began to pick their way down the slopes of a Lombok volcano after a deadly earthquake triggered landslides that trapped more than 500 tourists and guides on the mountain.
Tonnes of rock and mud were dislodged on Mount Rinjani in the 6.4-magnitude quake, which struck early on Sunday and was followed by scores of aftershocks, blocking the hiking routes.
About 560 people were estimated to be trapped on Rinjani overnight, including citizens from the US, France, the Netherlands, Thailand and Germany, as well as many other countries, search and rescue officials said.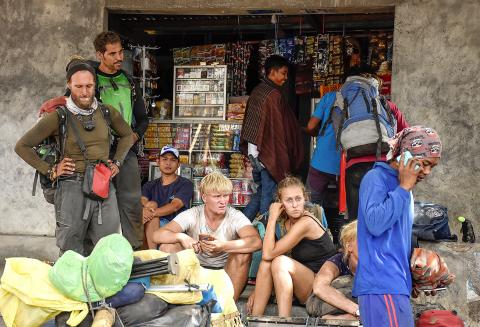 Indonesian and foreign climbers gather at Sembalun village in Lombok Timur, Indonesia, on Sunday after walking down from Mount Rinjani.
Photo: Antara Foto/Ahmad Subaidi/via Reuters
Search and rescue officials said tourists had now started to descend the volcano, but were unlikely to arrive at its base before nightfall.
Hikers were able to start descending the mountain after guides discovered an alternate route that was unaffected by the landslides, Wiswananda said, adding that the evacuation would most likely stretch into today.
Hundreds of other hikers managed to get off the mountain on Sunday, officials said.
Helicopters and search teams were deployed to scour the volcano's slopes and drop food supplies for those stranded. The search would be halted at sunset, according to search and rescue officials.
"For supplies, they can still survive for another one to two days," said Agus Hendra Sanjaya, spokesman for Mataram's search and rescue agency.
Rising 3,726m above sea level, Rinjani is the second-tallest volcano in Indonesia and a favorite among sightseers eager to take in its expansive views.
Hiking trails on the mountain were closed following the quake due to fear of further landslides.
"It looked like the mountain in front of me was going to collapse," a stranded Thai, Funknathee Prapasawat, said on Facebook. "Some people were injured by rocks falling off the mountain."
About 160 people were injured in Lombok as a result of the quake, West Nusa Tenggara disaster agency head Mohammad Rum said.
A total of 5,141 people are staying in temporary shelters and in need of clean water, Indonesian disaster mitigation agency spokesman Sutopo Purwo Nugroho told MetroTV.
Malaysian President Joko Widodo yesterday visited affected areas and promised financial support for those who have lost their homes.
"We must be aware that our country is in the 'Ring of Fire,' so people need to be prepared to face any disaster," he said.
Comments will be moderated. Keep comments relevant to the article. Remarks containing abusive and obscene language, personal attacks of any kind or promotion will be removed and the user banned. Final decision will be at the discretion of the Taipei Times.