Indonesian graft buster returns after acid attack
An anti-corruption investigator almost blinded by an acid attack urged Indonesian President Joko Widodo to set up a fact-finding team to solve his case yesterday as he returned to work 16 months after the assault.
Activists and anti-graft officials, showing solidarity by wearing white shirts and red armbands, cheered Novel Baswedan as he arrived at the headquarters of the Indonesian Corruption Eradication Commission in Jakarta.
A banner with a photograph of Baswedan was emblazoned with the words "Mr President, where is your promise?" and "16 months the case of Novel in the darkness."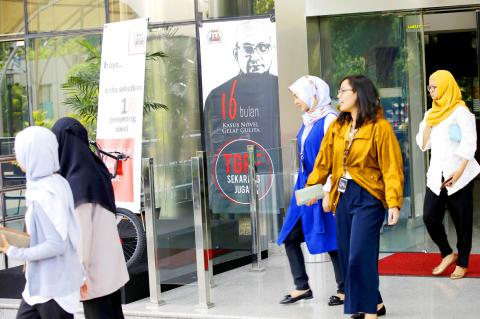 Women yesterday pass by a poster in front of the Indonesian Corruption Eradication Commission in Jakarta welcoming the return of investigator Novel Baswedan.
Photo: AP
Baswedan was leading investigations into an epic graft scandal that implicated prominent politicians, when he was attacked last year as he left dawn prayers. No one has been arrested and Baswedan has criticized police handling of the investigation.
"I hope Mr President wants to know the real facts," he told reporters.
After the attack, Baswedan underwent months of medical treatment in Singapore for his eyes.
He said vision in his left eye is not fully restored, but it has recovered much more than he had thought possible.
"I thought I could not see as you all can see, but now I can see," he said. "This blessing should be followed by action, by working. I love my job and now I'm back."
Baswedan was leading investigations into in a case in which 80 people, mostly officials and legislators, and several companies allegedly used the introduction of a US$440 million electronic identity card system in 2011 and 2012 to steal more than one-third of the funds.
Senior Golkar party politician and former speaker of parliament Setya Novanto was in April sentenced to 15 years in prison for his role in coordinating the US$170 million theft of public money.
Baswedan has also been involved in investigations of alleged corruption involving senior police.
Corruption is endemic in Indonesia and the anti-graft commission, one of the few effective institutions in the nation of more than 260 million people, is frequently under legislative attack by lawmakers who want to reduce its powers.
Commission Chairman Agus Rahardjo said Baswedan's return to work would bring new spirit and inspiration for the commission in its fight against corruption.
"He is our role model to make the best contribution to the nation," Rahardjo said.
Comments will be moderated. Keep comments relevant to the article. Remarks containing abusive and obscene language, personal attacks of any kind or promotion will be removed and the user banned. Final decision will be at the discretion of the Taipei Times.