Hun Sen ends campaign blasting boycott
Cambodian Prime Minister Hun Sen yesterday wrapped up campaigning for re-election by attacking an opposition call to boycott the polls and calling those who heed it "destroyers of democracy."
About 8.3 million people are registered to vote in tomorrow's general election to fill 125 seats in the National Assembly.
Hun Sen's Cambodian People's Party is expected to win easily after a court last year dissolved its only credible opponent, the Cambodia National Rescue Party (CNRP), on charges that it conspired with the US to overthrow the government.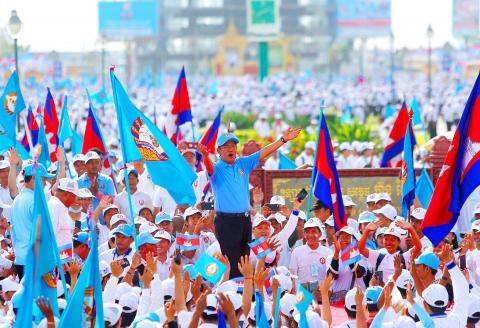 Cambodian Prime Minister Hun Sen waves to supporters yesterday during a rally in Phnom Penh to mark the final day of his campaign.
Photo: Reuters
Critics say the move was part of a long-planned strategy to remove all obstacles to Hun Sen continuing to rule the nation he has dominated politically since becoming prime minister in 1985.
In the last general election in 2013, the CNRP came close to pulling off a surprise victory, winning 44 percent of the popular vote.
The poll is widely seen outside Cambodia as a sham. The US and the EU have declined to help fund it, although Japan has contributed.
The CNRP has advised Cambodians not to vote, a boycott the ruling party's leaders fear that if heeded, would deeply embarrass them and badly undermine their victory.
Speaking in front of a large crowd — 150,000 strong, its organizers said — Hun Sen said: "People who listen to the words of the country's betrayers and don't vote are the ones who destroy democracy in Cambodia."
"You will regret it. So I suggest all Khmer citizens think about that, because the majority of people will vote, but the ones who don't vote, how will they live with those who do?" he said.
Peace and development are the priorities for his party, he added.
Twenty parties are on the ballot, but apart from Hun Sen's party, most are small, under-resourced or almost completely unknown. Some are said to be proxies, set up by the ruling party to give the semblance of a contest.
Preliminary results are expected tomorrow night.
The US Congress on Wednesday passed the Cambodia Democracy Act "to promote free and fair elections, political freedoms and human rights in Cambodia and impose sanctions on Hun Sen's inner circle."
The measure, which strongly condemns Hun Sen's regime, would bar individuals designated by the US president from entering the US and blocks any assets or property they might possess.
Its suggested list of those who should be sanctioned includes Hun Sen, several of his close family members and about a dozen other top officials and military officers.
Cambodian officials and ruling party members rejected the measure as counterproductive interference into its internal affairs.
Japan, traditionally more reluctant than Western nations to criticize Cambodia's government, this week announced that it would not be sending election monitors for the polls.
Although there was no clear explanation for the decision, it is seen as a low-key, but unexpected criticism of the election process.
Comments will be moderated. Keep comments relevant to the article. Remarks containing abusive and obscene language, personal attacks of any kind or promotion will be removed and the user banned. Final decision will be at the discretion of the Taipei Times.