Duterte's war on loitering sees thousands detained
Each night, police in teams of about a dozen fan out across the most run-down areas of the Philippine capital, Manila, rounding up slum-dwellers who linger in the streets, or teenagers who play in makeshift computer-gaming shops.
Children scavenging on mountains of trash are ordered home, their parents warned of jail if minors are seen out late again. Men found shirtless and those smoking or drinking alcohol outdoors are taken to district offices, cautioned, and their names and addresses recorded.
This is a war on loitering — instigated by Philippine President Rodrigo Duterte, famous for his bloody war on drugs and his obsession with social order.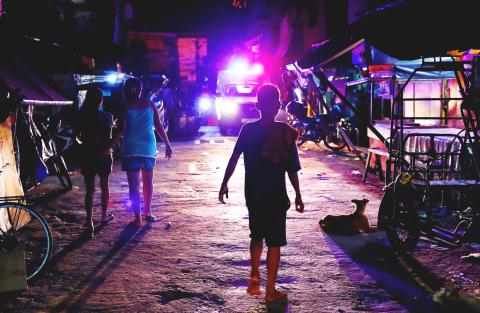 A boy walks as a police vehicle patrols a street in Tondo, Manila, on July 2.
Photo: Reuters
Duterte launched it out of the blue on June 13 during one of his trademark rambling speeches, when he said people hanging out in the streets should be ordered home, and if they refused, he would personally tie their hands and drop them into a river.
Manila police took that as a directive, implementing it with gusto and about 59,000 people have since been apprehended.
The crackdown has been condemned by activists, legal groups and opposition lawmakers, who have said it has no legal basis as vagrancy was decriminalized in 2012 and that Duterte is again harassing Manila's poor people, already traumatized by the war on drugs.
"This is all about imposing control on the poor, by using force or the threat of force to intimidate them. What for? The intention is to keep them from resisting, from fighting back," Philippine opposition lawmaker Antonio Tinio said.
However, Duterte, who said the anti-loitering crackdown is a "crime prevention campaign," has not suffered any backlash.
In its first week, the drive resulted in death. Genesis Argoncillo, a 25-year old arrested for not wearing a shirt, died after being beaten by his cellmates.
Since then, fewer people are being held overnight or longer in Manila's notoriously overcrowded police station cells. Most are booked and freed, about one-third are fined and some are charged with offenses.
Two resolutions by a lawmaker and by a senator calling for a legislative probe into the crackdown were filed on June 26, although it is unclear whether one will be launched.
Comments will be moderated. Keep comments relevant to the article. Remarks containing abusive and obscene language, personal attacks of any kind or promotion will be removed and the user banned. Final decision will be at the discretion of the Taipei Times.