Buddhist rituals start for rescued boys in Thailand
Eleven boys from a soccer team, who were rescued from a flooded Thai cave in a drama that gripped global audiences, yesterday took their first steps to be ordained as Buddhist novices in a ceremony steeped in tradition.
The occasion was broadcast live on Facebook by local authorities and starts a process whereby the boys will live for nine days in a Buddhist temple — a promise made by their families in thanks for their safe return and in memory of one rescuer who died.
The rescue involved divers and volunteers from all over the world and ended on July 10 when the last of the group was brought to safety from inside Tham Luang Cave in Chiang Rai Province.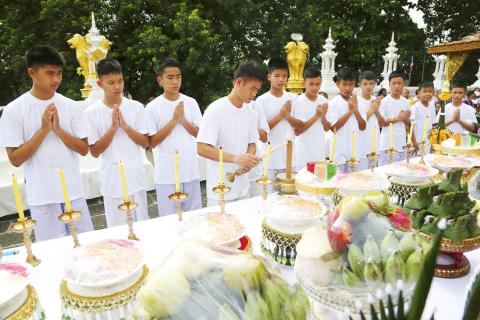 Soccer coach Ekkapol Chantawong, center, yesterday lights a candle as he and members of his rescued soccer team attend a Buddhist ceremony that is believed to extend the lives of its attendees as well as ridding them of dangers and misfortunes, in Mae Sai District in Thailand's Chiang Rai Province.
Photo: AP
The boys and their 25-year-old coach Ekapol Chanthawong had gone to explore the caves on June 23, where they became trapped.
"The 11 boys will be ordained as novices, whereas Coach Ek will be ordained as a monk," Rachapol Ngamgrabuan, an official at Chiang Rai's provincial press office, told viewers on Facebook.
One of the boys, 14-year-old Adul Sam-on, is Christian and will not be ordained.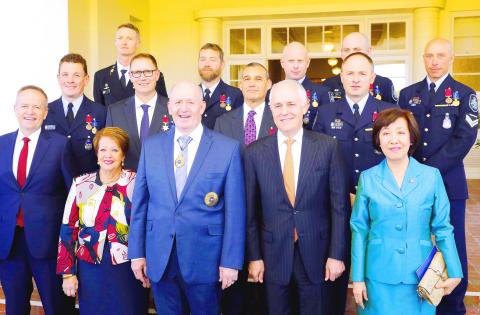 Richard Harris and Craig Challen, wearing purple ties in the second row, and, from center, front row, Australia Governor-General Peter Cosgrove, Australian Prime Minister Malcolm Turnbull and Thai Ambassador to Australia Nantana Sivakua, stand with five members of the Australian Federal Police and a navy officer who were also members of the Thailand cave rescue team, as well as other officials, after a ceremony at Government House in Canberra yesterday.
Photo: Reuters
The 12 boys, aged 11 to 16, were discharged from a hospital last week and have been spending time at home.
Wearing simple white clothes, the boys pressed their palms together in prayer during the morning ceremony as a saffron-robed monk gave thanks for their safe rescue.
The boys and their coach lit yellow candle sticks at the Wat Phra That Doi Wao, a scenic temple in Mae Sai District, where the boys are from.
Trays of sweets, fruits and sugary drinks were placed in front of Buddha statues wrapped in shiny gold cloth.
The boys will live as monks for nine days starting today, Chiang Rai officials said on Sunday.
The boys and their coach had their heads shaved yesterday afternoon ahead of the main ordination ceremony today, which take place at another temple and then the group will return to Wat Phra That Doi Wao.
In related news, Australia yesterday gave state honors to nine people who helped rescue the boys and their coach, with Australian Prime Minister Malcolm Turnbull saying their teamwork had set an example for world leaders.
"If only leaders were as collaborative as you were," Turnbull said at the event, attended by Thai Ambassador to Australia Nantana Sivakua. "You held up an example to us all."
Australia Governor-General Peter Cosgrove gave the nation's second-highest bravery award, the Star of Courage, to anesthetist Richard Harris and veterinarian Craig Challen, who abandoned holiday plans to take a central role in the mission.
Harris was credited with assessing the boys' health, administering anesthesia before they left the cave, and advising authorities on rescue methods. He was the last person to leave the cave and learnt soon after that his father had died.
Challen helped the boys manage their equipment during the rescue.
Cosgrove also gave bravery awards to six police officers and a navy officer.
The operation to extract the soccer team involved a core group of 18, including 13 foreign divers.
Comments will be moderated. Keep comments relevant to the article. Remarks containing abusive and obscene language, personal attacks of any kind or promotion will be removed and the user banned. Final decision will be at the discretion of the Taipei Times.