Chilean priest accused of abusing minors arrested
Authorities on Thursday arrested a priest on accusations of sexually abusing minors, the latest turn in a scandal engulfing Chile's Roman Catholic Church for having covered up abuses for decades.
Oscar Munoz Toledo, a priest who was once the chancellor of Santiago's archbishopric, was arrested on the orders of prosecutor Emiliano Arias, who is investigating 14 other suspended priests in the southern diocese of Rancagua for allegedly participating in a network of abuse.
Munoz is accused of the abuse and statutory rape of seven minors. Arias did not rule out that there were more victims.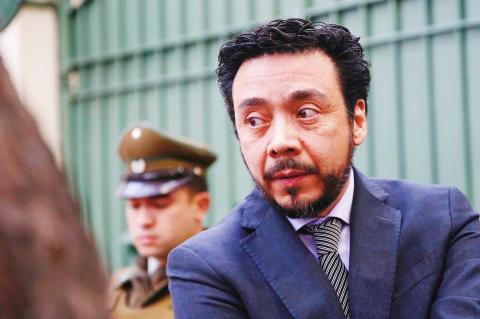 Prosecutor Emiliano Arias leaves a meeting with special Vatican envoys Archbishop Charles Scicluna and Father Jordi Bertomeu in Santiago on June 13.
Photo: Reuters
Munoz, who in January reported himself for a case of abuse, was scheduled to be taken to court yesterday. Authorities are investigating whether he had accomplices.
Munoz, 56, is the first active priest arrested for sexual abuse since March, when a report ordered by Pope Francis revealed a culture of abuse and cover-ups for decades in Chile's church.
If he is found guilty, Munoz could be sentenced to prison.
His arrest came a month after prosecutors raided the diocese of Rancagua, 80km south of Santiago, along with the Ecclesiastical Tribunal of Santiago's archbishopric, to seize material related to the scandal.
Arias on Thursday ordered a new raid on the Santiago offices.
Munoz was vice chancellor for Bishop Emeritus Francisco Javier Errazuriz, and in 2011 he was promoted to be chancellor Ricardo Ezzati, the current archbishop of Santiago.
Both have been accused by victims of covering up the crimes of pedophile priest Fernando Karadima.
Speaking about Munoz, Ezzati said he felt "a great pain for him, for his family and for the victims."
The father of one of Munoz's alleged victims in January said that his son was underage when he suffered "a couple of inappropriate touches, caresses. There was never sex, but there were provocations or insinuations that it should happen."
The scandal battering the Chilean church reached the point where in May, 31 bishops offered their resignations to the pope. Francis has so far accepted the resignations of five bishops.
Comments will be moderated. Keep comments relevant to the article. Remarks containing abusive and obscene language, personal attacks of any kind or promotion will be removed and the user banned. Final decision will be at the discretion of the Taipei Times.