Migrants allowed to disembark in Italy
Dozens of migrants late on Thursday were permitted to disembark from an Italian coast guard ship in Sicily, after they were held at the port over suspicions that some had been involved in a reported mutiny.
Police and coast guard personnel escorted some of the migrants off the Diciotti, while Italian media showed them boarding black buses waiting for them on the quay.
The 67 migrants — including three women and six children — were earlier held at the port in Trapani as a row brewed over reports that a handful of the group revolted after they were rescued, amid fears that they would be returned to Libya.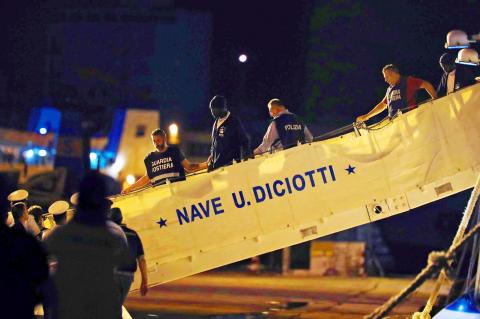 Italian coast guard officers escort migrants off the Diciotti on Thursday, as it is docked at the port of Trapani, Italy.
Photo: EPA
Italian Prime Minister Giuseppe Conte earlier on Thursday night said that they would be allowed off the boat once identification procedures had been achieved "in particular for those who may have committed a crime."
Initially picked up by the supply vessel Vos Thalassa over the weekend, the migrants were subsequently transferred to a coast guard ship after staff made emergency calls to authorities in Rome.
Sailors aboard the Vos Thalassa locked themselves in the control room and called for help after two migrants with mobile phones and GPS realized that the boat was heading south back toward Libya, sparking a furious reaction from some on board, Italian media reported.
Migrants trying to reach Europe are desperate not to be returned to Libya, where they face abuse and rape in detention centers.
The incident comes as tensions over migration rise in Europe, with 28 EU interior ministers meeting on Thursday in the Austrian city of Innsbruck for a summit focused on finding a common migration plan.
Italian Minister of the Interior Matteo Salvini — who has authority over the nation's ports — initially refused to allow the Diciotti to dock, despite previously saying that ports would remain open for Italian naval and coast guard ships carrying migrants.
"If there was violence [on board the Vos Thalassa], the perpetrators will go to prison and if there was no violence, because someone lied, then they [those who supposedly lied] will suffer the consequences," Salvini said on the sidelines of the Austria summit.
The standoff was resolved after a call in the afternoon from Italian President Sergio Mattarella to Conte, Italian media reported.
A group of charities earlier issued a joint statement calling for the disembarkation of "refugees and migrants, including women and children, who have been at sea for four days."
Although the number of migrants fleeing war and poverty has fallen sharply since a 2015 peak, the issue remains deeply contentious in Europe, with the summit in Austria discussing tough new proposals, but failing to reach a firm agreement.
Salvini, who wants to stop migrants arriving on Italian coasts, has banned charity rescue boats operating in the Mediterranean Sea from docking in Italy, accusing them of aiding human traffickers to bring migrants to Europe.
The case of the Diciotti has also highlighted a split within Italy's coalition government, which includes Salvini's League party and the Five Star Movement, whose left fringe is opposed to the closing of Italian ports.
Comments will be moderated. Keep comments relevant to the article. Remarks containing abusive and obscene language, personal attacks of any kind or promotion will be removed and the user banned. Final decision will be at the discretion of the Taipei Times.