Germany controlled by Russia: Trump
'INAPPROPRIATE': The US is supposed to be protecting European nations from Russia, but Germany is paying billions of dollars to the country for energy, Trump said
In a combative start to his NATO visit, US President Donald Trump yesterday said that a pipeline project has made Germany "totally controlled" by and "captive to Russia," and blasted NATO allies' defense spending, opening what was expected to be a fraught summit with a list of grievances involving US allies.
Trump, in a testy exchange with NATO Secretary-General Jens Stoltenberg, took issue with the US protecting Germany when the European nation is making deals with Russia.
"I have to say, I think it's very sad when Germany makes a massive oil and gas deal with Russia where we're supposed to be guarding against Russia," Trump said during a breakfast meeting with Stoltenberg, his first event since arriving in Brussels. "We're supposed to protect you against Russia, but they're paying billions of dollars to Russia and I think that's very inappropriate."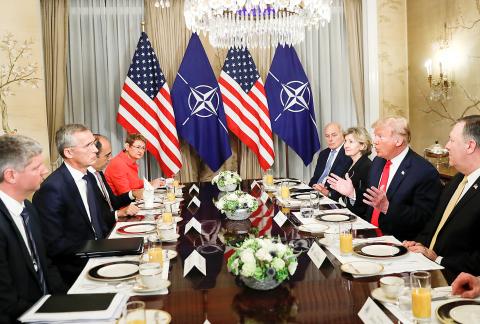 US President Donald Trump, second right, and NATO Secretary-General Jens Stoltenberg, second left, attend a breakfast meeting ahead of a NATO summit in Brussels yesterday.
Photo: Reuters
The US president appeared to be referring to the Nord Stream 2 pipeline that would bring gas from Russia to Germany's northeastern Baltic coast, bypassing Eastern European nations, such as Poland and Ukraine, and doubling the amount of gas Russia can send directly to Germany.
The vast undersea pipeline is opposed by the US and some other EU members, who say it could give Moscow greater leverage over Western Europe.
Trump said that "Germany, as far as I'm concerned, is captive to Russia," and urged NATO to look into the issue.
Trump, who has been accused of being too cozy with Russian President Vladimir Putin — a man accused of US election meddling — was expected to meet German Chancellor Angela Merkel later in the day.
Stoltenberg pushed back, saying that NATO members have been able to work together, despite their differences.
The dramatic exchange set the tone for what was already expected to be a tense day of meetings with leaders of the military alliance.
Trump is expected to continue hammering jittery NATO allies about their military spending during the summit, which comes amid increasingly frayed relations between the US president and Washington's closest traditional allies.
"The United States is paying far too much and other countries are not paying enough, especially some. So we're going to have a meeting on that," Trump said as he arrived at the breakfast, describing the situation as "disproportionate and not fair to the taxpayers of the United States and we're going to make it fair."
"They will spend more," he later said. "I have great confidence they'll be spending more."
Trump has been pushing NATO members to reach their agreed-to target of spending 2 percent of their GDPs on national defense by 2024 and has accused those who do not of freeloading off the US.
"These countries have to step it up — not over a 10-year period, they have to step it up immediately," Trump said.
"We're protecting Germany, France and everybody ... this has been going on for decades," Trump said. "We're not going to put up with it, we can't put up with it and it's inappropriate."
Stoltenberg acknowledged that Trump had expressed himself in "very direct language" but insisted that away from the fiery rhetoric the allies all agree on fundamental issues: The need to boost NATO's resilience, fight terror and share the cost of defense more equally.
Canadian Prime Minister Justin Trudeau, whose country also lags on the 2 percent pledge, said the focus should be on "outputs" rather than on how much is spent.
"You can try to be a bean-counter and look at exactly how much of this, and how much that, but the fundamental question is: Is what you are doing actually making a difference?" Trudeau said.
"Many countries in NATO, which we are expected to defend, are not only short of their current commitment of 2% (which is low), but are also delinquent for many years in payments that have not been made," he tweeted on Tuesday while en route to Europe, asking: "Will they reimburse the U.S.?"
That is not how the spending works. The 2 percent represents the amount each country aims to spend on its own defense, not some kind of direct payment to NATO or the US.
During his campaign, Trump called NATO "obsolete" and suggested the US might not come to the defense of members if they found themselves under attack — a shift that would represent a fundamental realignment of the modern world order.
Comments will be moderated. Keep comments relevant to the article. Remarks containing abusive and obscene language, personal attacks of any kind or promotion will be removed and the user banned. Final decision will be at the discretion of the Taipei Times.