Myanmar opens ethnic peace conference
Burmese State Counsellor Aung San Suu Kyi and the nation's military commander yesterday opened a major conference with representatives of ethnic minority groups to try to reach a lasting peace after seven decades of strained relations and armed conflict.
The third session of the 21st Century Panglong Conference is scheduled to last five days and follows meetings held in August 2016 and May last year. Those sessions failed to make much headway in resolving differences between the government, the military and ethnic rebel groups seeking greater autonomy.
The government has since 2015 promoted a ceasefire agreement that several ethnic minority groups have signed, but some other major rebel groups, especially in the north, are wary of committing to the deal until political terms are made clearer.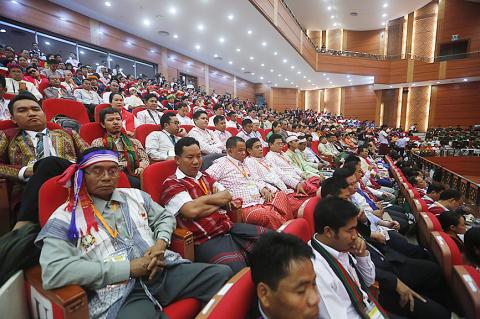 People from Myanmar's ethnic groups attend the third session of the 21st Century Panglong Conference yesterday in Naypyidaw, Myanmar.
Photo: EPA
The event is named after the original 1947 conference convened by Aung San Suu Kyi's father, General Aung San, who was head of an interim government while his nation — then called Burma — prepared for independence from Britain.
An agreement brokered by Aung San and signed by several major ethnic minority groups granted minorities significant autonomy and the right to secede if they joined a post-independence federal union, but Aung San was assassinated shortly after and the deal fell apart.
Since then, ethnic groups have accused successive, mostly military governments of failing to honor the 1947 pact.
Despite the framework of the conference allowing only the ceasefire signatories to attend, the Burmese government invited a political alliance of non-signatory armed ethnic groups from the north, often referred to as the Northern Alliance, to attend the conference.
The non-signatories would be allowed to attend the group discussions, but would not be permitted to speak, government spokesman Zaw Htay said.
Aung San Suu Kyi has previously called on all armed ethnic groups to sign the ceasefire. Her National League for Democracy-led government promised that peace would be the top priority when it came to power in 2016, but has since come under fire for a brutal military crackdown on Rohingya Muslims, as well as for failing to stop atrocities against other ethnic minorities.
Comments will be moderated. Keep comments relevant to the article. Remarks containing abusive and obscene language, personal attacks of any kind or promotion will be removed and the user banned. Final decision will be at the discretion of the Taipei Times.