Five die in US newspaper attack
GRUDGE: The suspect was found hiding under a desk with a shotgun on the floor near him and had mutilated his fingertips in an apparent effort to hide his identity
Five people have been shot dead and others injured in what police described as a "targeted attack" on a newspaper in Annapolis, Maryland.
Officers were investigating a possible past dispute between the gunman and the newspaper's staff, Anne Arundel County acting police chief William Krampf said during a news conference on Thursday evening.
The shooter was arrested minutes after he began the rampage by police without further exchange of gunfire and has been charged with five counts of murder.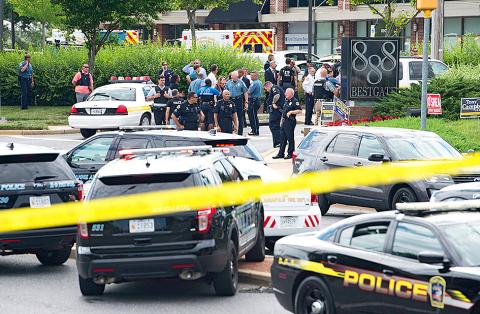 Police respond to a shooting at the Capital Gazette in Annapolis, Maryland, on Thursday.
Photo: AFP
He was identified by several news organizations as Jarrod Ramos, 38. Police were searching a property in Laurel, Maryland, linked to him.
Ramos had a long history of antagonism toward the Capital Gazette. In 2012, he sued several editors at the paper claiming defamation after one of its columnists, Eric Hartley, reported that Ramos had pleaded guilty to criminal harassment of a woman on social media.
Ramos' lawsuit was dismissed by a judge in 2013 and that ruling was upheld by a higher Maryland court in 2015, as the Capital Gazette itself reported.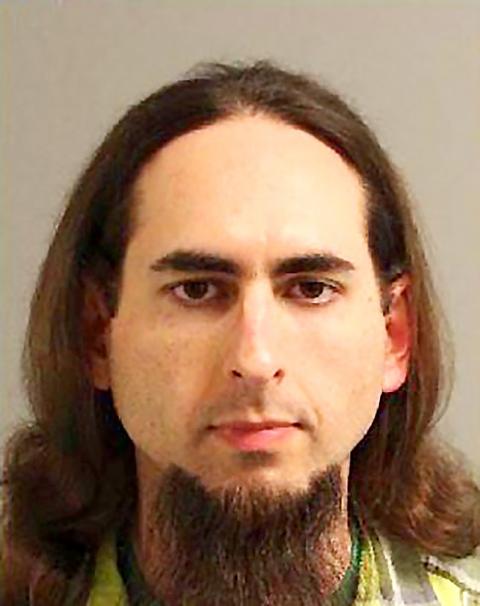 Jarrod Ramos is pictured in an undated photograph obtained from the Anne Arundel Police Department on Thursday.
Photo: AFP
Anne Arundel police named the five employees who died. They were: Wendi Winters, Rebecca Smith, Robert Hiaasen, Gerald Fishman and John McNemara.
Hiaasen's brother, best-selling author Carl Hiaasen, wrote on his Facebook page that Robert was "one of the most gentle and funny people I've ever known. He spent his whole gifted career as a journalist, and he believed profoundly in the craft and mission of serving the public's right to know the news."
The gunman opened fire with a shotgun in the newsroom. Dozens of police officers and federal agents responded within minutes.
"He entered the building with a shotgun and he located his victims as he walked through the lower level," Krampf said.
Two people were injured with minor wounds, he added.
Officers had secured the suspect's home in Maryland and were awaiting search warrants, Krampf said, adding that a package earlier feared to contain explosives was found to contain smoke canisters.
"This person was prepared to shoot people. His intention was to cause harm," he said.
The Capital Gazette courts and crime reporter Phil Davis said the man shot his way in through the newspaper's glass door before firing at people inside the office.
He heard multiple colleagues being shot as he hid under a desk, Davis said.
Anthony Messenger, whose online biography said he is an intern at the newspaper, posted a series of tweets reporting a shooter at the office and appealing for help.
Injured victims were taken to local hospitals, including the shock trauma center at the University of Maryland and the Anne Arundel Medical Center, spokespeople said.
Four people were found dead at the scene and a fifth died in hospital.
Danielle Ohl, another reporter at the newspaper, said fellow reporter Rachael Pacella was injured and hospitalized.
"For those reaching out with support, I thank you," Ohl tweeted. "I will say this: The Capital is not a big newsroom. There are about 20 news staffers, a few more advertising. We are close. We are family. I am devastated."
Officials declined to comment on any suspected motive for the shooting.
Anne Arundel County Executive Steve Schuh told CNN that the suspected shooter was found by police hiding under a desk in the office with his gun on the floor beside him.
The suspect was not being cooperative and was taken to the department's criminal investigation division in Crownsville, officials said.
Citing a law enforcement official, The Associated Press reported that he had mutilated his fingerprints in an apparent effort to avoid identification.
"I was really confused at first — it's not like you would expect someone to come and shoot up this building," said Bethany Clasing, a legal assistant who works on the floor above the Capital Gazette.
Police officers arrived quickly and "they were shouting to 'get down,'" she said.
She was then evacuated across the street to a shopping mall.
Officials said police officers responded to the shooting within 90 seconds of receiving an emergency call. About 170 people were soon seen streaming from the offices, many with their hands in the air, as officers evacuated the building.
The suspect was being interrogated by officers and the scene was searched for evidence, Anne Arundel County Police Departmant spokesman Ryan Frashure said.
"We anticipate this being a very long investigation, a very detailed investigation, by our detectives," Frasure said.
A Twitter page under the same name as the suspect Jarrod Ramos used the Internet handle @EricHartleyFrnd.
The user of the account introduces himself by saying: "Dear reader: I created this page to defend myself. Now I'm suing the shit out of half of AA County and making corpses of corrupt careers and corporate entities."
The Twitter feed was silent from January 2016 until an entry was posted on Thursday afternoon. It said: "Fuck you, leave me alone."
The attack on the newspaper prompted new condemnation of US President Donald Trump's demonization of the media.
The president has repeatedly called the press "the enemy of the people" and encourages crowds at his rallies to join him in deriding journalists.
Comments will be moderated. Keep comments relevant to the article. Remarks containing abusive and obscene language, personal attacks of any kind or promotion will be removed and the user banned. Final decision will be at the discretion of the Taipei Times.